When Diana Rey-Marrero stepped into her role as vice president of global business services for Cummins Inc., where her team delivers accounting, human resources, administrative, and information technology services to over 60,000 employees in 194 countries, she didn't just become the first Latina officer in company history. She had a domino effect on the company, opening doors for other Latinas to follow in her footsteps at the global power technology company.
But to what does she credit her trailblazing and legacy-building success? Being willing to say, "I don't know," turning to those who do for help, and having courageous accountability.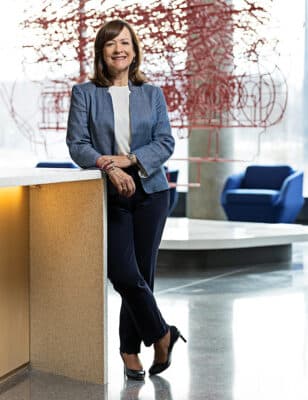 It's a mentality the native of Bogota, Colombia, developed early in life. After graduating high school at the top of her class, a teenage Rey-Marrero didn't expect the initial path to her college degree to be paved with F's. She describes her first semester at the Universidad de los Andes in Bogota, where she majored in industrial engineering, as being "pretty brutal."
"I was a top student in high school but in my first semester, I could barely get a C in some subjects," she says. With those struggles came feelings of inadequacy and then an urge to switch majors. But in what Rey-Marrero calls a "courageous accountability moment," her mom advised against it.
"Just figure out the help you need to get on the other side of it," her mom urged. "Even if you decide you don't want to continue, finish the semester and figure out how you can break through." Despite her fears, Rey-Marrero listened. As a result, she not only graduated but gained an insight that would aid her in her career.
"That helped me when I went into my professional career because you develop this thick skin to realize there's a lot of things you don't know and that you don't need to know it all," she says. "I'd do my best but what I'd need to do is tap into the help around me to figure out how I'm going to be successful."
That's what she did from then on, and it worked. She went on to spend the first half of her career with 3M Company Inc., where she served in several manufacturing operations, supply chain, quality, and engineering positions over a span of thirteen years. Throughout that time, she focused on being a servant leader and empowering team members as experts in their roles.
Her aptitude for leadership and ability to deliver put her on the fast track up the company ladder, taking on more responsibilities. Before she knew it, she was spearheading various production planning efforts, including the implementation of automated systems for several countries in Latin America.
That success continued four years later, when the company called on her to be a quality engineer in St. Paul, Minnesota. She was both nervous and excited at the prospect of starting her professional life in the US, but nothing could have prepared her for the culture shock that she'd experience upon her arrival. Not only was she the only Latina in a management position, but she also had trouble communicating with her peers.
"My concern was that people would think I wasn't smart or competent just because I couldn't communicate [in English]," she says.
As the fear and doubt that she'd managed to stave off after her academic struggles in college started to creep back in, she did what had worked for her before–she asked for help. She asked some of her colleagues to offer feedback on how she communicated and pronounced words. Others proofread documents she sent to senior management. Their assistance helped bolster her self-esteem and courage, and strengthened her bond with her team.
In hindsight, she says those experiences prepared her for another challenging time she'd face down the road. After taking a six-year hiatus from her career with 3M, to care for her daughter, one thing echoed throughout Rey-Marrero's mind: "I need to get back to work," she recalls.
However, while she recognized the impact she could have in an organization, she knew companies would view the gap in her resume with concern. That's why she confided in a neighbor, who suggested she tackle other career aspirations. Rey-Marrero immediately thought of HR, having seen the importance of human capital firsthand in her manufacturing and supply chain experiences. The neighbor challenged her to figure out the basics of the industry and to go for it.
The advice gave Rey-Marrero the push she needed to get an HR certification from Cornell University and to start searching for jobs. About nine months into her search, she was hired by Printpack Inc., where she helped launch a leadership development program for manufacturing plant managers. There, she also helped implement a new payroll system, HRIS system and a talent acquisition organization. Heading back into the workforce was tough, Rey-Marrero admits, noting there was a lot she had to learn about new technology. But having a great support system helped her weather the storm.
"I was very fortunate to have the unwavering support of my husband and people that were my advocates, who really wanted me to be successful," she says.
And Rey-Marrero isn't the only one grateful for how far she's come. "We are incredibly proud to work closely with Diana and the team at Cummins," says Ajay Bahl, chief growth officer for Mega Verticals at HCLTech Americas. "While Cummins is on the path of digital transformation for business agility and resiliency, our trusted partnership with Diana and team in establishing strong digital foundation through cloud migration to modernization is a pivotal phase in our long-standing partnership with Cummins. Our heartiest congratulations to Diana for getting featured in this edition; her commitment to technology excellence and promoting equity, diversity and inclusivity in the workplace has inspired many greatly."
She brings all those experiences to bear at Cummins, where she decided to work because of the company's commitment to diversity, equity, and inclusion. Twelve years later, Rey-Marrero is energized by the company's mission to help its diverse end customers succeed as the energy transition happens and to lessen its impact on the planet. She felt honored to be named the first Latina officer in the company's 103-year history, but felt even more proud of the three other Latinas who came after her, eager to support them as so many people did for her.
Another crucial part of her role is partnering with technology leaders who are as committed to celebrating diversity and fostering inclusion as Cummins. Infosys Senior Vice President and Industry Head Vijay Narayansays, "My team and I work closely with Diana on key initiatives in IT infrastructure and human resources. Her passion to nurture diversity and inclusion is truly inspiring and has directly impacted the lives of many."
Outside of work, she's focused on empowering Latinos as a board member of Conexion Americas, which aims to build communities that create opportunities where Latino families can belong, contribute, and succeed. It's a passion that's fueled Rey-Marrero since she arrived in the US. "I arrived with a lot of privilege. I came as a professional to work for a great company, and I had many doors open for me. That's not the case for many Latinos. So, I've wanted to ensure in one way or another that I could contribute," she says.
---
"Congratulations Diana, and thank you for the valued partnership."—Your friends at Dell Technologies
---
Expertise Spotlight
Mitigate Supply Chain Risks in Real-Time With Infosys Manufacturing.
The Infosys Industrial Manufacturing practice undertakes supply chain transformation to rationalize the supplier base, capitalize on economies of scale, and grow the business footprint. We digitize disparate processes for sustainable supply chain operations by establishing a digital command center. The center integrates applications in the supply chain ecosystem to aggregate data, which is used by analytical tools to predict potential events/failure points. Further, integration facilitates automation of supply chain processes as well as the use of machine learning models to align production capacity, customer orders, sales forecasts, and procurement plans with logistics.
Our Industry 4.0 ecosystem for smart supply chain operations blends telematics, blockchain, and traceability solutions to track inventory from suppliers to customers. In addition, it helps industrial manufacturing enterprises cultivate global and local suppliers. Our machine learning-based tool for real-time supplier risk management assigns operational risk score to suppliers based on parameters such as past performance, quality, lead time, sustainability practices, and financial records. Our tool collates data from enterprise systems, newsfeeds, social media, and third-party reports. The operational risk score enables procurement managers to negotiate supplier contracts and make informed purchase decisions.
Learn more: www.infosys.com/industries/industrial-manufacturing/industry-offerings/supply-chain-transformation.html
---
Expertise Spotlight
Supercharging Manufacturing with HCLTech MVision
With more than 40 years of experience partnering with and managing manufacturing organizations across the globe, HCLTech leads our customers as they transform their traditional business processes into next generation operations that are geared for better performance. Our MVision framework is purpose built to help manufacturing companies navigate the current dynamic landscape by deploying cutting-edge solutions that help them innovate and ensure profitability, while also improving the bottom line and creating avenues to increase the topline.

The MVision framework also empowers manufacturing firms to prepare for a hyper-connected and greener future. Its comprehensive approach helps define a roadmap for digitization, automation, and omnichannel engagement while fostering environment first business practices. The pillars of MVision are spread across all aspects of the global manufacturing industry, with a particular focus on business, digital, operations, and engineering. At its core, the MVision Nucleus enables the creation of an intelligent and disruption-proof ecosystem for industry 4.0 with an array of future ready services powered by emerging technologies and customized digital solutions.

Manufacturing is critical in shaping our world's future by driving innovation, increasing efficiency, and creating value for stakeholders. With our MVision framework and extensive industry experience, we are supercharging industry progress for today and well into the future.

Learn more at hcltech.com/mfg.