Growing up on the South Side of Chicago in a predominately blue-collar neighborhood, Debra Martinez aspired to be an FBI agent.
She graduated with a degree in criminal justice from Chicago State University, but while meeting with federal agencies during school career fairs, she was told that to succeed in that field she would most likely need to travel the world—it would probably mean saying goodbye to Chicago. That was something that weighed on her.
Family has always meant a great deal to Martinez. Her paternal grandparents were immigrants from Mexico and her other grandparents were from Indiana and Texas. Her parents had her when they were young adults, and Martinez was the first of her generation to get a formal education and an advanced degree.
"Because my parents were very young, I had the benefit of being very close to both sets of grandparents. I am grateful for the love and support I received." she explains. "And because of the dynamics of my childhood, leaving Chicago and leaving my family just wasn't in the cards for me at the time. Fast forward ten years, and my perspectives changed with many great career opportunities."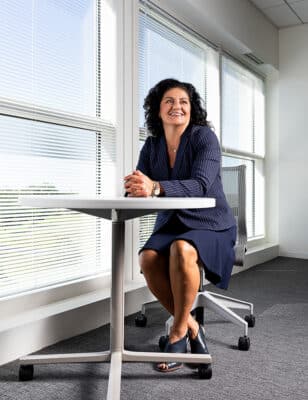 Career options like being a police officer or a probation officer also didn't appeal to Martinez. She had completed an internship with the Illinois Department of Corrections in its legal department but didn't find law school appealing.
"But I did see that I could be in some sort of leadership role in state government," she notes. So, she went for a master's degree in public administration from Roosevelt University.
While there, Martinez met the personnel director for the Chicago Department of Water Reclamation, who shared with her an opportunity as a GED tutor for a manufacturing company that was looking to help people deemed "unemployable" develop work readiness skills. After completing the program, newly trained workers would be hired by the company to make windows, screens, and child guards for high-rise buildings in the Chicago Housing Authority (CHA).
The owner of that company saw Martinez's strong work ethic and offered her a role in the HR department. Martinez was in her second year of graduate school and revised her coursework, taking classes in the field of HR.
"I started to learn the basics of HR like recruiting, onboarding, and turnover in a very practical, real-time way," she explains. "But I didn't know what it meant academically because I hadn't been formally trained. I had the unique opportunity to learn HR backwards."
Now, with twenty-eight years of HR experience in both domestic and global environments, having held positions at GCA Services Group, Allied Waste, and Exterran, Martinez has become an expert in knowing how to work with and for organizations who value their employees and their unique skills and talents from all over the world. Today, Martinez uses her expertise to align HR processes and programs with ongoing business goals and successfully lead large-scale transformation resulting in employee experiences with moments that matter.
In October 2020, more than seven months into the pandemic, Martinez accepted a leadership role with Alera Group, an independent, national insurance and financial services firm. She was hired as chief human resources officer, responsible for all things people-related at a company with a fast-paced, growing workplace.
"My responsibility is to be the conscience of our leaders and to set the strategy for the company in terms of the employee experience, from the value proposition, organizational effectiveness, talent development and retention, inclusion and diversity (I&D), and talent acquisition to core HR programming within the full employee lifecycle," Martinez shares. "Also, keeping the strategy alive and making it a rewarding experience for my team."
As a senior leader at Alera, part of her role is also to drive inclusion and diversity (I&D) efforts and implement institutional change.
"One of the biggest attractions to Alera was the ability to continue to bring value to the organization, especially in the I&D space," Martinez explains. "We understand that creating an inclusive environment maximizes the opportunity to leverage the full dynamic of differences. At Alera, we use the principles of the Collaborative Way to guide our interactions. We listen generously, honor commitments, and foster inclusion and alignment, which are fundamental to how we work."
So far, that mindset has made a big difference and has made people feel engaged at work. The inclusion and diversity council at Alera has now grown to almost sixty people.
"In my first year, I've focused on the biggest business problems that we are trying to solve," Martinez says. "We are growing organically and by acquisition, and every company that joins Alera is at a different place in the journey. We are creating tools, systems, and processes with learning opportunities to ensure there's always something we are moving towards together."
In addition to strengthening Alera's workforce during the pandemic, Martinez focused on wellness as she looked to bring employees back into the offices. "Being intentional about wellness not only helps address stressors, it also supports positive working environments where our teams can thrive," Martinez says. "We have taken a proactive approach in promoting wellness. We care about and value our employees and their well-being."
The company has been taking a conservative approach to bringing people back together, staying up-to-date on CDC guidelines as well as the needs of their colleagues, families, and clients.
"We demonstrated that working virtually, we are highly productive," Martinez says. "We have very few people in our offices now, and for those who prefer to work in the office, we have reconfigured the space with COVID prevention protocols and safety measures."
Though it was an uncertain time, the decision to come to Alera when she did was one that Martinez feels was a great step for her career. "The organization is built around a lot of really smart people who care, and that culture is very clear," she says. "There is such a positive energy, and people are looking to make a difference and add value. It was an opportunity to be part of something that was bigger than me."
---
Expanding D&I
Debra Martinez also brings positive change in the world through her volunteer efforts. She sits on the board of trustees for the Arbor School, which, with a student base that includes children with a wide range of developmental delays, is the most comprehensive special needs educational program in Houston. The Arbor School strives to educate, empower, and build hope for children with significant special needs and their families.
"The Arbor School provides students with an actual program to help them build their skills to their fullest potential," Martinez explains. "We have just built a new facility, which provides us the opportunity to expand our services and increase our enrollment. We specialize in a 100 percent individualized curriculum, which enables our students to learn and realize their greatest potential."
Having been on the board since 2012, Martinez is proud to have been able to make a difference for so many, and she sees a direct link to what she does in her inclusion and diversity work at Alera Group.
"The students are really an unrepresented group," she explains. "When people stop to think about diversity and inclusion, they often think gender and ethnic backgrounds, but this is an opportunity to create future awareness that I&D does include special needs with various abilities."