Cristian Torres wants to make it clear: he still loves Missouri. The Joplin native is an adamant Mizzou fan and says he's proud of where he's from. But he also credits the chance to leave southwest Missouri as one of the most important moments in his life.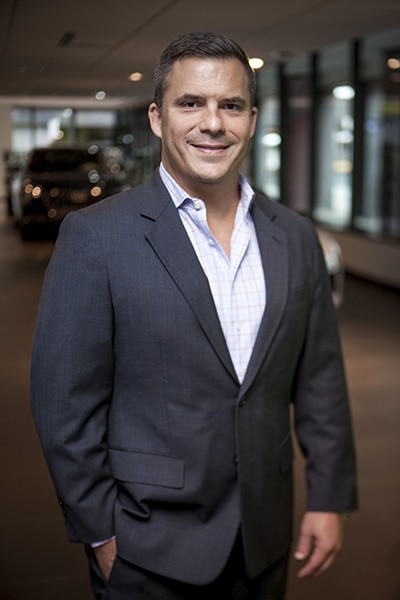 Torres wasn't just going anywhere; he was going to Harvard. That education would expand his horizons of what was possible, and today at Volkswagen Group of America—which is the US distributor of VW, Audi, Lamborghini, Bentley, and Bugatti vehicles—the assistant general counsel is able to mentor new in-house lawyers on the value of business-minded legal leadership in the always complex automotive space.
Infiniti Potential
After earning his legal stripes at Latham & Watkins for the first half of the early 2000s, Torres initiated a career of automotive legal support first as senior counsel at Nissan North America, and later as a network development manager for the Infiniti business unit based out of Nissan Motor's global HQ. The switch to a supportive function was a critical development for Torres. "We weren't selling legal advice, we were selling cars," Torres explains. "We're trying to enable the business to achieve objectives, ensuring we continue as a profit-turning enterprise and everyone involved can achieve success."
"I think a lot of firm lawyers can spend their careers pontificating and writing infinite memos. But when you're in-house, you have to deliver advice that's pragmatic and allows the business to achieve its goals."
Nissan was an education in more than legal support. Torres took advantage of a unique opportunity to assume a management role at Nissan's Infiniti business unit, which was tasked with making Infiniti a recognized premium brand outside of the US. The position allowed Torres to travel the world—meeting dealers, distributors and business partners—with a mandate focused on brand expansion and volume growth. That meant moving to Tokyo—but there were a few loose ends he needed to tie up before he left. "I was dating a girl at the time, and we wound up getting married so she could come with me," Torres explains, chuckling. "We're still happily married with three wonderful kids and some amazing travel memories."
The Infiniti role offered Torres the chance not to just partner with the business, but to be the business. "It was such a fantastic global experience," he recalls. "To be responsible for a team that had real business objectives, and a team that was entirely made up of people from another culture, was just amazing." Torres's job took him to Japan, Dubai, Korea, and throughout Europe—and it provided a true global perspective to his role. Living in Japan, Torres says, is an opportunity he would take on again in a heartbeat.
The High and the Low . . . and High Again 
Torres came to Volkswagen in 2010, and says it was the chance to support a company operating at the pinnacle of success. "We were selling more cars than almost any other time in our history," Torres says. "In 2013, we sold 440,000 Volkswagens and over 180,000 Audis."
It stretched the legal department of eight lawyers to its maximum with more irons in more fires than Torres had ever encountered during his career. "There was so much hustle and bustle, and that came with a lot of stress for the legal team," he admits. As the team grew, however, he was allowed the chance to mentor new in-house attorneys from the business operations.
One of the most valuable lessons Torres tries to impart to new in-house attorneys is the need for down-to-earth advice. "I think a lot of firm lawyers can spend their careers pontificating and writing infinite memos," Torres says, laughing. "But when you're in-house, you have to deliver advice that's pragmatic and allows the business to achieve its goals." He says there are times when the only viable option is to say no, but that that word should be a rarity in the legal department.
Torres's legal foresight and leadership in support of Volkswagen is often revered and trumpeted outside the company as well. "Cristian is an outstanding lawyer, with a deep understanding of the law, business, and his clients. But that's just the beginning," says Billy Donley, a partner at BakerHostetler. "What really sets him apart is Cristian's pragmatism and laser focus on the goals and objectives of the business." Just recently that focus was put to the test as Volkswagen was in the throes of a monumental and necessary legal response.
"It's not my expertise to handle viral litigation and massive class action, but I walked into my GC's office and said I would do absolutely anything I could to help."
"I've had the opportunity to help manage a crisis at a scale that very few people, perhaps fortunately, ever have to encounter." Torres is speaking of the diesel emissions crisis, which he explains was shocking not only in its findings, but in the scope of the response. "It's not my expertise to handle viral litigation and massive class action, but I walked into my GC's office and said I would do absolutely anything I could to help."
There were days when hundreds of lawsuits were served in one afternoon—and the legal department had the obligation to triage and handle every single one. "We had to apportion offices for outside counsel and their staff just to help us organize and make sure we were responding to everything that was coming in," Torres say. "It was surreal."
Working to move on meant concerted and diligent efforts to reestablish trust with Volkswagen and Audi customers. Torres needed to make sure that the lights stayed on. "We had to be sure that during this crisis, we didn't stop doing the things we needed to continue marketing, distributing, and selling cars," he says. "People are coming to you and you still have to address those issues that might seem menial in the face of an issue like this, but you need to make time to maintain some normalcy and maintain process and protocol."
Moving forward, the company's emerging focus on electric vehicles, as well as its nontraditional mobility methods, are becoming more and more prevalent for an industry largely used to simply producing and selling cars. But it's part of Volkswagen and Audi's mission to listen to its consumers and offer them more flexibility in its products and services. For Torres, it means continuing to think outside the box and "not be a wet blanket" when presented with new ideas. "Our goals are to alert the business to the risks of these new ventures and to make sure we're making informed choices," Torres says. "It's a very exciting time for us and we've committed to moving forward."
---
Related Links