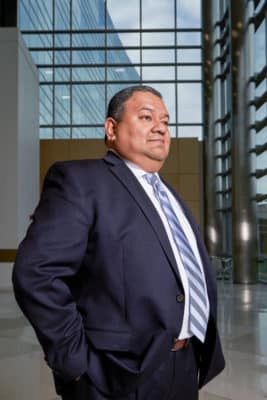 Eighty-seven Nobel Prize laureates. That's how many American scientists whose research was funded by the National Institute of General Medical Sciences (NIGMS) have received the prestigious award.
Jose Lopez and his 250 colleagues working at NIGMS feel a certain kinship with those scientists, the likes of which include James D. Watson (1962, discovery of DNA structure), H. Robert Horvitz (2002, genetic regulation of organ development), and Jeffrey C. Hall (2017, molecular mechanisms controlling the circadian rhythm).
And in the twenty-one years since Lopez began working at NIGMS, part of the National Institutes of Health (NIH), the connection between information technology and scientific research has become increasingly close and intertwined.
"Technology and science will always be together," says Lopez, the agency's chief information officer. "NIGMS IT facilitates grant selection, study collaborations, and the development of grant-portfolio management tools. But that's only the tip of the new-age iceberg. We are positioning our institute to be the leaders in data gathering, visualization, and analysis." He adds that "this accumulation of data, over a decade's worth, will further inform funding decisions going forward."
It wasn't always this sophisticated. The El Salvador native—along with eleven family members—came to the US at age sixteen, during the Salvadorian civil war of the 1980s. At the young age of nineteen, in college, he enrolled in the US Department of Health and Human Services' Stay-in-School Program, a work-study initiative that enables students to gain professional experience through government-sector jobs.
The same day, Lopez began working at the National Institute of Mental Health, another component of the NIH. Lopez started on a typewriter and a terminal mainframe computer in the human resources department, but he was intrigued by the IBM personal computer (PC) he saw at the end of a hallway.
It wasn't long before the new piece of hardware was more than just a curiosity. Lopez knew he needed to have one on his desk. He was one of the first to take a PC and use it to create templates, forms, and HR tracking databases. He switched his major in college, from architecture to information systems, and transferred to the IT department. In 2005, nine years into his tenure with NIGMS, he was made chief of systems development, and three years later he was promoted to chief information officer.
His remarkable story is a testament to the power of immigrant ambition and government work-study programs. "Being a minority is hard; and you can tell by my accent that English is not my first language," he says.
But, he also credits good mentors and managers, noting, "I have been lucky to have had excellent supervisors, managers, and mentors who trusted my innovation, believed in my drive, and allowed me to grow into the positions. These leaders would not have been empowered to support me without the strength of the NIH and NIGMS behind them."
This is not the only agency to dole out scientific research funds: the NIH has separate funds to support twenty-six other institutes and centers that support research in different areas such as cancer, heart disease, and infectious diseases.
NIGMS grants—about $2.6 billion is awarded annually—fund basic scientific research that increases understanding of biological processes and lays the foundation for advances in disease diagnosis, treatment, and prevention. NIGMS funds are also used to train the next generation of scientists, enhance the diversity of the scientific workforce, and develop research capacities throughout the country.
The IT staff in particular is kept connected to the cause by Lopez's management style. "I am part of the team, not the 'boss,'" he says. "A Nobel award to the NIGMS community is exciting. My team is incentivized and empowered by these institutional successes, and we continue to strive, together, to be a part of that bigger whole."
It's also why they feel a responsibility to evolve with technology and stay on top of what's possible. Fortunately, technological evolution is in the agency's DNA. In 1958, the NIH was one of the first agencies to use digital computers. By 1990, those personal computers Lopez spied at the end of a hallway were extensively networked. 
Lopez was a founding member of the working group enabling internet protocols throughout NIH networks. "Our NIH and external research collaboration was one of the main drivers for this implementation," he says. The agency went on the internet (originally called the Advanced Research Projects Agency Network, or ARPANET) in 1992, connecting it to the universities that received its grants.
The rapid advance of technology invokes a serious sense of responsibility in Lopez and his staff. "Keeping up is hard, but it keeps us motivated," he says. "There are so many layers to IT support. We provide tools to maximize data mining, configure software to conceptualize that work, and secure it in the cloud to share the developments with others."
Cybersecurity is a relentless concern, Lopez says, and he and his team remain vigilant by using the best practices implemented throughout the Department of Health and Human Services, the parent organization of the NIH. The department, specifically its IT section, values the importance of security. "It is our goal to be proactive rather than reactive," Lopez says. "We continuously install and upgrade security agents, tools, and monitoring devices to stay ahead of the threat."
One of Lopez's observations is that only 3 percent of NIH employees are Hispanic, and that's a number he wants to see grow. He works to improve it through education and recruitment campaigns at universities across the US, where Hispanic populations are thriving. His contributions continue to help candidates go through the complex government hiring process, and his NIH journey shows that they can do it, too.