Most HR leaders start in an adjacent area and eventually begin leading employment strategies by default; Chief People Officer Christine (Gallardo) Morehead has purposefully made her career in the space. Many people think of the healthcare industry as inefficient, impersonal, and expensive; One Medical is convenient, customized, and cost-effective. Morehead isn't a typical HR leader, and One Medical isn't a typical company. Together, they are building the future of healthcare.
CEO Amir Dan Rubin, formerly of UnitedHealth Group and Stanford Health Care, now leads the digital and in-person national primary care company, which started in 2007. Google, Zendesk, and thousands of other companies use One Medical's platform and clinics to deliver healthcare to hundreds of thousands of members in about twenty major markets nationwide.
While many US physicians load their daily schedules with dozens of short patient visits, One Medical caps its doctors at sixteen appointments per shift. It uses its custom-built technology and patient record system to put information—and power—back in the patient's hands. It's "the Starbucks of primary care," says investor Steve Wise.
Building a new kind of primary care company where members communicate on an app and receive care on their own terms takes a new kind of HR executive, and that's where Morehead comes in. The seasoned HR executive joined One Medical in 2013 to form the industry-disrupting teams who are creating a system of quality, fair cost, and easy access care.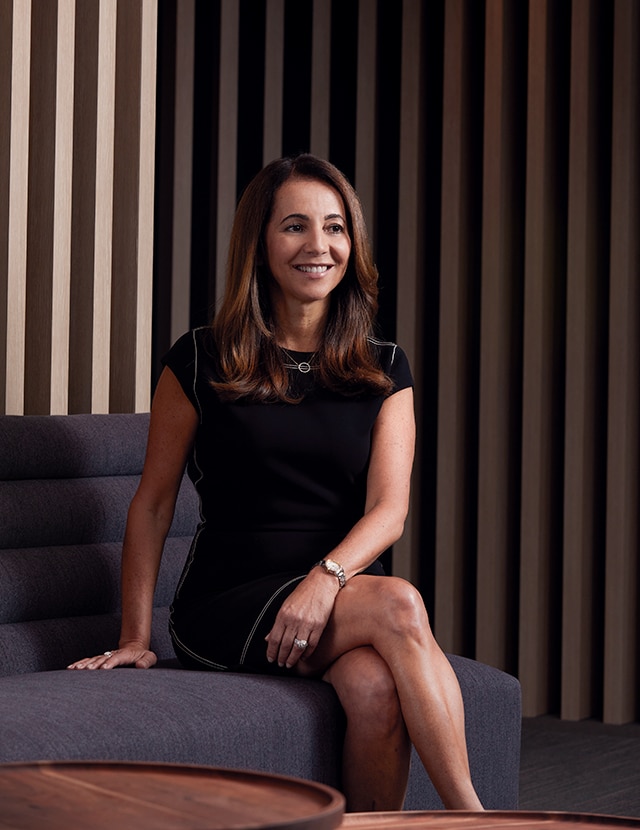 Morehead was raised in a military family and grew up in Peru and Thailand. She learned strength and leadership from her Cuban father and inherited a quiet humility from her Puerto Rican mother. "You're not better than anybody, but nobody is better than you are," Morehead recalls her mother saying.
That attitude, combined with her international experience, gave Morehead a passion for people and a curiosity about human behavior. She studied human resources and started her career working for iconic companies like Virgin America and Sprint.
At Virgin America, Morehead was part of a team dedicated to recreating the experience of flying, and now at One Medical, she's part of a team dedicated to recreating the patient and provider experience in healthcare. During her tenure, One Medical has grown from three hundred to over three thousand employees and made its stock market debut as ONEM on the Nasdaq.
Morehead helped establish One Medical's employee value proposition early on, and now she is leading the charge on scaling those core values and formalizing foundational principles to ensure the company maintains its strong culture through an ambitious growth phase.
One Medical needs skilled technicians, engineers, and clinicians, and while Morehead leads efforts related to recruiting, learning and development, internal comms, and corporate facilities, she's quick to point out that she is not leading an HR team. "We call ourselves the people experience team," she explains. "All of my colleagues who report to me have one thing in common, and that's the fact that we are dedicated to building the best possible experience for our internal employees, our partners, and our members."
In late 2021, One Medical acquired Iora health, a primary care organization known for providing primary care to senior patients. Morehead helped welcome and onboard seven hundred new colleagues as part of the large transaction. The move brought a new demographic to One Medical and increased the company's geographical footprint while helping it expand its services.
One Medical started as a hybrid remote and on-site company, but in the wake of the ongoing COVID-19 pandemic, Morehead and her colleagues are figuring out new ways to keep employees engaged and connected. Regional events and celebrated milestones help, but the company has also introduced new mental health services and well-being solutions for employees and members alike. One Medical is also increasing efforts in diversity, equity, and inclusion to help continuously create a welcoming and equitable environment for both employees and patients.
Some innovative people strategies and employment benefits are attracting the best and the brightest to One Medical's workforce. A formalized mentoring cohort brings clear pathways to career development for BIPOC employees, and all employees earn a four-week sabbatical for every five years of service.
The perks are nice, but Morehead says people stay at One Medical because they know they're part of work that matters. As she develops strategies, she keeps her mother's old saying about humility in mind. "We're confident that nobody is better positioned to tackle the healthcare delivery dilemma than our team, but we also don't need to get arrogant about our ability to transform healthcare in the United States," she says. "We want to let the results speak for themselves."
And the results are there. Companies that use One Medical rate it as one of their most popular benefits and lower their cost of care by an average of 8 percent, and the company maintains an average Net Promotor Score (NPS) of over ninety, well above the industry average. With a strong team in place, Morehead and One Medical are changing the way employers, providers, and patients do primary care.