"I'd been envisioning the concept of myJoblinx for a couple of years before I actually put the idea on paper. In 2009, I was volunteering and conducting workshops at local community centers for active job seekers. Many participants were Facebook users and would ask me why there wasn't a Facebook solution for job searchers.The second time the idea came up was in 2010 while I was at a local coffee shop with one of my Intersil colleagues.We were discussing the growth of social media and brainstorming creative options for driving employee referrals on Facebook. We didn't see any effective sourcing tools specifically on Facebook, so we soon had a crazy idea to develop a product that would raise the bar for recruiting on Facebook. Within four months, we'd designed a solution and myJoblinx was born.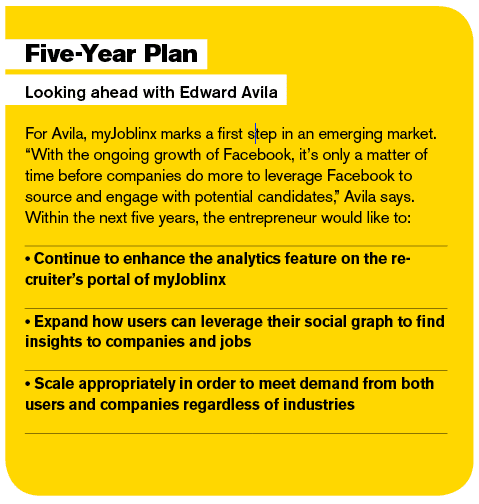 A turnkey recruiting application on Facebook that harnesses the power of social media, myJoblinx allows users to employ Facebook as a professional-networking solution through creating and managing professional profiles or requesting an introduction to top companies by trusted friends. Users also can share job postings with Facebook friends through messages and wall posts. For employers, myJoblinx provides a simple solution for recruiters to find potential candidates, create unique talent networks, and showcase their employment brand on Facebook. It's a unique solution, which complements a company's Facebook page and makes it easy for Facebook users to browse open positions, apply for jobs, share job postings, and see inside connections at the company that posted an opening. myJoblinx is being recognized and used by a growing list of clients from various industries that range from start-ups like Digital Chocolate and Cloudera to Fortune 100 companies like Adobe and Agilent Technologies. It was also featured in US News & World Report and was selected as the "app of the week" by the SmallBiz Technology.
I feel that myJoblinx stands out from similar applications because it was created and developed by recruiters for recruiters. I also am proud to be able to represent the small but growing field of Hispanic entrepreneurs in Silicon Valley, and hope my success will be an inspiration to other minorities in this field. In a short period of time, I've seen myJoblinx go from an idea to an actual working product that offers the rich analytics needed to measure ongoing results and performance. With the application, we aim to disrupt the traditional job-board methods for both job seekers and recruiters.
Considering the emergence of social media, a solution like myJoblinx creates an innovative way for Facebook users to gain unique insights into companies and for companies to engage with a larger pool of potential candidates. These are exciting times to be a game changer and challenge the status quo on how we engage with employees and job seekers. If myJoblinx can assist the job-search process and make it easy for candidates to land their dream job, then I know that I have made a difference in transforming how job seekers and companies use social networking to find jobs."