The essential function of those with multiple language skill sets wasn't always as highly valued as it is today. Berta Alicia Bejarano, director of orthopedics, podiatry, physical medicine, diversity, equity, inclusion, language equity/access, and ADA (Americans with Disabilities Act), services at Kaiser Permanente, doesn't have to think hard about the first time she found herself in trouble for being bilingual. In high school, Bejarano and her friend were suspended from school for the high crime of conversing in a language that wasn't English.
But the punishment couldn't do more damage than the inspiration her high school Spanish teacher had provided the young student, and Bejarano would go on to achieve outstanding success as a court interpreter, somehow completely bypassing the usual protocol of state-employed interpreters getting called up to federal positions. She passed her federal exam on the first attempt, and also became the only interpreter to ever be hired at the California Judicial Council Interpreter Program for the State of California.
"I am grateful for where I am," Bejarano says, speaking from her office at Kaiser Permanente. "Look at all of the doors that have been opened for me because I speak Spanish."
Today, Bejarano enjoys a plethora of duties—part of her continuing evolution at Kaiser Permanente. The director currently leads six different departments, and all of these opportunities, she says, came from her first passion: the desire to advocate for patients with the best language services possible. In her current role, Bejarano helps Kaiser Permanente continue to help and support an increasingly diverse patient population.
"I always tell our interpreters that I want our team to lead with quality," she says. "There is always slang that can be used, but I ask my team to always act as if they're interpreting for a dignitary. We want to provide care for our patients using the language that they understand the best. They're in an intimate setting, and they're coming to us to talk about their health."
Bejarano explains that people put in a stressful environment will naturally revert to the language in which they are most comfortable. An emergency room patient or one being confronted with difficult and important news doesn't just deserve to understand what is happening; they deserve to be served with the same compassion and humanity that any English speaker would receive.
---
Berta Alicia Bejarano expounds upon the importance of language services for all patients:
---
For some time, Kaiser Permanente was offering both in-person interpreters and a telephone interpreting service to assist patients. But Bejarano recognized that in some instances an interpreter wasn't always available in time.
That is why Bejarano and her team implemented tablet technology that provides a live interpreter, capable of speaking everything from Cantonese to Farsi, with the touch of a button. "Our doctors are sometimes visiting twenty patients a day," the director explains. "They don't have minutes to spare. That is why I charged myself with providing a service that connects in thirty seconds or less."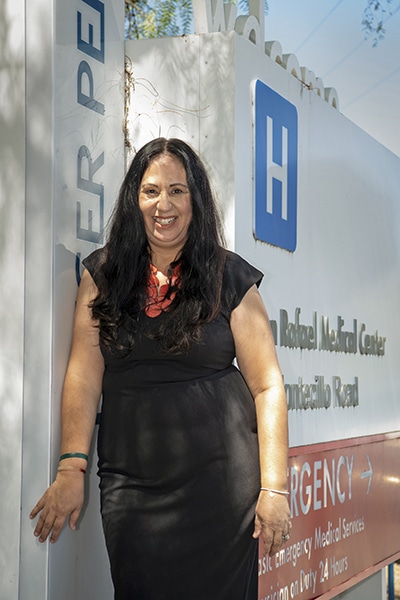 The interpreter platform has also provided extended benefits to another patient community that often has to fight for equity: Deaf patients are now able to access American Sign Language interpreters in a matter of seconds. For the organization's blind patients, Kaiser Permanente provides a script reader that talks patients through their medication from the comfort of their own homes.
As the leader of Kaiser Permanente's equity, inclusion, and diversity council, Bejarano says that working on behalf of patients is second nature. "When you're interpreting for the court, you are not the advocate for the litigant," the director explains. "When you're interpreting for healthcare, it is your utmost responsibility to advocate for the patient." But it's not always easy.
"There is always inequity and disparity," Bejarano says frankly. "We know this across the board, and COVID-19 just amplified this for so many of our minority populations. People may be fortunate enough to have healthcare, and they may have access to that healthcare, but do they have bilingual physicians or services available to them that ensure they will have positive outcomes for years to come?"
Language services is just one of the six departments that Bejarano leads, but it's one that is both vitally important and often underrecognized: everyone deserves empathy and compassion, regardless of what language comes most naturally to them. It's good to know there are people like Bejarano making sure those patients receive treatment that, in all things, leads with quality.
Editor's note: At the time of press, Berta Alicia Bejarano had accepted a new role at Kaiser Permanente as the TPMG practice leader for language services, access, and equity for Northern California. 
Lasting Legacies
Berta Alicia Bejarano may have faced punishment for speaking Spanish at school, but at home, she was encouraged to be proud of her heritage. "My mother would say, 'Aqui en la casa, español vas hablar, con tus amigos y afuera de la casa no me importa pero aqui español,'" Bejarano remembers. "She provided me with her language legacy and the privilege of being bilingual, a legacy I do not take lightly. El lenguaje has opened doors for me and my career, and now as a mother, I instill those same language legacies in my children."