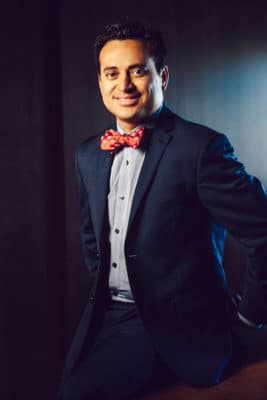 When Ozzie Martinez's father was nine years old, he had two jobs: working in the field with his family and handling luggage at a local train station for tips. The money earned from the fields went directly to his family to put food on the table. The tips were his to keep, and he used that money to purchase piglets. When the animals grew into adult pigs, he would sell them for a marked-up price and then use that money to buy more piglets. The process continued until he was able to move his family out of rural Mexico and into a city where there were opportunities beyond field work.
As the son of Mexican immigrants and the first in his family to graduate from high school, Ozzie Martinez draws on the core values he learned as a child in his role as chief administrative officer at Kaiser Permanente's South Bay Medical Center. His office is brimming with pictures of his family, serving as a reminder not only of the importance of bringing his family with him wherever he goes, but also of how far they have come.
Martinez cites his father's youthful enterprising as an example of innovation, and it appears the apple doesn't fall too far from the tree.
According to Martinez, Kaiser Permanente "has innovation in its DNA." Although the healthcare industry faces continued upheaval, Kaiser Permanente works to bring more stability to its patients' lives. The organization actively assesses and evaluates its assets, figuring out how it can leverage its power to partner with others and influence local communities. The end goal, Martinez says, is to make the communities it serves some of the healthiest in the nation—and that goes beyond traditional views of health.
"We're not just talking about physical health, and that requires looking at ourselves as an organization differently," Martinez says. "We're looking at Kaiser Permanente's role as an employer, a purchaser, and a landowner. We're looking at who's doing great work in the community related to wellness and job creation, as well as figuring out how to partner with universities and other organizations so they can help us address health gaps. The young people we recruit for internships to help us address health gaps in their communities can be tomorrow's leaders."
These health gaps include employment as well as career development because living well requires earning a livable wage. It includes addressing where and how communities can access food—does the local store sell fresh fruits and vegetables, or do they live in a food desert? Do patients feel safe walking in their neighborhoods in the evening for exercise?
These are not easy subjects to tackle, but work is underway to address these issues holistically. Most notably is the launch of the Kaiser Permanente School of Medicine in Pasadena, which is set to welcome its first class of students in the fall of 2019. The school will have a strong emphasis on diversity, with a student body that reflects both the communities these future doctors come from and the communities they will eventually serve.
The School of Medicine is just one example of the organization's long history of innovating to meet the needs of the community. In 2009, Kaiser Permanente awarded the highly prestigious James A. Vohs Award for Quality to a 2007 initiative that Martinez and his colleagues launched in Southern California. Formally known as the Proactive Office Encounter, this systemic in-reach program is still used today for preventive care and the management of chronic disease. Relying on staff from primary and specialty care departments, these employees proactively identify gaps in care and assist physicians to close those gaps using standard work flows and information technology, including electronic medical health records.
Mary Gonzales' story is a perfect example of how powerful this initiative can be. Gonzales arrived at an appointment with her allergist at Kaiser Permanente to address some issues she was having with her asthma. The receptionist, whom she knew from many visits to the health care center, informed Gonzales after her appointment that she was due for a mammogram. Gonzales hemmed and hawed, but eventually took the receptionist's advice and had a mammogram that day. Physicians found an early cancerous growth and to this day, Gonzales credits the Kaiser Permanente receptionist for saving her life.
"If you think of our history, we were founded on this radical idea that health isn't an industry; it's a cause, and our integrated model is maybe the clearest example of how we've innovated to reflect that."
Ozzie Martinez
"This wouldn't have been possible without the infrastructure we have in place, and that includes having specific protocols, including prompts within our electronic medical record system," Martinez says. "Even our receptionists receive these alerts related to patients' care so that they can help close these gaps."
To improve the experience, Martinez says the healthcare organization has a process in place to "reduce sleepless nights," meaning that when someone like Gonzales receives a mammogram, the goal is to minimize the time between suspicious test results, diagnosis, and treatment. Beginning treatment as soon as possible not only improves health outcomes, but also provides the patient with peace of mind.
Operating as an integrated-care model, another major innovation, may not seem so innovative as more healthcare organizations shift in this direction. Still, it should be noted that Kaiser Permanente pioneered the movement.
"If you think of our history, we were founded on this radical idea that health isn't an industry; it's a cause, and our integrated model is maybe the clearest example of how we've innovated to reflect that," Martinez says. "We are an organization with a health plan, hospitals, and a medical group. Patients don't necessarily see us working as three entities, but they definitely benefit from it. This system also benefits providers and physicians. They can practice ethical medicine without getting bogged down worrying about things like bringing in more patients for volume and payment."
Martinez is proud of Kaiser Permanente's legacy of affordable, high-quality medical care, but as he enters his fifteenth year at the organization, he's thinking about the legacy he wants to leave behind one day. While at UCLA obtaining his master's in public health and health services management and policy, he went to Kaiser Permanente for what he believed to be a preliminary interview for an internship. Instead, he was given a role on the spot. His advisor told Martinez he was excited to have him on the team because of the shortage of Latino leaders – and that made a lasting impression.
"It was one of the first times someone really trusted in my potential like that, and I still think of that moment a lot and what it meant to me," Martinez said. "I want to be that person for the next generation of leaders."