Narda Zuniga was thirteen when she decided to become a lawyer, inspired by an older brother who'd already chosen the law as his career. She grew up in Peru and didn't speak English when she moved to the US for college at the age of seventeen, but she was determined.
Soon Zuniga was mastering the language, and after she completed her undergraduate degree at Montclair State University, she was accepted to Seton Hall University School of Law. "I didn't know what type of law I wanted to pursue, but I did know that I wanted to be involved with Latin America someday," Zuniga recalls.
First, though, Zuniga did stints at several law firms based in New Jersey and New York City, paying her dues as an associate and gaining experience in different areas of litigation.
"I started as a litigator in a small family firm, but after only a couple of years, I felt I wasn't being challenged enough. And when that happens, I know it's time for me to move on," she explains. "Through a law school connection, I eventually landed a job as an in-house contracts lawyer."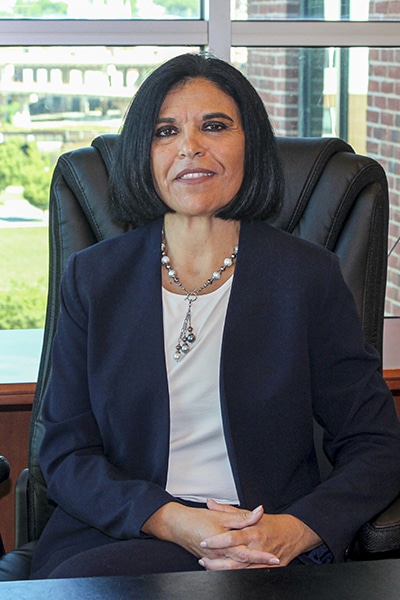 Zuniga discovered that she preferred corporate law, and in 2006 she was hired as transactional counsel at QBE Insurance Group, which at the time was looking to grow its Latin American presence.
"I had no Latin American experience, but the company was seeking a lawyer to help this project take off, so I volunteered," she says. "I knew the culture and the language, and I was willing to learn and start over again—which has been the theme of my career path."
Within less than two years, Zuniga was named assistant general counsel for the Latin American division. Within five years, she became senior vice president and general counsel for Latin America and soon thereafter emerging markets, which included Asia. Eventually, QBE decided to sell off its Latin American component, and after nearly fifteen years with the company, Zuniga realized it was time to reinvent herself again. "It was difficult to see something I had helped build from the ground up be sold, but at the same time, I was very proud to be a key member of the transactional team executing the sale," she notes.
In June 2020, with the COVID-19 pandemic in full gear, she joined AAA Club Alliance Inc. (ACA) as executive vice president and chief legal officer. When the recruiter first approached her, she was unsure she would be the right fit for the job, worried that the focus would be too narrow. "But as the recruiter explained, ACA is very innovative, offers a wide array of products, and has partnerships with so many different entities. It makes the business extremely diverse and challenging, which is exactly what I wanted," she says.
For instance, the company recently partnered with a tech company that provides an informational digital platform to the Hispanic population. "We ran a pilot program and learnt that this platform was a viable option for building awareness of AAA offerings within the Hispanic community," says the EVP.
"I was willing to learn and start over again—which has been the theme of my career path."
As part of the executive team, Zuniga has a voice not only in managing the Legal Department but in the business itself.
Zuniga says that ACA makes a strong effort to promote diversity. "It's something that they are very focused on, and that's one of the things that attracted me to the company as well," she says. "Diversity has always been extremely important for me and a must-have at the workplace. Diversity is not just gender, religion, or race. I believe that value comes from having employees who come from different socioeconomic and educational backgrounds as well."
Zuniga's legal team is small, but she describes it as "a team of experts." In addition to the four lawyers who report to her, she's in charge of the public and government affairs team. "Because it's a small team and most business opportunities touch on multiple areas of the law, we have to work closely together and support each other," she explains. "Even during the pandemic, thanks to ACA's available technology, we have been able to collaborate with each other and get what we needed done."
Zuniga still considers herself new at the job, but she's proud that she's part of a team with a clear mission and looks forward to what's ahead.
"It's very important to have a team that is constantly learning from each other," she says. "It's very exciting when you walk into a room where you know you will have a rich and interesting discussion, because the individuals in the room are culturally different and each of them will bring a different perspective to the table to solve a common problem or achieve a common goal."
---
Blank Rome LLP:
"Blank Rome congratulates Narda Zuniga on this well-deserved honor and is proud to be an integral part of AAA Club Alliance's outside legal team. We enjoy working with Narda and her colleagues in developing practical, innovative, and effective solutions to complex legal issues." For more information, visit blankrome.com.
—Charles Marion, Partner