As VP of HR for ATI Physical Therapy, Lisa Gutierrez busts the myth of HR as a non-revenue-making role, noting it is actually "revenue saving"
Lisa Gutierrez knew she was taking a gamble when she left her legal career to dive into the world of human resources. But the former labor and employment attorney has no qualms now as vice president of human resources at ATI Physical Therapy. A native of Illinois, Gutierrez grew up with a strong work ethic, spending many summers helping out in her father's office. There, she came to understand the dynamics of a happy office environment and how to nurture office camaraderie.
Influenced by her volunteer work with women and children who were victims of domestic violence, Gutierrez attended law school and took the position of associate attorney with a boutique labor and employment firm. But between clients, Gutierrez found herself increasingly attracted to recruiting and organizing events at the firm—and discovered she was good at it.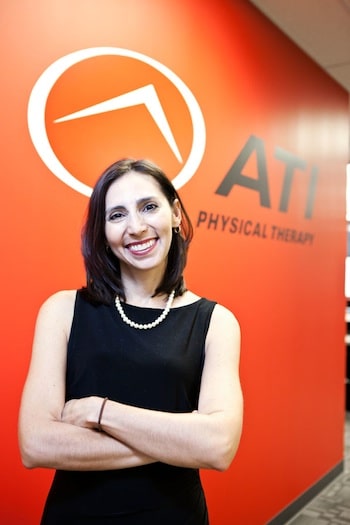 After a lot of soul-searching and exploration of what the HR industry had to offer, including many heart-to-hearts with HR professionals, she made the switch in 1998, joining the HR department of the Ritz-Carlton Chicago. Two years later, Gutierrez was promoted to HR director at the Four Seasons Hotel Chicago, where she stayed until 2006.
"It's who I am," Gutierrez says of her HR talents. "My parents are my role models and provided me with a strong work ethic and a background to always do the right thing. The hotel employees often reminded me of my family with their hardworking attitude, amazing spirit, and dedication to their families and the future."
When Gutierrez first transitioned into HR, she knew "how to do the big stuff, but not all the little things that make HR great," she says. To reinforce her belief that HR must act as a business partner and not a standalone department, Gutierrez learned the ins and outs of the hotel business. Aside from working with HR staff, the newbie rotated herself through various departments, answering phones with the receptionist, and chopping carrots alongside the chefs.
"I quickly realized that knowledge of the business and employee trust was critical," she admits. "If I've never done it, how can I say they're right or wrong? It allowed me to realize that an issue may be easily diffused instead of being blown up."
3 Tips
1.
Live what you preach.
2.
Constantly know what your employees are doing at every level. The company leaders can't be everywhere all the time, but it's how they manage their staff to make sure they expect the same treatment at each level.
3.
Tie your employee program into your business mission and support your overall theme.
By the time Gutierrez accepted a position in 2006 with ATI Physical Therapy—then a 10-year-old company with no structured HR department—the student had become the teacher. Starting from scratch to create a functioning HR department for ATI wasn't easy, but Gutierrez eagerly took on the challenge and has since overseen the addition of 2,200 employees across 175 clinics in six states.
Gutierrez introduced a five-year plan which set off  "a lot of moving parts at all times," including the establishment of a firm HR mission statement, writing up job descriptions, a high-energy recruiting program, and modifying benefits packages. While proposing to cut back ATI's 100-percent benefits payment didn't make the new girl in the office very popular, Gutierrez says, "it's not always about being their friend—it's about doing what's right, making sure the package is competitive and financially stable for the future. It was better to make this change with 200 employees rather than with 1,000."
It is through these kinds of adjustments that Gutierrez hopes to bust the myth of HR as a non-revenue-making position. "We are a revenue-saving position. If we put in the right programs, we are actually saving the company money. You just have to coin it differently," she says.
Gutierrez has also helped ATI grow by 30 percent through acquisitions and mergers, including two larger acquisitions of approximately 20 clinics with 200 employees each. To smooth out the rough edges of onboarding and a constant flow of new employees, Gutierrez created a "flash report," a two-page summary of the most important information regarding changes in pay dates and benefits.
"The employees' lives are changing, and they don't even know it. We need to assist them, understand them from a personal and professional level. The flash report is basic, but then the employee reaction is that we care about our staff as individuals. And we do this also because we want our employees to care about our patients," she explains.
This golden-rule concept is the essence of Gutierrez's philosophy—in work and in life. And as part of a company in the rehabilitation industry, she likes to frame this HR vision in terms of "preventative medicine," which ensures the application of company procedures that affect the bottom line.
Gutierrez puts her vision into action by having her team of 24 regularly visit the clinics, while her new hires spend time working alongside clinic employees, answering phones, or riding with the drivers. When her HR employees participate in the clinics, they "experience what makes ATI great. And this also allows them to get to know our employees and get to know our business."