Anthony Redondo has the heart of a hustler. Growing up in New Jersey, he watched his dad work odd jobs that were open to someone who didn't hold a high school diploma. His dad studied for and earned his GED while Anthony was in high school, and he went on to pass the boilers exam and work in the school district for twenty-five years.
Anthony was inspired by his father's work ethic, but from the age of seven, he wanted to do something different in his life: be an accountant.
After earning his bachelor's degree in accounting, Anthony built his expertise at PricewaterhouseCoopers, Tiffany & Co., and Protiviti before joining Blackhawk Network in 2010.
The vice president of global accounting operations and treasury spoke with Hispanic Executive about why he's stayed at Blackhawk for more than a decade, the organization's evolving global operations, and the importance he places on trust and lifelong learning.
What has kept you with Blackhawk for twelve years? Can you highlight some of the growth you've experienced over that time and what keeps you motivated?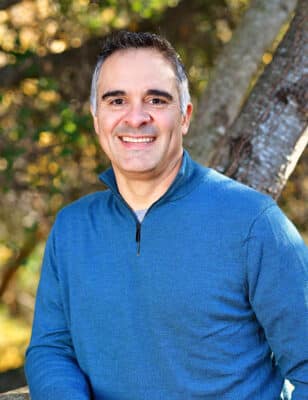 Blackhawk has always challenged me, and I am always building my résumé. I was hired to start the internal audit department for a subsidiary of a large public company that was in a pre-IPO stage. I built the team and in 2013, Blackhawk went public. I was now a chief audit executive for a public company.
While public, we expanded globally through organic growth and acquisitions. In 2018, we were acquired by a private equity firm and were taken private. After the acquisition, I was able to expand my role to help the CFO's organization by taking on some high-visibility projects.
Fast-forward to the beginning of 2022, and I have been challenged again and asked to oversee settlement, accounts receivable, accounts payable, treasury, insurance, and payroll. Additionally, I have also taken on the task of managing global real estate and working with executive management on strategic property management.
Could you talk about some of the current initiatives you've focused on, like helping the organization truly become more globalized?
As a company that continues to expand globally through organic growth and acquisitions, it is critical to have processes and standards. It is sometimes challenging to get everybody to follow a standard because there are different systems, laws, and other unforeseen challenges. If you do not make it a priority to globalize, it will never be done.
There are a few things that we have done to support globalization, and it all started with the change mindset and appointment of global leaders, followed by the implementation of systems and tools to support a global structure. Blackhawk's global expansion as a leader in digital payments, rewards, and commerce has been an incredible growth story that I am proud to be a part of.
What is your approach to helping people feel like they are a part of something bigger?
I have always been a people person, and I have always liked talking with people, organizing events, and helping people develop. In general, one challenge that companies have is that they do things to give the illusion of engagement, such as asking employees for feedback or conducting questionnaires, but they do not act on the feedback.
If companies do not follow through and implement change, employees will stop giving feedback, stop being engaged, and eventually, they will leave. At Blackhawk, we have intentionally cultivated and continue to nurture a culture of listening as well as recognition.
It is so critical to know your employees, not just by name or face, but know something about them. People need to know you see them and care for them.
What kind of a leader are you? What's important to you when it comes to leading a team?
I like to think of my leadership style as supportive, straightforward, and challenging, yet compassionate. I expect a lot from people. I know we have smart talent, and I know we can do amazing things as a team and as a company. I give people the freedom and authority to make changes and drive improvements that they feel are needed. I believe that every person can and should make an impact.
The most important thing when leading a team is trust. You need to trust the team, but more importantly, the team needs to trust you. Trust is not an easy thing to get. You do not get trust by being promoted and being the boss.
A boss is very different than a leader. Anybody can be a boss. Gaining trust does not come overnight and usually comes through proving yourself again and again but also by continuing to support the team.
Do you have any advice for someone early in their career who might see your story and hope to emulate your journey?
Be hungry, never stop learning, and dream big. It will not be an easy or short road, but it will be rewarding. There will be days that are hard and there will be days that are easier. Don't give up. Know what you want and go get it.
Surround yourself with good and smart people. You will not get where you want to be by yourself. You will need great professional and personal relationships to succeed. Find a mentor, a confidant, a soulmate—you will need them all!