Lauren Lopez thought she would go into nursing. She attended a high school that specialized in health and human services, and nursing offered a path that not only served people but also provided stable work that her family would be proud of. Career conversations in immigrant and minority households often center around steady pay and not making a lot of waves.
But when it came to registering for her nursing practical, Lopez was advised that trying to work while studying would be impossible. "I was living on my own and paying for my education," she explains. "There wasn't an option to not work, so I had to find an alternative path."
A pivot into human resources—a recommendation from her college advisor—led Lopez to her purpose. "My advisor explained that human resources was responsible for serving people in the world of work, ensuring that they had what they needed to be successful and thrive," she says. "I found this very compelling and jumped in feet first."
In the seventeen years since, Lopez has held various roles across the HR function for major organizations such as Bloomberg, NBCUniversal, Conde Nast, the NBA, and the New York Times. As the New York Times first senior vice president of talent management, Lopez and her team led efforts around employee performance, professional development, and diversity, equity, and inclusion (DEI).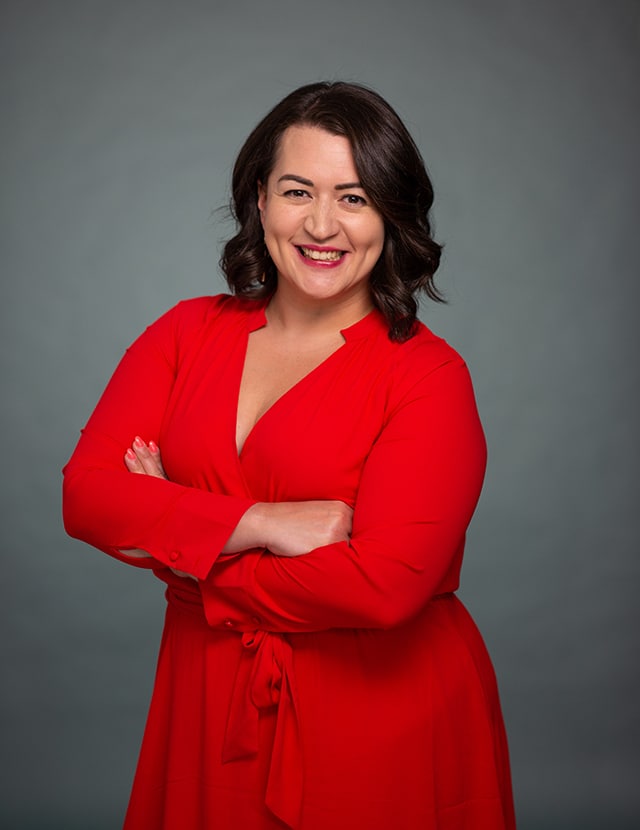 Despite working for well-known companies, Lopez remembers what it was like to feel "less than" along her professional journey in corporate America.
"Walking into the corporate world with little to no guidance is hard for anyone but specifically underrepresented and first-generation talent," Lopez says. "We often feel and carry our differences more heavily than others. Perceived deficits in the socioeconomic, cultural, educational, and professional realms may stoke insecurities that undermine potential and in turn impact performance. What was key for me was understanding how my differences set me apart or prepared me for the road ahead. Helping others find their way became my own personal mission."
Her first corporate role was at Bloomberg developing campus recruitment programs. It was an incredible opportunity to support and elevate early career talent from all walks of life. While loving what she did, Lopez struggled with feelings of inadequacy as she compared herself to her colleagues. She didn't go to an Ivy League school, intern, or study abroad, nor did she have a network to propel her in the early days of her career.
But she did have a willingness to work hard, learn, and execute. With time and key mentors, Lopez reframed her thinking. "My experience wasn't less than, it was different," she says. "I was beginning to acknowledge my own worth."
She began sharing what she was learning in real time with the candidates she was connecting with: networking tips, communication styles, mock interviews, editing résumés, and travel tips. "It was important for me to make these individuals feel seen and supported to afford them a smoother experience than mine."
Lopez built a roster of incredible mentors that she still taps into today. Her mentors were leaders, peers, and in some cases direct reports who shared the ability to teach and model the skills she wanted in her own tool kit. Though her parents didn't attend college or hold offices in large skyscrapers, they taught her the power of servant leadership, resilience, and the importance of bringing others along with her.
She's brought her mission of helping and mentoring others throughout her career, most recently at the New York Times. Lopez had the opportunity to influence how one of the world's most notable media brands onboards, trains, develops, and grows its talent. She defines her work as "ensuring that every employee has equal access to the opportunities and tools that will help them thrive in their careers."
The New York Times has stated its goal to increase the number of its Black and Latino leaders by 50 percent before the end of 2025. Doing so, Lopez notes, furthers the organization's efforts to create a diverse and inclusive culture to better equip them to serve its wide-reaching audience.
Part of Lopez's success lies in her willingness to make the time to get to know talent across an organization. "Leaders have to be intentional about forming relationships at all levels, so they can really understand needs and uncover how they can support others," Lopez says.
Big steps like tapping someone for a leadership position matter. But it's the more organic gestures—speaking someone's name at a leadership table or giving an employee quality facetime with executives—that executives can offer support and increase pathways to growth.
In 2023, Lopez is bringing her mission and culture-building expertise to the world of sports at the National Women's Soccer League (NWSL), where she will be the first chief culture officer and its first Latina C-suite leader. In this role, she'll be identifying, developing, and implementing HR strategies, initiatives, and best practices across the league and club ecosystem. It's an opportunity to help the NWSL create "a community and culture where all feel safe, supported, and set up for success," she said in a statement.
Her experiences balancing school, financial security, and living independently prepared her for this journey sooner than most—and it is core to the leader she has become, Lopez notes.
"I have had the unique opportunity to influence how some of the world's most notable organizations onboard, train, develop, and grow their talent," she says. "Ensuring that every employee has equal access to the opportunities and tools that will help them thrive in their career is critical and a responsibility I do not take lightly."
---
Sidebar: 3 Ways to Help the Next Generation
Executives must be intentional about how they support and cultivate first-generation and underrepresented talent. With most organizations making large investments on DEI strategies, it is imperative that the impact of socioeconomic differences on career trajectory is also examined.

Three simple things executives can do right now include:
1. Understand the unwritten rules of your organization. Are there shadow expectations that are not widely discussed but used to advance a chosen few? Shift to clearly communicated expectations for promotion and advancement that are consistent and measurable.
2. Create inclusive communities such as employee resource groups or mentorship circles. These should allow employees to share their unique lived experiences, learnings, and challenges with others in a safe forum.
3. Invest time in getting to know your talent. When you learn their aspirations, development areas, and goals, you can more readily speak their names in rooms. This offers visibility to their work, increased support, and clearer pathways to growth.