For 2020, the word of the year is . . . connection. In this year of the pandemic, that's all Americans want—to once again connect with family and friends. Politics is supposed to be about connection. So is technology. At the intersection of the two, you'll find an unlikely power couple: Antonio and Rebecca Altamirano. They have spent the last eighteen months working to boost Joe Biden's chances to win the White House.
Their story begins in July 1999, in a small city in Ecuador called Baños de Agua Santa.
Rebecca, a native of Holland, Michigan, who graduated magna cum laude from Wellesley College, had secured a Watson fellowship to study weaving in the Andes Mountains.
Antonio, who is from a village located ninety minutes from Quito, was working as a white-water rafting guide, competing in international rafting competitions, starting his own business, and studying civil engineering.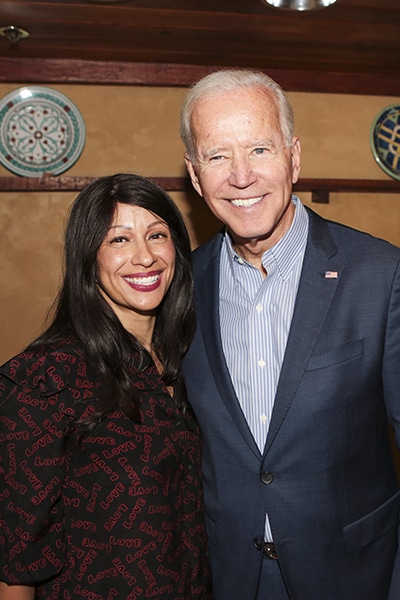 When a transportation strike left bus passengers stranded in Baños de Agua Santa, Rebecca and Antonio met in a local restaurant and began a conversation. That conversation—which continued in the United States—turned into friendship, love, marriage, and later four children.
Since meeting, Rebecca and Antonio have both amassed a series of impressive accomplishments.
Rebecca earned a degree from the Stanford Graduate School of Education, taught undocumented Dreamers in Northern California, coauthored a book about reinventing schools, and came up with the idea for the iPhone app WalkWoke. Launched in 2017, the app designs protest signs to foster free speech through art.
Antonio studied computer science at San Francisco State University, hustled for internships, worked for start-ups, and eventually got hired to work at Accenture, where he defined the original global search and social media strategy.
In 2007, the couple also launched Tangelo Technologies, which is still today one of the few minority-owned tech companies in Silicon Valley.
The couple didn't come out of the political world. But when their trajectory crossed that of the 2020 election, that fact turned out to be a blessing. When someone works in an industry for a long time, they can fall prey to bad habits, conventional thinking, and artificial limitations. They might find themselves doing things not because they work but because that's how things have always been done. The process needs fresh eyes and new thinking.
That's what the Altamiranos brought. They were invited into the world of politics after Rebecca joined an immigration panel at the Kellogg School of Management at Northwestern University.
"I have immigrants in my life, and I know they're some of the hardest working people," she says. "You start the conversation there, and then you can bring up other social justice issues too."
The date was April 25, 2019—the same day that Biden announced he was running for president. In the audience was a top bundler for Biden, who came away impressed with Rebecca's performance on the panel.
Conversations ensued. One thing led to another. Soon, Antonio and Rebecca were valuable contributors to the Biden campaign.
Let's remember that Biden's bid to clinch the Democratic nomination over twenty-eight other presidential hopefuls was by no means a sure thing. Many Democrats believed that, with such a diverse field of presidential hopefuls, the party would not choose to nominate a white male. Obviously, that was wrong.
Bolstered by working-class whites and African Americans, Biden won his party's nomination—and the presidency. The old saying goes that, while defeat is an orphan, victory has a thousand fathers. Well, Biden's victory had a thousand padres—and madres.
Here's the real story of the 2020 election: Hispanics were instrumental in putting Biden in the White House. On Election Day, thirty-two million Hispanic Americans were eligible to vote, and more than twenty million exercised that right. Two-thirds of Latinos voted for Biden. They helped deliver Colorado, California, Nevada, Arizona, New Mexico, and Georgia. To understand these votes, we have to unpack the "stealth wave" of campaign communications (e.g., targeted messaging, social media, and internet ads) that was happening under the radar.
Which brings us back to Antonio and Rebecca Altamirano, and Tangelo Technologies. The way they saw it, this election would not be won or lost with an algorithm or spreadsheet. This was about connecting. From the moment they came on board, shortly after Biden launched his campaign, they started to make their case.
"We didn't pay to play: the door opened, we entered, and we stayed."
Biden's secret weapon is his ability to connect with ordinary Americans. The Harvard and Yale graduates running his campaign had forgotten what made their guy special. They were afraid to let Biden be Biden, and their digital marketing simply entailed spamming millions of would-be supporters.
"Sending a million emails isn't digital marketing," Antonio tells me. "You have to build a digital native brand."
Sorry, I was a liberal arts major. Explain.
"Developing a digital native brand takes into account every single aspect of the operation as a digital asset," he says. "It's everything from email to how you communicate with people."
As Antonio describes his vision, a bell goes off in my head—a loud one. In journalism, this is the difference between "hunters" and "farmers." Hunters start every day tracking prey; they catch it, kill it, grill it, and eat it. Farmers build relationships with no agenda about how to put food on the table; they know what they build will be there when they need it.
"You get it!" Rebecca says. "Neither party has that now."
I'm a farmer. So are the Altamiranos.
But apparently, at that intersection of politics and technology, there are a lot of hunters.
"In the last three months of the campaign, a lot of digital marketers jumped online, but that was mostly in terms of advertising," Antonio says.
While advertising may get people's attention, it doesn't necessarily help a candidate connect. "There is a huge difference between being a digital native and just spending a ton of money on advertising," he notes. "It's not about fancy data points. It's about talking directly to people where they want to talk to you, and where they are. If that place doesn't exist, you build one."
At a time when many Americans—particularly young ones—are on social media and populating sites like TikTok, Instagram, Snapchat, and Spotify, the smart play is to set up shop there.
"I ran ads on Spotify, and with literally only a thousand dollars, I got thousands and thousands and thousands of people looking at my ads," Antonio says with a chuckle. "No one else was there, no one else thinks about that world.
According to Antonio, the success of this social media campaign—of any successful digital campaign—stems from three essential components: great tech, clean code, and great content.
But, in the world of politics, there are always three other ingredients in the mix: money, money, and money.
"With all these fundraisers and pay-to-play things, you're getting such a small subset of people," Rebecca says. "We need to be way more inclusive and bring more people in, not just those who are going to pay to be there."
The Altamiranos got to play in what is usually a closed game, but they didn't pay their way into the game.
"We've gone against the grain," Antonio says. "You have to pay. You have to donate. We didn't pay to play: the door opened, we entered, and we stayed."
Antonio and Rebecca Altamirano's tale is a story about beating the odds—a story of how an unlikely couple who met under unlikely circumstances used technology to help put a presidential candidate on the digital map, and ultimately in the White House.
It's a story about two wines that make a unique blend. It's small-town Michigan meets tiny village in Ecuador. It's the conflict between science and serendipity, certainty and chance.
It's reason to be thankful for the little things that make a big difference: Andean weavers, transportation strikes, stranded buses, computer science, immigration panels, and—most of all—risks that pay off.
---
Ruben Navarrette—a contributing writer at Hispanic Executive—is a syndicated columnist with The Washington Post Writers Group, author of A Darker Shade of Crimson: Odyssey of a Harvard Chicano, and founder/CEO of The Navarrette Sonic Podcast Network: What America Sounds Like.