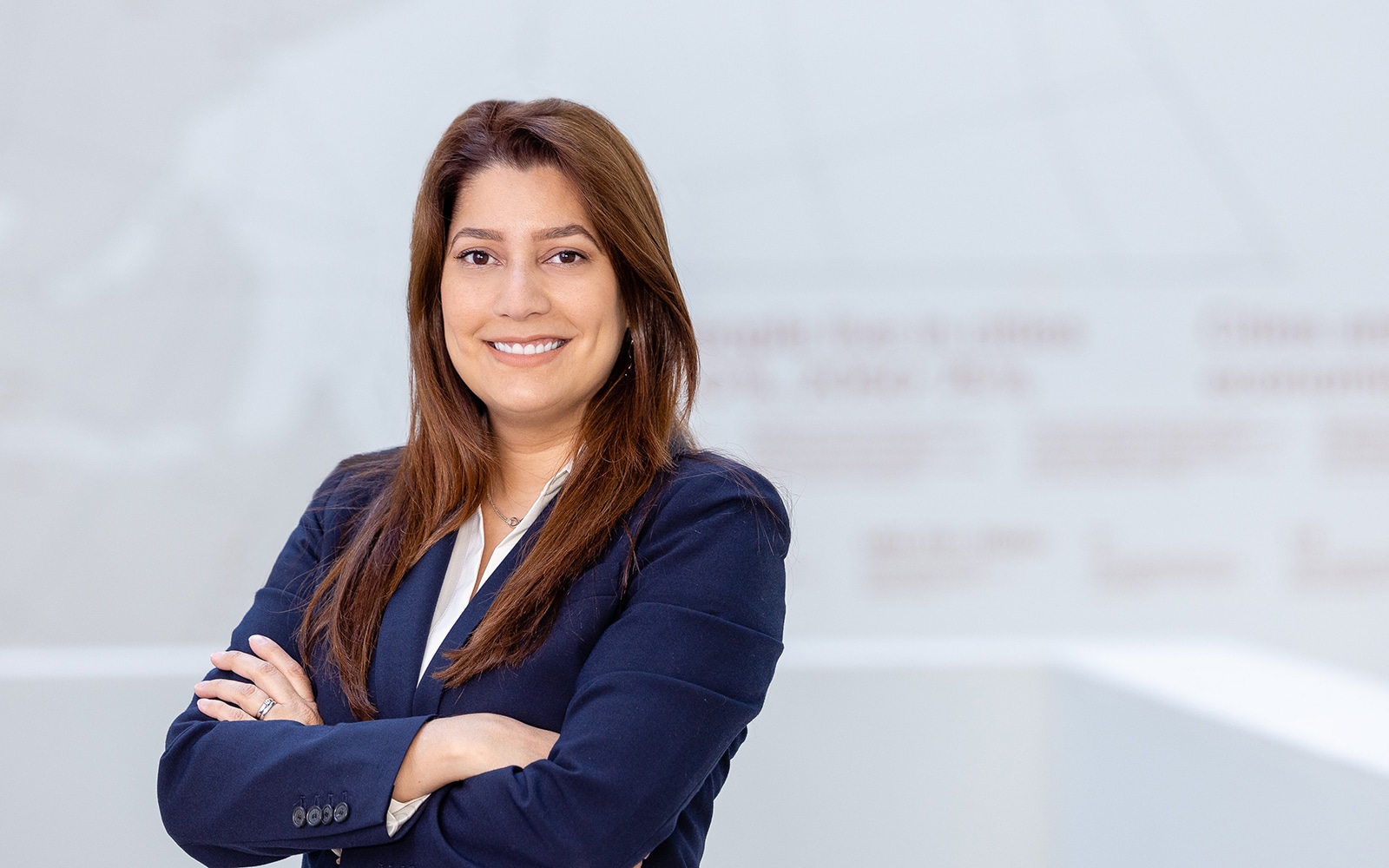 Alexandra Solórzano Pizzinini has to stop and think when you ask her how many languages she speaks. She rattles off the obvious ones—English, French, Spanish, Portuguese, and German—rather quickly. But then there's the African dialects. And she can understand some Italian. And she also explored Bulgarian and Mandarin.
Pizzinini (who also happens to have three postgraduate degrees) is the group contracts transformation head SRI at Swiss Re, a Zurich-based reinsurance company with offices in twenty-five countries. She's been with the company for more than sixteen years, and in previous roles, she's coordinated all legal, compliance, and regulatory matters in twenty countries across its Latin American region.
Life as the stepdaughter of a diplomat took Pizzinini around the world. She was born in Nicaragua but moved to Africa at the age of five, when her mother remarried. Because the United Nations reassigned her stepfather every few years, she spent nine years traversing Africa and Asia. A lack of international schooling options sent her to France, where she stayed for eight years.
Although Pizzinini has fond memories of markets in Cambodia and beach parties in Angola, her status as a third-culture kid created a confusing mixed identity. Africans think she is white, the French assume she's Arab, and Americans call her Latin. "This is how people relate to me and the category they put me in," she says. "You have to address and accept it in the corporate world while remaining sensitive to cultural issues at all times."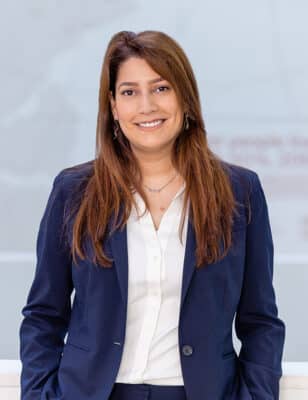 While others may struggle to apply an easy label, Pizzinini is unfazed by her multicultural identity. "The world is my home," she says. There were many challenges involved with changing homes so many times at a young age. Pizzinini was always navigating unfamiliar cultural customs and racing to make new friends. But the experience taught her to be endlessly adaptable, to observe everything, and to manage ongoing ambiguity—and those traits have helped her thrive in the corporate world.
Prior to joining Swiss Re in 2005 as assistant general counsel of the Latin American region, Pizzinini helped a United Nations–affiliated nongovernmental organization (NGO) draft the rules of procedure and evidence for the application of the Rome Statute to the International Criminal Court (ICC). When that organization asked her to move to the Hague, Netherlands, where the ICC is now seated, she said no. Pizzinini wanted to stay in New York and practice fully in English.
There was just one problem—although she had six years of legal experience in Europe, she wasn't a US lawyer. She found a job as an assistant at a small firm, attended law school at night, passed the New York bar exam, and landed an associate position at Cozen O'Connor, a top Wall Street law firm, to focus on insurance coverage and cross-border litigation.
Pizzinini developed additional and deep expertise in regulatory, compliance, investments, and structured transactions working for several clients, including Swiss Re. Although she joined the company to help lead teams in its Latin American business, it wasn't long before other duties came her way. As Swiss Re grew through mergers and acquisitions, Pizzinini took on roles in compliance, regulatory affairs, and risk management. Now, she's leading a team of lawyers and other professionals who are working to bring clarity and efficiency to the company's contracts.
Throughout her career, Pizzinini has relied on her experiences adjusting to life in different parts of the world. It's helped her lead teams and navigate life in big corporations. "I had to let others help me when I was learning new languages and trying to get by in new cultures, and those memories have shown me that most people want to lend a hand," she explains. In her professional life, Pizzinini has sought out others in Swiss Re's legal department and business units who can help connect her with the new relationships, knowledge, training, or resources she needs to maximize her effectiveness as she takes on new challenges.
Cultural sensitivity enables her to manage others well. Pizzinini has people from diverse ethnic backgrounds on her teams, and she recognizes a litany of celebrations and holidays, including Ramadan, Rosh Hashanah, Lunar New Year, Diwali, and Kwanzaa. Diversity is a clear value. Pizzinini's team has a good balance of women and men and includes people from India, Mexico, Switzerland, Poland, Italy, Greece, Germany, UK, Singapore, New Zealand, and France. As a mother to three young children, she speaks often on inclusion, diversity, and work/life balance.
But for Pizzinini, diversity means more than race, gender, and ethnicity. "We also need people from different professional backgrounds to do our jobs well. If we're all identical in any one way, then we are missing out," she explains. Her team is a mixture of consultants, project managers, data scientists, data engineers, IT architects, lawyers, contracts managers, analytics experts, and auditors who are pursuing global technical solutions to constantly improve how Swiss Re manages its contracts.
Pizzinini's advanced language skills help her connect with colleagues and clients alike. "Business and work is all about connection, and in a multinational company, speaking someone's native language can help form faster and stronger bonds," she says.
Pizzinini has been all over the world, and although she still thrives on new experiences, she's stayed at Swiss Re because it's a place where she can learn and grow. "One needs not have my background to succeed at Swiss Re. This company cares about its people and wants us to use who we are to succeed," she says. Now, Pizzinini is learning more about innovations in data and technology as her team leverages new methods to improve Swiss Re's contracts. They may all have different skill sets and diverse backgrounds, but they are creating, innovating, and coming together for the same goal.