Innovative and big money-making deals in the international energy industry seem to follow Alejandro (Alex) Cestero around. The general counsel of Frank's International has a tireless work ethic, but he also seems to have a knack for being in the right place at the right time. Born in Puerto Rico and raised primarily in Miami, Cestero earned a bachelor's degree and MBA from Rice University and a JD from Stanford Law School, and has served as general counsel for three global, publicly traded oil and gas services companies by the time he turned forty.
He caught the legal bug from an uncle. "As a member of the Reserve Judge Advocate General's Corps, my uncle focused on aviation and international law. His work took him all over the world. As a teenager, I thought that was pretty neat."
Cestero had a one-track mind to follow in his uncle's footsteps. He spent his summers during college and law school interning at law firms in Houston, which not surprisingly led to his developing a focus on energy law. "When I first started practicing [at Vinson & Elkins], I did a lot of international corporate transactional work." Cestero, being fluent in Spanish, was offered the opportunity to move to Bolivia to work on an multinational pipeline project very early in his career. "My firm sent me to work on that project before I'd even received the Bar results," Cestero recalls.
Working on that project, Cestero became known as an attorney with an expertise in international energy. His next stop was Bracewell, where oil & gas services client Pride International offered him a job as senior counsel. "The position called for a ten-year lawyer, while I was just going on my fourth year."
He ascended through Pride's ranks quickly, taking on increasingly complex projects such as a board seat on a billion-dollar venture in Brazil. He was also earning an MBA, paid for by the company, which helped prepare him for overseeing the divestiture of Pride's offshore shallow water division. That entity became Seahawk Drilling, which he joined as general counsel.
"That was a fantastic experience. I had done carve-outs and sell-offs before, but being this involved meant so much more. We had to establish the company's brand and identity, and map out an M&A strategy, etc. The MBA education gave me a much better understanding of the economics of the deal, including the tax consequences and how to keep a start-up profitable. To this day, I encourage every lawyer on my team—twenty-five legal professionals in Lafayette, LA, Houston, Dubai, and Mumbai—to improve their financial literacy."
His tenure at Seahawk coincided with the Deepwater Horizon explosion in April 2010. "We were in the middle of buying a billion-dollar company, which would have doubled our size. Immediately after the accident, the government canceled drilling in the Gulf of Mexico, and our revenue dropped to zero overnight. Even though it happened in deep water, and our rigs were in shallow water, the government's ban affected all drilling.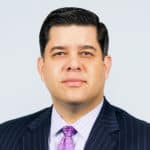 "My friends often jokingly ask where I'm heading next, since big deals seem to happen wherever I go."
Alex Cestero
"It was a significant time in our industry. Together with a number of other companies, we formed the Shallow Water Energy Coalition to lobby the administration. The ban was lifted after a month, but drilling didn't effectively resume for about a year."
In May 2011, Cestero joined Lufkin Industries, where he helped oversee five acquisitions in eighteen months. In July 2013, General Electric purchased the company for $3.4 billion. After the sale, he worked for Weatherford, a Lufkin competitor.
In August 2015, Cestero was promoted to senior vice president, general counsel, secretary, and chief compliance officer at Frank's International. Fourteen months later, the company announced its largest-ever acquisition—the $321 million purchase of Blackhawk Specialty Tools. "My friends often jokingly ask where I'm heading next, since big deals seem to happen wherever I go," he says with a laugh.
Given the political, economic, and environmental headwinds challenging the oil industry, Cestero admits its a challenge to remain optimistic, but working for a historically sound company helps. "After seventy-five years of private, family ownership, Frank's went public in 2013. That, along with zero debt and a tradition of being fiscally conservative, helps give the company financial flexibility, which is pretty rare in this business," he says. Frank's has been able to invest in research and development, which can push it ahead of the pack, according to Cestero. "Our customers want their wells to be cost-effective and productive, and superior technology is the great enabler."
Unlike many others in the petroleum business, Cestero says Frank's does not intend to branch out into alternative energy sources. "We are in this business to stay; it's what we do. In addition to developing new technologies, we plan to continue to expand our geographic reach. The challenge, especially in some far-flung locales, is how to be compliant, cost effective and secure.
"Through the years, I've dealt with shootings, robberies, kidnappings, and my convoy was once stopped in South America by several armed men. Oil companies and the people who work for them are targets in many countries. We work with experts around the world to determine the best ways to keep our people safe in each jurisdiction."
Such threats make time spent with his wife and three sons extremely precious, but Cestero also appreciates opportunities to get involved in interesting work. "I just became a director of the Texas Lyceum, a nonpartisan group focused on public policy. It's a six-year commitment, which will hopefully give us time to make a difference."
When Cestero wants to decompress, he hunts, fishes, and escapes to his 220-acre cattle ranch in La Grange, Texas. He says he is currently reading Raising Beef Cattle for Dummies. In his experience, he can't just sit still, and even on vacation will find something to become fascinated with. Don't be surprised if a Cestero beef cattle venture becomes the next big thing.