University catalogues don't offer Boardroom 101. There's no fast track to the top spots in corporate America. No shortcuts or magic tricks will lead to a position calling the shots for a Fortune 500 company. Ask Al Zapanta. He knows. Zapanta serves on the board of Tyson Foods. He says someone interested in a boardroom position must "be the best at whatever they do." That's how Zapanta did it. He spent 36 years in the United States Military. He holds two master's degrees and a PhD. He advised presidents Reagan and Bush. And he is the current president and CEO of the United States Mexico Chamber of Commerce.
Members of top boards of directors must spend their lives in the pursuit of excellence. Not only does Zapanta sit on Tyson's board, he leads its nomination committee. And while Zapanta is one of the few Latinos taking a seat in Fortune 500 boardrooms, he says ethnicity shouldn't be a top qualifier. "Nobody is in the boardroom representing their ethnicity or their color. We are in the boardroom to reflect the consumer population and our company," he says. Almost half of Tyson's 110,000 employees are Hispanic, which means Tyson Foods should have a diverse board of directors. Zapanta's fellow board members include two women and an African American. Together, they are leading a push to promote minorities to management positions.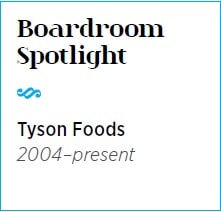 At Tyson, all board members work in all areas, but Zapanta has a special focus on the nominating process for new board members. He has helped appoint three new members in the last 10 years. "We feel the need for diversity, but we look at what we need to fit the company's plan for the next 5 or 10 years," he says. Since Tyson Foods is focused on breaking into Asian markets, Zapanta and his colleagues vetted global executives with deep knowledge of Chinese and Asian business. The successful candidates were an African-American man, a Caucasian man, and a Caucasian woman—two are presidents and one is the executive vice president of a major company.
Admittedly, Zapanta has a "disdain" for headhunting firms that he says ruin the recruitment process. According to Zapanta, the firms return to the same pool of minorities instead of extending opportunities to new, qualified candidates. "We aren't sharing very well as a group," he explains. "Some Hispanics or Asian people sit on two, three, or even four boards. We should be mentoring the next generation instead of worrying about ourselves."
Zapanta spent three years in active duty during Vietnam, then moved to the California National Guard before he was sent to Desert Storm from 1990 to 1992. He led a peacekeeping mission in the Western Sahara and later retired in 2001, after 36 years of service. He served in the Ford Whitehouse, working alongside Dick Cheney and Donald Rumsfeld, who would later call on Zapanta to advise President George W. Bush. Zapanta has bought and sold several private companies, and in 1993 he became the president and CEO of the United States Mexico Chamber of Commerce.
Experience in the military and the private sector, combined with Zapanta's education, help him move effortlessly between roles in government, corporate America, and nonprofit offices. He handled international issues for Atlantic Richfield Company (ARCO) and says a move to the US-Mexico chamber seemed natural. The group was born from a partnership between presidents Richard Nixon and Luis Echeverría designed to address the impact of government policy between bordering nations. Zapanta stepped in to lead the group after retiring from ARCO, and took it from 2 offices to 20 (with 16 still remaining). In addition to expanding the group's reach, Zapanta says he has been able to combine his bicultural background, public policy expertise, and business experience to grow trade, investment, and partnership opportunities across the two countries' shared border.
Al Zapanta's Formula for Success
A sucessful person must have good role models. Mine were my parents. My father was the first Mexican American at [the University of Southern California.] He was there in 1935 on three sports scholarships and played in the Rose Bowl.
With his career winding down, Zapanta has started Planning, Inc., a company that works with 20 United States government agencies in matters of security. Planning, Inc. personnel train and work with senior executives on planning, retirement and benefits, leadership, and succession planning. The company also offers security services through a special division whose expertise is in the building, repair, and maintenance of closed-circuit perimeter security systems.
Zapanta also devotes much of his time to running his local chamber of commerce's foundation for future leaders. His city of Irving, Texas, has 220,000 citizens. Seventy percent of its K-12 students are Hispanic. "We're very purposeful about developing our young people because they need to be our future leaders," Zapanta says. His group selects 40 students to participate in an immersive, five-month program on leadership development and business training.
Zapanta remains active with Tyson's board, meeting two days every quarter to discuss operational issues and hold committee meetings. When Zapanta arrived in 2004, Tyson's stock was valued at $15 a share. Today, it trades above $31. After a life of service across many sectors, Zapanta has used his vast experience to become a positive influence in a major American boardroom. He has helped Tyson navigate a CEO change and expand into China, Brazil, and other parts of the world.
While Zapanta says that no college course can prepare someone for the corporate boardroom, he believes businessmen and women should remain open to the opportunities before them. "That's how it's worked for me," he says. "I've always been willing, and my family has always been willing, to go wherever we need to lead in the ways that life puts before us." Life has provided Zapanta with many opportunities. He has been able to seize those moments and bring his skills and experiences together in powerful ways to influence individuals, companies, and nations.
To get to know the other 'Best of the Boardroom' leaders, click here.