There was a time when Michelle Bella, vice president of consumer and ad sales marketing at ESPN Deportes, wanted to be a psychiatrist. But after landing a job with the cable television brokerage firm Communications Equity Associates, Bella knew the media business was where she belonged. She moved on to Century Communications where she worked in public affairs, community relations, and marketing, focusing on serving customers on a local level. Her experience and Spanish-language skills landed her a position at Univision to launch its networks on cable TV and helping cable operators attract Hispanic viewers. After a six-year stint at NBC Universal's Telemundo, Bella joined ESPN three years ago. Working out of ESPN Deportes' office in New York City, Bella is responsible for the creation and execution of marketing campaigns for all of ESPN Deportes' platforms, including ESPN Deportes Television, and several brand extensions on the web, radio, magazine, and mobile devices.
What was your time at Telemundo like?
From Univision, I got recruited to go to Telemundo in Florida. They were looking for someone to lead the consumer-marketing department. I ran consumer marketing for three years, yet I was antsy to get back to the Northeast again because I consider this home. There was an opportunity to come up to run ad sales marketing for Telemundo here in New York and so I moved. I feel like I've been on almost every side of the marketing desk in Spanish-language television—from affiliate marketing to consumer marketing and then to ad sales marketing at Telemundo, trying to attract agencies and media companies to invest in its networks and platforms.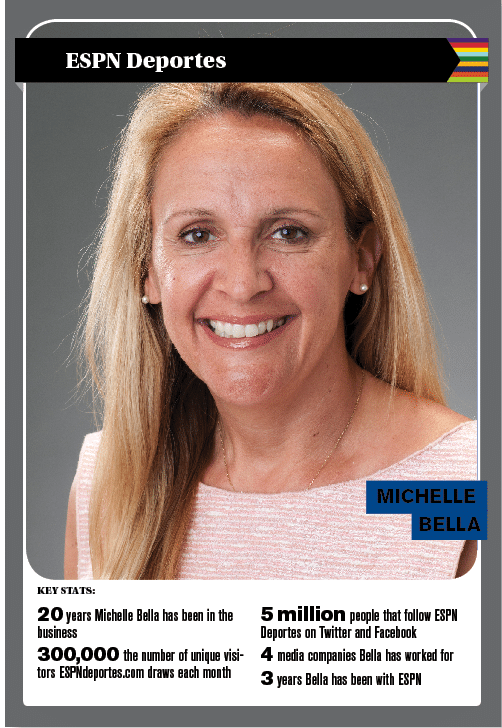 How did you land your job at ESPN?
I met Lino Garcia (general manager of ESPN Deportes) 15 years ago when we were both babes in the cable industry. We ran into each other at a couple of conferences. I knew that he spoke Spanish and was doing Hispanic marketing, so I felt like we were on the same career path and I stayed in touch with him. He was looking for someone to come over to ESPN to lead consumer marketing and ad sales marketing here for ESPN Deportes. ESPN is such a great brand and it has such loyalty amongst its fans. I thought, "This is a great opportunity." So, here I am.
Was it a big change transitioning into the sports arena?
Yes. What ESPN does so well is that it concentrates strictly on sports and sports fans. I think that singular focus is a huge advantage in a multichannel universe.
What is it about your personality that makes you good at your job?
If there's one hallmark of television, it's that there's always something to promote to the viewer and there's always something to launch. I love having the challenge ahead of me of launching a new season in a new way or announcing that we have a new show, introducing new talent, starting up a new sports franchise. That keeps me going because it's interesting. I'm never bored and there's so much more to do on the social-media front, which we are doing. There are so many cool ways to engage with fans these days. There's always something to do and I think that that really suits my nature.
You've said that your gender has never been an issue at ESPN, but what efforts do you hope to make to help expand the presence of women in the sports business?
Just last night I was talking with my daughter and I was telling her that I want to figure out a way to give back. She goes to an all-girls school and they have a really cool broadcasting program for these girls. And I thought I should be able to bring some people from ESPN. There's got to be a way we can figure out how we can bring ESPN to young girls to show that there's a path in sports for girls in television.
What advice would you give to young women and young Hispanics who want to succeed in your industry?
Raise your hand when opportunities come up—big or small. Many opportunities are disguised as challenges or problems that need attention. Colleagues and bosses will notice that you are willing to learn, to take on a new assignments, to get the work done—and it will pay off. Even though industry events and conferences take you away from your desk, make time to attend. Be selective with your picks. Once there, don't be afraid to ask questions, introduce yourself to leaders, [and] learn. It opens up your perspective to the macro issues in your field and the opportunities for growth.   Also, your mom is right: integrity, smarts, [and] honesty always win.