Santiago "Sam" Fernandez landed a dream job with the Los Angeles (LA) Dodgers just four years out of law school. While he never would have guessed that it would lead to a three-decade career with the Dodgers, today he is the senior vice president and general counsel for one of the nation's most beloved baseball teams. As a testimony to his work, in 2009 the Association of Media and Entertainment Council named Fernandez Sports Counsel of the Year. Fernandez, who was born in Cuba and immigrated to the United States with his parents in 1960, praises the Dodgers for their many feats, including having helped launch baseball into a truly international sport. In addition to boasting a rich history in social change, the team has played exhibition games in other countries, including China. It also hosted the 1984 Olympic baseball games and the finals of the 2009 World Baseball Classic at Dodger Stadium. Fernandez shares with us why he serves the game-changing sports team with such pride.
What makes the LA Dodgers special to you?
It's not just because of the six World Championships and all of the other successes that the team has had on the field for more than 120 years, but because of the impact that the Dodgers have had on society as a whole. By signing Jackie Robinson, the Dodgers broke baseball's color barrier and, in so doing, made it possible for many other talented players of all races and nationalities to play Major League Baseball—players such as Fernando Valenzuela, Hideo Nomo, and Chan Ho Park, just to name a few. What the Dodgers and Jackie Robinson did together had a profound impact on this country and I believe helped pave the way for the civil rights movement. That, alone, makes the Dodgers special in my mind.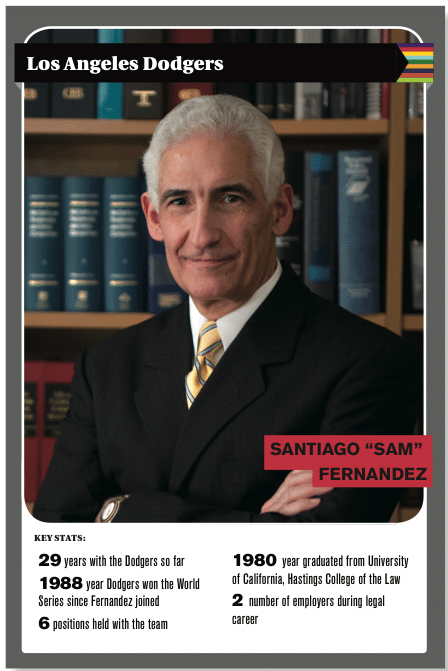 Growing up, did you have any inkling that you would end up at one of the world's most respected baseball organizations?
I've been a Dodgers fan since 1963, and I love sports; but never in my wildest dreams did I imagine that I would have the privilege of being the general counsel for my favorite baseball team and to have the job for as long as I've had it.
Do you have advice for others aspiring to enter this field?
If you want to work for a team or a league, try to gain experience in the areas of employment law, intellectual property, sales and marketing, and interactive media. Those areas are critically important to the business now, and will become even more important in the future. Finally, if you know a second language, such as Spanish, that will also be very helpful, especially in baseball.
What are your main spheres of work?
I am responsible for all of the organization's legal affairs. I also oversee the human-resources department. Over the years, I have negotiated and drafted contracts with broadcasters, sponsors, concessionaires, players, unions, and vendors. I've worked on numerous licensing agreements for the use of the club's marks and other intellectual property, and on rental agreements for the use of the stadium for concerts and films. I am responsible for all litigation matters, and have actively participated in the resolution of many insurance defense cases and workers' compensation claims.
Which achievements go down in your personal Hall of Fame?
I've been directly involved in projects such as the acquisition and construction of the Dodgers' training facility in the Dominican Republic and of the spring training facility in Glendale, Arizona. I've served on the board of directors of Major League Baseball Properties, Inc. and on various other Major League Baseball committees. But, if I had to pick only one accomplishment of which I am the most proud, it would be the creation of the Dodgers' legal department in 1983 and of the support that our department has been able to provide to all of the other departments in our organization throughout the years.
Of all the benefits of being a sports lawyer, which one knocks it out of the park?
Being in our clubhouse when we won the 1988 World Series is the type of experience that most other lawyers will never have. Those are the moments that make the job special. The next best thing about being an in-house sports lawyer is the very broad range of projects on which you get to work. The chance to work in different areas of the law, and many times with outside counsel who specialize in those areas, is always interesting and rewarding.
Off the field, what are your greatest passions?
I love to read and to play my guitar. As [German philosopher Friedrich] Nietzche said, "Without music, life would be a mistake." I would say the same is true about books. I read everything from the classics to thrillers to nonfiction, but I generally do not read sports books. I read plenty about sports while I'm at work.
Do you have any particular philosophies or axioms you live by?
Own your work. No matter what you're doing, take full responsibility for it and do it to the best of your ability. If it's something that you do repeatedly, don't assume that what was good enough before will be good enough again. Always look for ways to improve your work product. Also, give every task the attention that it deserves. Even filling out a form can get you in trouble if you don't bother to read it carefully.
At press time, the winning bidders for the LA Dodgers were identified as Guggenheim Partners and Magic Johnson.
Get to know all of Hispanic Executive's "Best Of 2012" Recipients here.