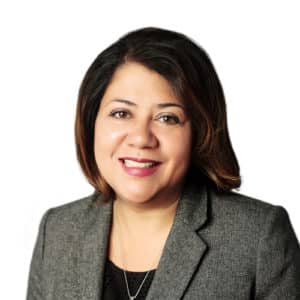 Zahira Gonzalvo had more than enough to occupy her mind when she stepped off the plane to her new life in Detroit in 1998. There was a job waiting for her in the Global Internal Audit department at General Motors that she saw as an opportunity to do well enough to help support her family. There was her family back in Puerto Rico that didn't even know their daughter was considering leaving the country until she'd accepted the GM position. And there were countless details, questions, and worries which surely came to the surface as she made her way north.
But the day she stepped off the plane also happened to be in January on the coldest day of that Detroit season. And Gonzalvo had never seen a flake of snow in her life, let alone contended with a brutal Midwestern winter.
"I cried, to say the least!" she recalls with a laugh. "All those challenges, in a city I'd never lived in, and I didn't know anyone. It was a pretty tough first couple of months."
Nearly twenty years later, Gonzalvo still finds herself in the Detroit area—though now with Flagstar Bank, the fifth largest bank mortgage originator in the country, serving in dual leadership capacities. It's the sort of opportunity that might never have come her way if she'd given up and returned to Puerto Rico at the first sign of a wind chill. "It really helped my sense of independence to stay up here," Gonzalvo says now. "And I learned not to sell myself short, but be confident that I had just as much to give as anyone else."
Head of ERM/Operational Risk Director
Once Gonzalvo got used to the change in the physical climate, she found herself also having to adapt to the work climate. "In Puerto Rico, you make friends at work right away and talk to people right away. You meet them once and you're friends forever, and you can do a lot of business that way," she says. "Over here it's a bit different. It takes more time."
With her father managing a credit union in her Puerto Rican hometown, Gonzalvo's upbringing included summer internships surrounded by enough activity and terminology to get her interested in accounting as a career. When her IT classes in college proved to be as enjoyable as accounting, she worked hard to sell her abilities in both realms when companies came to campus career fairs—not an easy task, she says, as they tended not to recruit for IT directly out of college at the time.
"We want to bridge the gap that exists in the housing market for Hispanics and other minorities, so we want to make sure our internal workforce reflects the community we serve."
—Zahira Gonzalvo
But Gonzalvo proved herself, and was working for Arthur Andersen when she made the decision to start interviewing for a position in the States. The change in pace was something she noticed quickly. "I'd think about how I was on the fast track with my career in Puerto Rico," she says. "Then I came here and I wasn't treated the same way. I thought, What's going on? So it took me a while to navigate around that."
One especially difficult challenge, she says, was her accent. "At the time, I already had four years of work experience in my field," she notes. "But it seemed a lot of people just stopped listening to me when they heard the accent."
In time came enough close bonds, mentors, and assertion of self-confidence to propel her career to where it is now. Gonzalvo developed an IT risk management program, and was a key part of a team that developed a successful enterprise risk management program for Ally Financial. That is when her boss from that time asked her, in 2013, to come join her at Flagstar Bank—and do it again. "I trusted her, and I thought 'Okay, this sounds fun, I like to build things from the ground up'… and I came to Flagstar and never looked back," she says.
Diversity & Inclusion Strategy Lead
Gonzalvo had been at Flagstar around two years when an informal conversation she had with the CEO, Alessandro DiNello, planted the seeds for what would become her role in Flagstar's diversity and inclusion (D&I) initiative by 2016. And when DiNello told Gonzalvo he wanted her to lead it, she accepted—and promptly got on Amazon to buy every book she could find about D&I programs. She also joined industry committees and roundtables to learn best practices. "I knew I had my work cut out for me," she recalls.
But she also knew how important an initiative like this can be for the Hispanic community—especially when it comes to banking and finance, where they have long been underrepresented in the US. "We want to bridge the gap that exists in the housing market for Hispanics and other minorities," she says, "so we want to make sure our internal workforce reflects the community we serve."
The initiative is built around five pillars: two involving community and diversifying market share, two dealing with talent recruitment, and one about engaging diverse suppliers. And with Flagstar headquarters located near the primarily African-American city of Detroit and the heavily Hispanic city of Pontiac, the bank's D&I effort is soundly rooted for success. But it's the feedback Gonzalvo receives from Flagstar employees nationwide that keeps her going strong.
"Every week—whether it's by email or a phone call—someone from the company tells me 'thank you for doing this'… 'it was a long time coming'…'we're happy to see the company is moving in this direction,'" she reports. "It really makes it worthwhile."