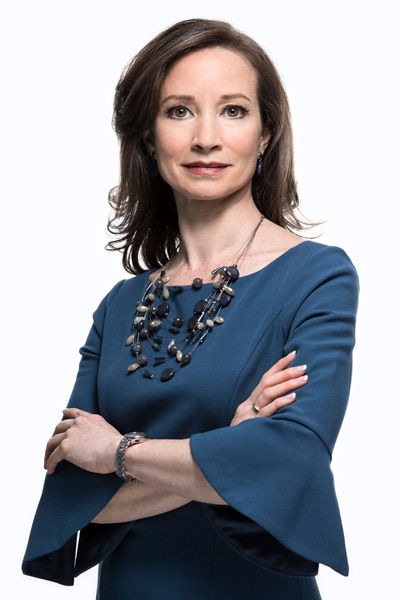 Vanessa Diaz knows how difficult it can be to be left out. She chose to pursue a career in a STEM field when she had relatively few female peers, and she immigrated to the United States from Bolivia to pursue that career in her mid-twenties, which also set her apart. So, she developed a tool kit to deal with being excluded.
"When people don't know how to relate to you, you can get shut off from the learning that comes through interacting," says Diaz, who is now the senior director of marketing automation at insurance, investments, and retirement services company Transamerica. "But when you're going into a new place or venture, you have to empower yourself through the tools you've had growing up or from the people around you."
Luckily, Diaz developed her skills early enough to build a successful career, in part because of the strong female role models in her own family. Today, she is committed to sharing her skills with others to make sure that all individuals, Latinas and otherwise, have the confidence to pursue their careers while building the necessary skills. In fact in 2015, she became a role model for Couragion—a STEM career literacy and workforce development app. As a role model, she has helped to motivate and inspire students to pursue STEM pathways. Through her involvement in this and other organizations, she has spoken at schools throughout the Denver area to guide those looking to go into STEM fields, particularly young women and students from immigrant communities.
Last year, her commitment to seeing others succeed prompted her to start the Women's Impact Network at Transamerica's Denver office. "WIN provides a forum that encourages diversity and fosters conversations to make our workplace more inclusive," Diaz says. "It is my goal to encourage others to find and develop the tools to allow them to become the best versions of themselves."
To make sure that the network was fully employee-led, Diaz sent out surveys and compiled data to define its focus. She then created three pillars as WIN's basis: Leading, Achieving, and Advancing; Community Outreach; and Wealth + Health. "I wanted it to focus on personal development," Diaz says. "We spend so much time in the workplace, and that should be something enjoyable that enables us to develop in the process."
After that, she recruited employees to support the program, which now includes three chairs for each pillar and four ambassadors across all WIN who share its message across the company.
The first pillar—Leading, Achieving, and Advancing—focuses on developing female leaders while learning from and mentoring one another. The second pillar, Community Outreach, involves volunteer efforts to help empower local women in their careers, such as the Denver Dress for Success program, which connects women who are starting out with clothing and other resources for job interviews. And the third, Wealth + Health, focuses on personal health initiatives in the workplace and education on how it impacts your wealth goals.
Within the first month of kicking off the network, membership exceeded one hundred, and it has since gone up to 170. And all of the events WIN has hosted have had good turnouts from both women and men.
Throughout launching WIN, Diaz has also remained committed to her outside volunteer efforts with local students. As a female in STEM who volunteers in different education and women-centric organizations, she is often invited to participate at events to inspire others to continue exploring their passions in STEM or elsewhere, despite the roadblocks. "I try to be conscious of anyone who has been in the same position I was once in," Diaz explains. "By sharing my experiences of how it feels to be powerless—to start something from zero—you can take something that could be negative and make it into a positive."
And Diaz has a wealth of experience to draw from. Early in her career, she applied a tech background to business intelligence at organizations like Liquidnet, Reed Group, and others, and now at Transamerica, she deploys and operates technologies and other tools to strategize across campaigns and creative and digital experiences. In that role, Diaz takes satisfaction in making an impact on the experience the company provides for its financial professionals, employers, and customers. "By having a deeper understanding, we're able to learn more, transform ourselves closer to what their needs are, and understand where there is more opportunity for improvement," Diaz says.
And that is something she believes can be applied to all experiences: taking the bad and transforming it into a positive. By doing so, she has helped create a greater culture of learning and understanding and communities that foster both. Diaz often credits the women in her life for inspiring her to do this and overcome challenges in the process. "Having watched strong female role models in my family," she says, "gave me the tools to keep trying."
This is what she hopes to do for others, both her colleagues and the students she works with. "I try to be a positive voice that says that this is something that you can do, as long as you do the hard work and are committed," Diaz says. "I try to be one more resource in their tool kit."