Vanessa Diaz knows that transformation has to be intentional. As head of marketing automation at Transamerica—a leading provider of life insurance, retirement, and investment solutions—she has brought a sense of purpose to how the company conducts its messaging using targeted, data-driven techniques. Now, Diaz is using that sense of intentionality to change how the next generation of leaders perceive and experience the technology sector.
A Foundation of Familia
"Growing up in Santa Cruz, Bolivia, our concept of familia was strong," Diaz says. "Familia wasn't just my parents, siblings, and many aunts, uncles, cousins, and grandparents. It was our friends and the many people that formed the canvas of our daily lives—from employees on my dad's cattle ranch to my mom's many entrepreneurial endeavors."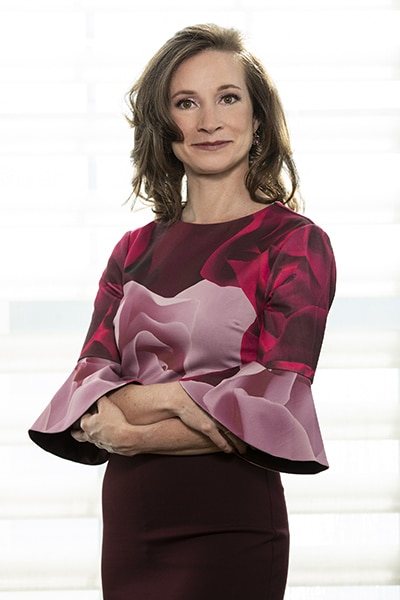 According to Diaz, it was that foundation that gave her both strength and a moral compass. "I went from only having to think about college to working two jobs while studying engineering (where I was often the only woman in the class). It was that extended familia, who showed up in so many ways, that drove me to action, creative thinking, adapting, and keeping my values in check."
Tech-Centered at Transamerica
Diaz brings that sense of familia to her to work every day at Transamerica, she says. "Transamerica is my familia, my team is my familia," Diaz says. "And even though my team will be the first to attest that I am tough, direct, and hold high standards, I do it as a way to empower them to achieve things they may not have yet thought they could accomplish.
"Transamerica is my familia, my team is my familia."
And Diaz and her team at Transamerica have been able to accomplish a great deal. Because her marketing automation team works within a B2B market, they have to be "highly purposeful" in terms of both the message itself and how the message is being transmitted, Diaz explains.
To her mind, any leader in the marketing automation space has to be asking a few key questions: How did we know something worked? How are we measuring this? How are we optimizing what we're spending? And after we're done spending, how do we learn so that the next time around we're more successful? As head of marketing automation, Diaz has dramatically improved Transamerica's marketing function by using technology to answer those questions.
"My team was not only responsible for executing on this technology," she says, "but also for leveraging those technologies for the optimization of learning as well as the ability to tell stories and broadcast messages."
The Next Generation
But despite Diaz's many successes over the years, she is the first to point out that her time in the technology space has not been completely smooth sailing. "I've had to stay 'hidden' in plain sight," she says, "trying not to attract much attention to my accomplishments and driving transformation by being leaner and working harder, with smaller teams, almost nonexistent budgets, and very little help."
"The one thing that I want Hispanics and women to not just believe but embody is that there are no limits to the change we can bring."
For years, Diaz has been on a quest to remove those roadblocks for the next generation. "Schools, universities, after-school programs, and efforts to drive more women and minorities into STEM abound," Diaz says. She herself has been encouraged to participate in conference panels and workshops, as a keynote speaker, and in various events intended to interest students in STEM careers. And those efforts are, in part, successful.
"We have more women graduating in technology and STEM fields," Diaz confirms. But despite this, few women actually take on leadership roles—indicating that the problem is not recruitment but rather retainment. "We are successfully bringing more women and Hispanics up to the door and getting them hired at companies, but once they enter that door, there are things that still permeate our culture and our understanding of both leaders and technology that prevent them from being successful," Diaz says.
A key part of this problem lies in the expectation gap. "We're bringing those audiences up to the door with the assumption that when they actually make it into a company, they will have the same hand-holding they had in school or after-school programs, and that is not happening," Diaz says. To combat that problem, Diaz is working on a strategy for developing the next generation of diverse leaders in technology—without creating misleading expectations of what it will be like once they actually enter the industry.
And they should enter the industry. "The one thing that I want Hispanics and women to not just believe but embody is that there are no limits to the change we can bring," she says. "It doesn't mean it becomes easier, or that the negative voices will fade. It simply means we will be better prepared to choose how we let it affect us."
---
Related Links
Citlalli Rojas Empowers Her Community, Which Empowers Her In Return
Carla Molina's Goal: Helping People Achieve Financial Freedom