New Yorker Lourdes Arocho remembers perfectly her favorite childhood toy: It was a 1976 I Dream of Jeannie Dream Bottle play set that consisted of a Jeannie doll and a pink, bottle-shaped dollhouse. Her mother turned Manhattan upside down to find it. "I love the story because whenever I bring it up, my mother goes on and on about how she was searching high and low for this doll," Arocho says. "It makes me laugh."
It seems only appropriate, then, that Arocho's coworkers today include the likes of Dora the Explorer, Teenage Mutant Ninja Turtles, and SpongeBob SquarePants. As vice president of toys and games for Nickelodeon Consumer Products, she's responsible for turning those characters and other properties of the popular kids' cable TV network into stuffed animals, action figures, dolls, and board games. Make no mistake, though: Transforming TV characters into toys isn't all fun and games. It's serious business, according to Arocho, who worked in the licensing departments at DC Comics, Scholastic Entertainment, and New Line Cinema before joining Nickelodeon in 2007. She sat down with Hispanic Executive to discuss how she carved an exciting career out of child's play.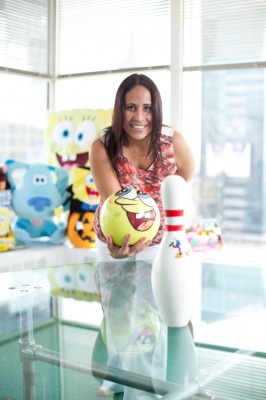 My career spans almost 20 years. I started in advertising as a department assistant. Advertising was a great training ground for me because it's all about client relationships, meeting deadlines, and managing budgets, which really prepares you for a [career in business]. I worked in advertising for about five years. I wanted to stay in entertainment, but not advertising. So, I looked at all the entertainment companies based in Manhattan and asked myself, "Which companies do I have an affinity for?" I targeted Warner Bros. and sent my résumé to the head of human resources there once a week [for about six weeks]. She eventually called me in and told me about a position at DC Comics. They were looking for a coordinator in their licensing department, which was really about routing things for product approval. It's similar to trafficking in advertising. I was offered the position, and I loved it. Batman, Superman, Wonder Woman—what's not to love?
I came to Nickelodeon in 2007 as director of toys and games. What I found so appealing about Nickelodeon was really the opportunity to focus on a single category. Prior to that I worked in various categories, whether it was publishing, apparel, collectibles, toys, or posters. I worked in every category under the sun. The way Nickelodeon is structured allowed me to develop expertise in a single category. In my role, I'm charged with identifying, evaluating, and negotiating our license partnerships within the toys and games category. If we're looking to grow our Dora or SpongeBob business, for example, I look at the partners we have in place and how we can add a new partner or expand our existing partnerships to grow our overall business in the category.
On The Agenda


Typical workday in the life of Lourdes Arocho
9:30 a.m. Return calls and catch up on e-mail
10:30 a.m. Consumer Products/Nick Creative Resources team meeting
12 p.m. Weekly meeting to discuss marketing strategies
1 p.m. Brand-specific marketing and PR planning meeting
2 p.m. One-on-one meeting with one of three senior directors
3 p.m. One-on-one meeting with boss, Nickelodeon's senior vice president of Global Toys
4 p.m. Meeting with ad sales team
5 p.m. Return calls and emails
6:30 p.m. Time to go home!
I partner with Fisher-Price, Mattel, Lego, Hasbro—all the companies you know and love in the toy industry. I have a team of 12 and we manage each stage of product development from the initial concept pitch through the final-product execution. We see a pencil sketch, agree to a product-line assortment, then go into the sculpting stage, testing stage, color stage, all the way through to packaging, until we have a final product. Then, on the business side, I make sure we hit the revenue goals we set for each property. That has to do with what our product assortment is and what products we're launching in a given season, which involves working with our retail partners like Target and Walmart to drive retail placement and growth.
I love being able to switch the hats I'm wearing. One day I'm doing sales, because I'm pitching to a potential partner all the benefits of partnering with Nickelodeon on Dora the Explorer. When that partner comes back to me with a pitch—we want to be your plush partner, and here's what we want to create for you—I'm doing creative and financial, because I have to ask, "Do they truly get the essence of the property?" and, "Do the financials match up with my goals for this category?" Next, I'm working with my legal department to negotiate the deal terms. I'm never doing one thing, consistently, all the time. I'm constantly switching gears.
Everybody thinks my job is really cool and fun. But the business of toys is a serious business like any other. I remember when I was a kid, making sure my toys were exactly how I expected them to look. If it was based on a TV show, it really had to have the essence of the show so that I could act it out. Because our toys are an extension of our shows, it's really important that we get it right.
My job is so rewarding. There's nothing better to me than walking around at the airport or a park and seeing a kid with their SpongeBob plush or their Dora doll. Or if I'm at Target and I see a kid pulling that doll off the shelf. I feel like I was a part of making that happen.
Get to know all of Hispanic Executive's "Best Of 2012" Recipients here.