Avocados have historically been a mainstay in Latino American households, so it may surprise our readers to learn the United States is actually the leading consumer of avocados in the world—and not just in Latino homes. Hispanic Executive sat down with Alvaro Luque, president and CEO of the organization responsible for the spike in avocado's popularity, Avocados From Mexico, to catch up on their success since his last interview with us in 2020.
A Category of One?
At its founding in 2013, Avocados From Mexico—a joint venture and first of its kind collaboration between the Association of Avocado Exporting Producers and Packers of Mexico and the Mexican Hass Avocado Importers Association—had a dual responsibility: to create a brand for Mexican avocados and to drive demand in the US.
As they celebrate their tenth anniversary, Avocados From Mexico, brought together by the US Department of Agriculture to tackle the growing US appetite for avocados, has truly created a brand in a brandless category. The brand has appeared in eight Super Bowl ads, achieved 60 percent brand preference and, perhaps most staggeringly, has made the healthy fruit a staple for football-watching across the US.
That's not all. More than eight out of every ten avocados in the US are imported from Mexico, and the company has helped bolster a market that has surpassed $4 billion, has doubled in size since 2013, and has even broken its own volume record numerous times, including in 2023. Avocados From Mexico is now approaching an annual import volume of 2.5 billion pounds of avocados.
For Luque, who has been with the organization almost as long as it's been around, the best is still yet to come.
But before we celebrate further, we need to understand how Avocados From Mexico helped get avocados to this moment through brilliant branding, first-ever produce partnerships, and marketing leadership in a space where you don't often find it.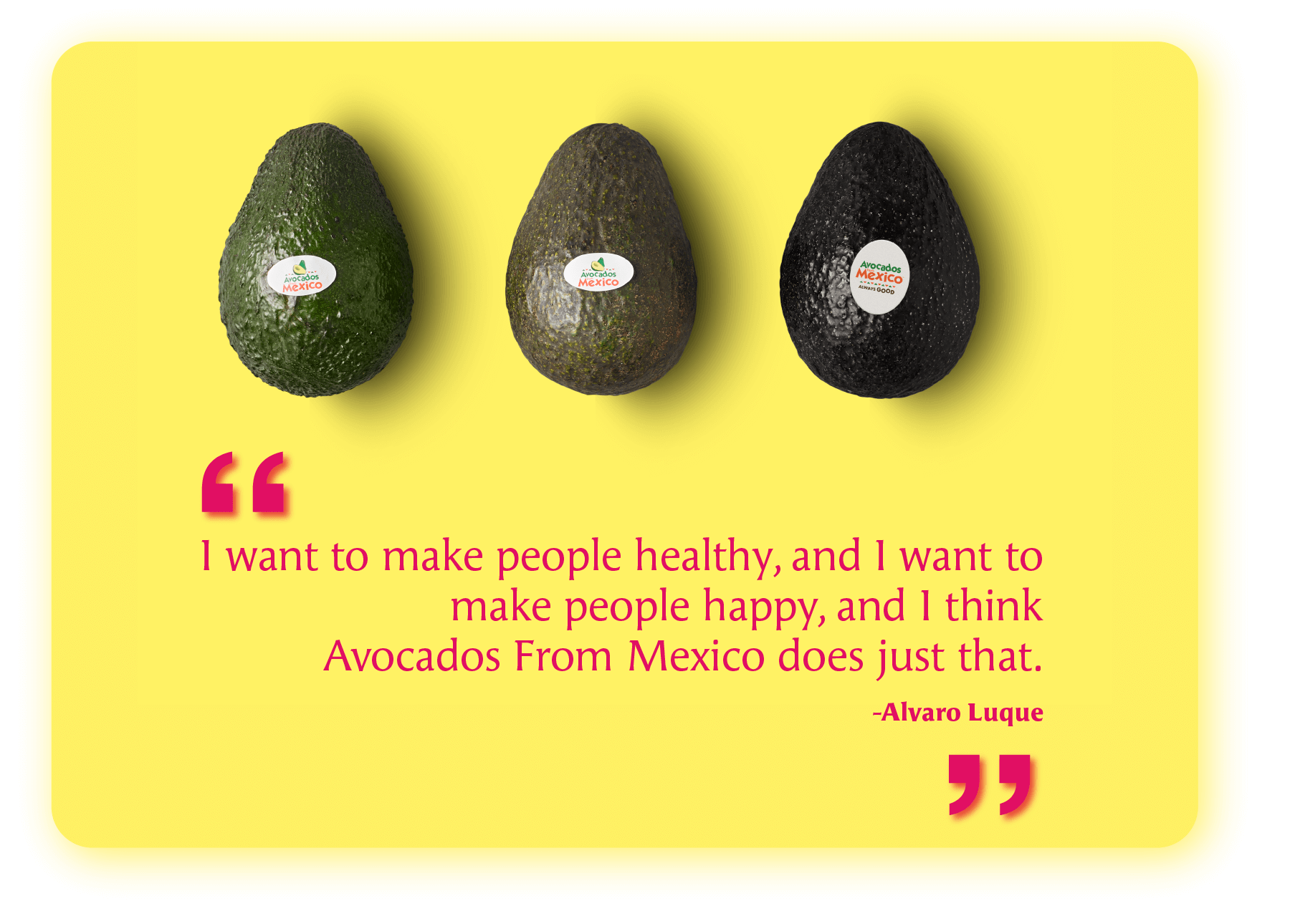 Building the Brand
By reinventing the way that produce is marketed in the US, and applying a consumer packaged goods (CPG) mentality to a package-free fruit, Avocados From Mexico has created a highly visible brand and has become the preferred brand of avocados in the US. The brand is built around a key trifecta of benefits that consumers love and only Avocados From Mexico can deliver all at the same time: flavor, nutrition, and fun. This inspired the Avocados From Mexico "Always Good" brand strategy, which aims to deliver good taste, good health, and good times in every experience with the brand.
But the Avocados From Mexico leadership team knew they needed more than just a tight strategy to build a brand in their unique industry. They also needed innovative ideas that can disrupt the industry they play in. One of their many surprising moves was to debut the first-ever commercial about a fruit during the Super Bowl—a move that tapped into one of the biggest brand stages.
"We didn't use the ads to announce some big news or roll out a new product," Luque explains. "We made the decision to build our brand story over time in the biggest advertising stage and leverage our Super Bowl ads as a catalyst to multiply our brand footprint through an omnichannel approach. We saw it as an opportunity to launch 360 campaigns to drive demand and increase visibility, and we've been very successful."
So successful, in fact, that the brand has created eight Super Bowl ads over the years and delivered more than 55 billion brand impressions with them. Furthermore, this innovative approach has also delivered other produce industry firsts, including AvoEats, the world's first avocado-centric stadium concession program, and most recently, becoming the first-ever produce brand to partner with the College Football Playoff and sponsor a college bowl game—the brand recently announced that it will be the title sponsor of the 2023 Cure Bowl in Orlando.
---
Advertisement
---
Creating Demand
Building brand awareness and affinity is just one part of the company's dual responsibility. The Avocados From Mexico team has also had to think creatively to drive demand through retail and foodservice. Avocados From Mexico's strategic approach has been to expand the market and increase the consumption of avocados during key moments like the Super Bowl or Cinco de Mayo, and beyond. A seasonal strategy to sustain demand throughout the year, innovative merchandising and strategic partnerships with top US retailers have allowed Avocados From Mexico to show up in unexpected ways and experiences, at different times and spaces.
Luque says they managed to do what very few other produce companies have: successfully partner with major brands like Coca-Cola, Bud Light, Tostitos, and Corona.
"We've partnered with big brands that typically operate in other parts of the supermarket," Luque says. "This has enabled us to play outside of the produce space and create win-wins to promote avocados as well."
The numbers are incredible by any metric, from millions of displays sold in retail to a 20 percent growth in the foodservice market share, and Luque knows there is still room to grow. At present, avocados have close to 65 percent household penetration, and those households are nabbing around three avocados per store visit.
"If you're a good football fan, you won't start with less than three avocados for a good guac experience," Luque says, laughing. "So, I think there's room to grow both on the number of households we're entering and the volume."
Education is another important pillar of Avocados From Mexico's strategy. The brand launched Avocado University, the first and only certified avocado education program that offers guidance across a range of topics from stages of ripeness to merchandising for retail partners to back-of-the-house storage and prep advice for foodservice operators. The company also continues to make avocados a culinary experience and recently launched the AvoLab culinary innovation center in its Texas headquarters. AvoLab serves as a culinary playground and think tank to inspire new ways to use and serve avocados in menus.
While the opportunities are plentiful, Luque said one area of focus is tacos. By his calculations, close to 97 percent of all tacos aren't being served with avocados, and he wants to change that by making a bigger splash in the foodservice realm.
"Tacos are a regular part of culture in the US now," Luque explains. "Tacos and avocados belong together, and we see this as one of the many opportunities to continuing growth in the foodservice industry. We've seen 20 percent growth in foodservice market share and menu penetration over the last ten years, and it continues to be a big growth area for us."
Growers and Generations
Paving its own marketing path has catapulted Avocados From Mexico to the top of its category. It's the number one selling brand of avocados in the US and the economic output of imported avocados from Mexico is up 500 percent with a US GDP of more than $6.1 billion annually. But Luque is confident there is plenty of opportunity for continued growth.
Previously, a year of expansive harvest meant the following year's yield would be more limited. But technological advances, along with the addition of Jalisco to the import program last year, are mitigating that lower yield, and "off years" are becoming less and less of an issue for growers.

With the holidays quickly approaching, Alvaro Luque says the fall is always an amazing time to consider just how far avocados have come in the American consciousness.
"If you have a bowl of guac in a molcajete in a Mexican restaurant, you can feel 100 percent Mexican," Luque says. "If you throw that guac in a big bowl and sit down in front of a football game, you feel 100 percent American. It's the same recipe. But it amazes me that avocados have crossed over so easily."
For those considering adding avocados to their Thanksgiving menus, Luque suggests throwing a little green on top of that post-Thanksgiving turkey sandwich.
"Over the last three years, we've hit over two billion pounds of Mexican avocado imports consistently," Luque says. "We've seen sustained growth as we have driven demand and expanded the market and believe we can continue to grow. Mexico is the only place in the world that can meet US demand."
The company's growers and packers continue to be a big source of pride for the organization. Avocados From Mexico's parent organizations represent more than thirty-four thousand Mexican avocado growers and more than eighty packing houses across Mexico, as well as more than two hundred importers in the US, respectively. Hispanic Executive previously highlighted their focus on its farmers, but Luque says the relationship with those growers and packers and the respect for the land and the environment that help avocados grow are part of what makes the brand truly special.
When buying an Avocados From Mexico avocado, you can be proud of its origin.
"The avocado industry in Mexico is committed to responsible farming and sustainable practices that protect and conserve both the land and the environment, all while ensuring the quality of Mexican avocados," Luque says.
Sustainability is important to Luque and Avocados From Mexico. As a part of the United Nations Global Compact, the sustainability efforts of the Mexican avocado industry are aligned with the high standards set by the UN's Sustainable Development Goals. The industry has a solid forest conservation strategy and has supported reforestation programs that have planted more than 3 million trees and reforested over 5,000 acres throughout Michoacán since 2011. And 97 percent of avocado orchards in Michoacán use natural irrigation or sustainable irrigation methods.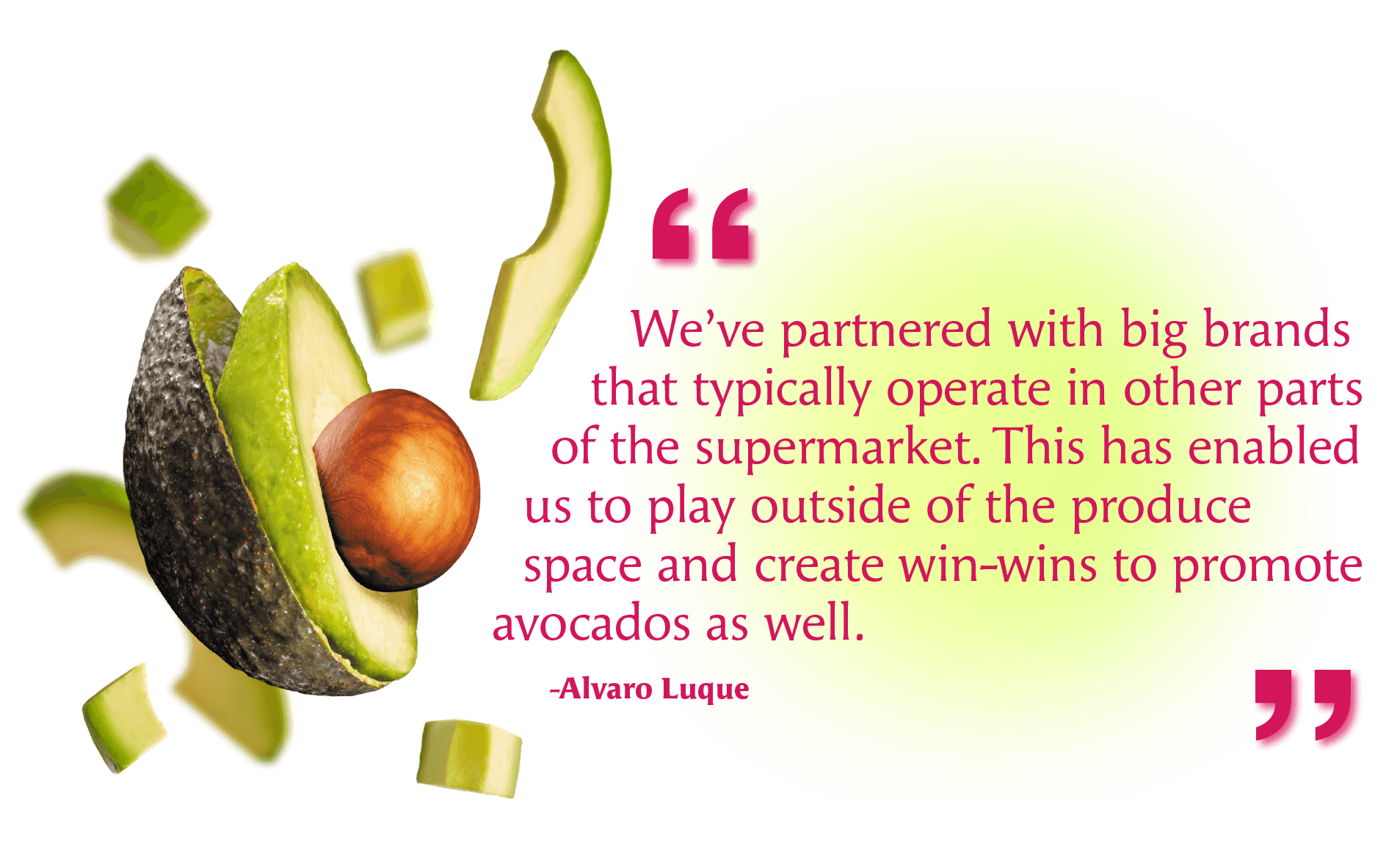 The last ten years have been very good for the brand. Luque sees even more possibilities for the next ten years. That's what the president and CEO calls his BHAG: "Big, hairy, audacious goal," a term pioneered by Jim Collins in 1994's Built to Last: Successful Habits of Visionary Companies.
He wants Avocados From Mexico to become the most innovative produce brand in the world while making the US the number one country in per-capita avocado consumption. In 2021, the company was recognized by Fast Company as one of the world's 50 Most Innovative Companies and the number one in the Branding category. In addition to continued recognition for its ingenuity, efficacy, and dominance in the market, Luque looks forward to seeing more growth in per-capita consumption.
Of course, at the heart of the Avocados From Mexico story there is a human imperative to make the world a better place.
"Our purpose is to nurture hearts and to live life deliciously," Luque says. "I like to break that down even a little more. I want to make people healthy, and I want to make people happy, and I think Avocados From Mexico does just that."
There is no slowing down for the brand that has done more for a solitary piece of produce than any entity on record. Call it timing, call it forecasting, but by any metric, Avocados From Mexico has absolutely redefined what marketing can mean for produce, and will surely continue that journey in new and exciting directions.
As for Luque, you can thank him if the old apple adage about one a day morphs into "an avocado a day keeps the doctor away."
Credits
Writer Billy Yost
Editors Michele Cantos Garcia, Frannie Sprouls
Design Direction Arturo Magallanes
Photo Editors Cass Davis, Sarah Joyce
Photos
Alvaro Luque: Suzi Neely/Avocados From Mexico
Avocados, Infographic: Courtesy of Avocados From Mexico