Watching TV, playing video games, and reading graphic novels amounts to every teenager's dream job—and Erika Kennair, vice president of scripted development for Syfy, has it.
As much as Kennair enjoys the job, however, she's quick to point out that (as is often the case in the world of science fiction) things aren't always what they seem. "It's taxing, real work," she says of her job at Syfy, an American cable television channel featuring science fiction and related programming.
That said, Kennair realizes how lucky she is, having worked in various capacities in the film industry for six years before joining Syfy. After receiving an undergraduate degree in television production from Loyola University and a master's degree in screenwriting from Loyola Marymount, Kennair—a New Orleans native of Cuban descent—interned at Paramount Pictures in ratings research and Twentieth Century Fox in series production, and worked as an assistant at Fox Searchlight in postproduction. She honed her comedy-writing skills with a fellowship provided by the David Angell Fellowship, Humanitas Prize, then moved to NBCUniversal to run its Diversity Initiative for Writers. "Somewhere along the way, I realized the development process is what excites me," she says.
Although she wasn't specifically looking to work with science fiction when Syfy came calling in 2008, Kennair says she was a fan growing up. "I remember reading 'The Dark Phoenix Saga,' an extended X-Men story line in the fictional Marvel Comics universe, when I was a little girl," says Kennair, who cites Close Encounters of the Third Kind, Alien, Attack the Block, and District 9 as some of her all-time favorite movies. "I love the speculative, and have always been a big fan of the supernatural. If you're raised Cuban Catholic in New Orleans, how can you not be?"
Today, Kennair has a chance to make her own science fiction. In her current position at Syfy, which is part of entertainment conglomerate NBCUniversal, Kennair finds potential series and nurtures them from pitch through production and airing. She loves working with science fiction because it provides an intriguing what-if scenario, and because it offers a good way to explore ethics. "If you put taboo topics in the future—as Star Trek did with its diverse cast—they're easier to accept," she says.
Kennair recently shot a pilot for Rewind, a time-travels series written by up-and-coming writer Justin Marks and directed by Jack Bender, known for his work on Lost, and thinks it's unique. "When working with science fiction, you need a good grip of your rules—what's possible and not possible in your world—and I've been hesitant to work with time travel, because from a logic standpoint it's a nightmare," she says. "This one just works, though."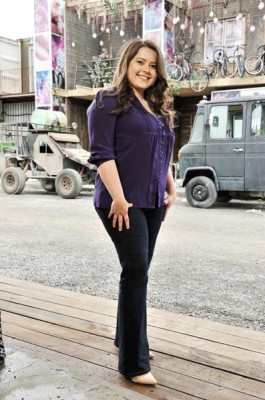 Currently, Kennair is working on a new series called Defiance in partnership with video-game developer Trion Worlds. Syfy's biggest endeavor to date, this groundbreaking entertainment experience connects a television series on Syfy with a video game for the PC, Xbox 360, and PlayStation 3.
"Imagine if tomorrow a spaceship came to earth," says Kennair. "Some humans support the new species, some do not, so wars break out. Along the way, the spaceships explode, and the earth is terraformed, with Antarctica becoming a beach and Las Vegas becoming an island. In this new world, Grant Bowler stars as Nolan, the local lawman in a refugee camp known as Defiance, who must rebuild society with the help of Amanda Rosewater, the mayor of Defiance, played by Julie Benz."
The appeal of the series, says Kennair, is partly what it is for any good series—character—with the relationship between Nolan and Irisa, an exotically beautiful warrior who is part of an alien race called the Irathients, particularly touching.  "You can have all of the razzle dazzle you want, but if viewers are not invested in these people and their journey, the show will never get off the ground," Kennair says.
Kennair says her success in television development is in part the result of her multicultural background. "My mother was born in Cuba and my father in New Orleans, and having parents from two different countries helped me relate to people," she says. "I had to learn to speak to a wide audience. It was tough at times, because I always stood out—I had my ears pierced when I was three-weeks-old, and I was always the most overdressed kid on picture day—but my culture has a sense of energy and provided me with a rich storytelling background."