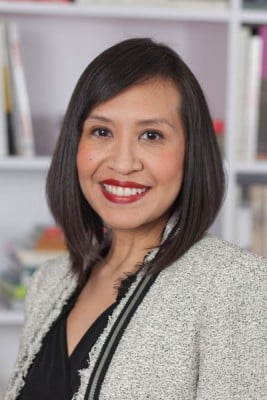 Wendy Vividor tagged along as her mother cleaned the homes and offices of wealthy New Yorkers. Toting her schoolbag, she brought her homework along to complete at the desks of executives she might never know, vicariously experiencing the way "the other half" lived. Her child's frame dwarfed by the large leather chair in which she sat, she had a realization: "I thought to myself, 'One day I want to be sitting behind this desk,'" she recalls. Now the associate director of global partnership marketing for Starwood Hotels & Resorts, she could not have known as a child where that thought would take her.
She was living the twenty-something's dream when she took a job as an investment-banking analyst for JPMorgan Chase & Co., fresh out of Barnard College in 2000. It was a lucrative job in one of the liveliest cities in the world, a work-hard-play-hard culture, and a cohort of equally successful young professionals to enjoy it all with. "Before everything changed in the industry [post-9/11], the lifestyle was very lavish," she says. "It was a lot of fun, but it was also exhausting, working all night—most nights until 3 a.m. On an early night, I would work until 10 p.m., go out until 1 a.m., and get back in the office by 8 a.m. Instead of calling my cell on the weekends, family and friends would call my office first to find me. [Sept. 11] definitely put everything into perspective—especially the direction of my career and what I wanted out of my personal life."
By the time she was 26, Vividor was responsible for projects that were worth $32 billion in assets, had survived multiple rounds of layoffs, and was one of a very few analysts who was promoted to the associate level. With increased responsibilities came a diversification of her charge. She began working with sales and marketing, sectors that were completely new to her and opened her eyes to a new passion. "I took a step back to look at what I really wanted from my career and personal life," Vividor says. "I realized I wanted to switch careers to marketing, so I made the drastic decision to leave financial services."
The daughter of Latin American immigrants, Vividor had to walk a line between her tenacity and the culture of El Salvador to which her parents clung. "I have a very strong female figure in my mother," says Vividor, "but there's always that straddling of cultures. It was a bit of an evolution for my parents in terms of understanding how to raise a daughter who is independent while still retaining some of the family traditions they grew up with."
As early as her teens, Vividor began taking her life in her own hands. She veered away from the Catholic school education track to test and qualify for a specialized high school, The Bronx High School of Science. This move was drastically different than her childhood peers, and her family had reservations about her decision to change her path in education. At Bronx Science she tapped into an alumni well and landed her first internship on Wall Street at 15 years old. The fast pace excited her and introduced her to a culture where professionals took initiative and were proactive about their success. That spirit was reinforced at Barnard, where she studied economics as an undergrad and found herself immersed in a community of women just like her. "It was a place where I came into my own," Vividor says of her alma mater. "I realized it was okay to be as tenacious as I was growing up, and there were other women like me—young, decisive, and not afraid to take risks when looking for opportunity."
So when she told her family she was leaving her job with JPMorgan to go back to school and live off of loans and her savings for the next two years, they had reservations on whether this was the right move.
At Harvard Business School (HBS), Vividor was a sponge soaking up all she could of the marketing field. During one fateful class, two members of NYC Marketing, the marketing agency for the city of New York and part of the Bloomberg administration, spoke about their work for the city. Instantly, Vividor's interest was piqued.
Working for her hometown would be a dream come true for the New York native. As a child, Central Park was her playground, and on warm nights, it wasn't the sound of chirping insects she heard out her window, but the strings of music from the Lincoln Center. It was a rich experience, she says; she didn't quite realize the value of it as a kid, but she appreciates it now. Her enthusiasm emboldened her, and after the lecture, she took to the head of the class to state her case. "'I want to work for you one day,' I told the representative," Vividor explains. "And about six months later, I had a job with NYC Marketing."
Building the city's portfolio from the ground up with the partnerships team, Vividor set to work negotiating partnerships and even creating a new business model that became one of the city's largest entertainment partnerships, Spider-Man Week in NYC, which coincided with the release of The Amazing Spider-Man and featured a multifaceted, weeklong experience that incorporated programming with museums, the Bronx Zoo, even the Yankees. She worked with brands like AT&T, Bravo, The Coca-Cola Company, JetBlue Airways, American Airlines, Google, Red Bull, and Anheuser Busch. After just two years, she assumed second-in-command responsibilities of generating new business as vice president of partnerships. By the end of her tenure at NYC & Company (formerly NYC Marketing), she was running the partnerships team.
Having spent four years in the public sector negotiating for her beloved New York, Vividor began to feel the constraints of municipal work and some of its limitations. It was under these conditions that the offer to come aboard Starwood Hotels & Resorts presented itself in the form of a connection through her Harvard Business School alumni network. Vividor had to say, "Yes."
Vividor draws from each step on her versatile professional pathway to deliver innovative and exceptional partnership experiences to Starwood guests. By crafting inspired programming, partnerships, and promotions, guest experiences can span attending fashion-designer showcases at a W Hotel, Cirque du Soleil-inspired cocktails at one of Starwood's properties before getting juggling lessons with a Cirque du Soleil performer, receiving a Finding Nemo-themed amenity for families staying at Starwood resorts, or checking out sneak-peek episodes of Dexter in-room before the season premieres. Through these partnerships, Vividor is helping the brands build creative, distinct, and lifestyle-driven touch points with guests.
Now it's Vividor who has her daughter to bring to work one day. And she wants to instill in her the same spirit of ambition that drove Vividor as a little girl. Demonstrating how professional success is not an end but a means, she volunteers with Let's Get Ready!, a college-preparatory program for low-income teens that reinforces the value of education her parents instilled in her. "Being the best I can be for my daughter, my husband, and the women [my mother, younger sister] in my life is what drives me," Vividor says. "I want my little one to know that if she works hard, her strength and determination can open up doors to her dreams."