How Muhammad Gigani has made the most of Deloitte's diversity-friendly atmosphere and is spreading his efforts across the country
For Muhammad Gigani, staying close to home has never meant stagnating. It meant growing, and making the roots he stands on stronger. "There's a general perception that our generation needs to do a lot of job-hopping in order to progress," says the 10-year employee of Deloitte Tax LLP, "and that the days of sticking with one company are long gone. But, Deloitte is a very learning-focused organization, and so I continue to learn, and get new roles and responsibilities."
Now a senior manager in Deloitte's tax practice, Gigani has spent 13 years in public accounting, and over the past decade has used his experience as a minority executive to build networks both within Deloitte and through ALPFA, the Association of Latino Professionals in Finance and Accounting, of which he's now the Chicago chapter president.
Gigani hasn't strayed far from his heritage in Chicago, either. He grew up in a diverse Chicago neighborhood called Brighton Park, occupied mainly by Polish and Mexican immigrants.
Thinking Out Loud
Trading Words With
Muhammad Gigani
SUCCESS
Being able to look at the goals I set for myself, see the accomplishments I've made, and being able to set the bar higher for next year.
INNOVATION
Thinking differently and achieving results with greater efficiency.
Not being afraid to go against the status quo.
INTEGRITY
An unwavering focus on quality, and sticking to your beliefs.
LATINO
Pride, family values, strong work ethic, and the future of America.
When the time came for college, he opted for the University of Illinois. His interest in computer programming (his father had been a software developer) soon morphed into an interest in finance, and he found himself enrolled in accounting classes. "University of Illinois had the top accounting school in the country," he says. "I decided I should pursue accounting, because it was similar to finance, but also because I was in the best place for it."
After graduating, Gigani joined Arthur Anderson. When Anderson closed its doors in 2001, a large chunk of their practice—including Gigani—moved to Deloitte, where Gigani found himself working with the same colleagues and clients he had worked with previously.
Over time, Gigani's focus moved from financial services and investment companies, to international tax, and then to family wealth and estate planning. Today, he specializes in serving closely held businesses and high-net-worth families. He's been promoted three times since starting with Deloitte, and has his sights set on making partner sometime in the near future.
In 2003, Gigani decided that it was time to create a resource for Hispanic employees within Deloitte. He launched the Deloitte Hispanic Network (HNET) Business Resource Group's Chicago chapter, inviting Hispanic employees from all over the company to come together for events. At the time, he says, there was a lot of desire within Deloitte to "create an environment of inclusion," and it seemed an opportune time to grab a hold of that forward momentum. "That really afforded me some great opportunities in that I was able to meet with the company leadership early on in my career," he recalls. "I was able to interact with professionals in other parts of our business, not just from the tax practice. I was interacting with consultants, financial advisers, and auditors in an environment where building internal relationships is critical to delivering the right team to our clients."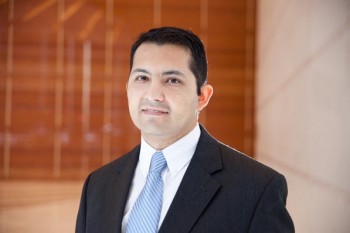 It wasn't long before the group was receiving positive feedback on its events. "It became an avenue to talk freely about issues people were facing," Gigani says. "Many of those issues weren't related to being Hispanic, or of any particular background. It was just about having a comfort level with someone else."
At the same time, there was curiosity in the company about what other corporations were doing in terms of their diversity efforts. Deloitte had a partnership with ALPFA, and with Deloitte's encouragement, Gigani got involved with their Chicago chapter. There, he found himself conversing with Latinos in senior positions at notable companies across the city: "There was valuable insight from ALPFA that I could bring to HNET, and what I was doing within HNET could be brought outside as well. There was synergy."
In 2010, Gigani became the national leader of Deloitte's Hispanic Network, leading 14 chapters across the country. Soon thereafter, he was named president of ALPFA's Chicago chapter. Looking back, he's proud of what the chapter's accomplished—membership grew more than 50 percent in less than a year while keeping its costs down through successful fund-raising campaigns. In addition, the organization's Women of ALPFA program resulted in a 2012 event with 225 attendees and keynote speaker Michelle Mayes, then-Allstate's chief general counsel.
In general, Gigani says, his perspective as a Latino executive has enabled him to bring strength and insight to his company. "I think there are people who view me as having a diverse perspective, and being able to bring something different to the table. That's something that's embraced in the culture at Deloitte."