With more than five hundred in the CEMEX auditorium audience, the Stanford Latino Entrepreneurship Initiative (SLEI) celebrated its third year by unveiling its 2017 State of Latino Entrepreneurship Research Report on February 7, 2017. Audience members included supporters, investors, SLEI-Ed alumni, and community members from across the United States.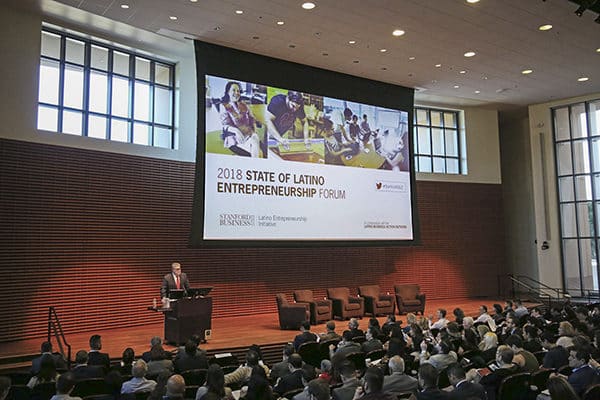 In his opening remarks, Victor Arias—chairman of the board of the Latino Business Action Network (LBAN), which partnered with Stanford University in this endeavor—set the tone for the event, thanking Stanford for being fearless and purposeful in its pursuits in this realm.
The initiative has three goals:
Grow the current database of over 1.3 million US Latino-owned companies and survey panel of over 2,000 independent companies.
Advance knowledge and discourse by disseminating the results of the research.
Stimulate more informed policy-making, business partnerships, and knowledge and skill development through its research findings.
Additionally, the university offers a six-week hybrid entrepreneurship course to help scale Latino-owned businesses. There have been more than 350 course graduates from 30 states with a total of more than $1.2 billion in revenue.
Following Arias's introduction, Fred Alvarez of Stanford's Board of Trustees spoke about the state of the Latino economy. He spoke on how Latino businesses are the fastest growing entrepreneurial part of the US economy. "The future of Stanford and the United States is tied to the Latino business community," he said. "The Latino business community can drive success for everyone."
Mark Madrid, executive director of LBAN, gave his mantra for the SLEI course graduates and other Latino entrepreneurs: "Do business with each other; get business for each other."
"This is an American Economic imperative," Madrid said. "Compared to previous reports, the SLEI research indicates that the opportunity gap, which is the dollar measure added to the US GDP if Latino businesses earned at the revenue-level of non-Latino-owned firms, has grown from $1.38 trillion to $1.47 trillion. This gap must be narrowed.  It is a sense of urgency, and we at LBAN are here as a primary and driving force in doing something tangible to close this gap from our headquarters in the Silicon Valley and through our networks across the United States."
Following the opening statements, Jerry I. Porras, professor of organizational behavior and change at Stanford Graduate School of Business and SLEI faculty advisor; Paul Oyer, professor of economics at Stanford Graduate School of Business and SLEI faculty advisor; and Marlene Orozco, SLEI lead research analyst, presented the finding of the SLEI's annual survey. The twenty-seven page research report on Latino businesses breaks statistics down by geography, funding sources, age of business owners, industry, and more.
"Were it not for Latino owned businesses, the total number of businesses in the US would have declined between 2012 and 2015." –Jerry Porras, professor emeritus #StanfordSOLE

— Stanford Business (@StanfordGSB) February 7, 2018
One of the key takeaways was that national banks are minimally funding Latino businesses, which creates an opportunity gap. In fact, only 12 percent of Latino employer firms use start-up banks, compared with 18 percent for white-owned business.
Another key fact was that Latina-owned businesses make up 44 percent of all Latino-owned businesses. Those businesses grew by 87 percent from 2007–2012 and made up 30 percent of all businesses over $1 million.
Orozco also spoke at length at about a DACA-comparable group. Although researchers do not ask about immigration status, they found that successful Latino immigrant entrepreneurs are more likely to be millennials who came to the United States as children: "Specifically, 86 percent of scaled ($1M+) immigrant-owned firms are owned by millennials who immigrated as children."
"There's a positive story to tell. Startup rates are higher for Latinos, and the younger generations are making progress." —Paul Oyer #StanfordSOLE @StanfordGSB

— Hispanic Executive (@HispanicExecMag) February 7, 2018
The study also found that Latino-owned businesses are international in reach: "Among all employer firms, Latino firms have the highest rate of business clients and customers outside the United States (4.5 percent vs. 4 percent for Asian-, 2 percent for white-, and 1.9 percent for black-owned firms). Among all Latino firms surveyed, 9 percent have international clients and 28 percent have clients throughout the United States, demonstrating a propensity to be global-minded."
Following the presentation data, David Segura, CEO of VisionIT, led a panel discussion with Maria Rios, CEO of Nation Waste Inc., based in Houston, Texas; Jamie Gutierrez, CEO of Midwest Maintenance Inc., based in Omaha, Nebraska; Catalina Campos, cofounder of Greenovate Construction, based in Kansas City, Missouri; and Tom Chavez, CEO of Krux Digital, based in Silicon Valley.
As a refugee of the El Salvadorian civil war, Rios spoke about becoming the first Latina in the waste management and how she connects with the Latino business community in Houston. She also spoke on how her firm is becoming more nationally and globally focused—even partnering with IBM on IoT technology for the waste management industry.
With Midwest Maintenance, Gutierrez spoke about the hardships of running a family business. Growing up, her parents never had a funding plan for the business, and neither earned college degrees until later in life. In fact, she and her brother even worked for the company as children; she called him the "colonel of the urinal," and he called her the "latrine queen." Today, Gutierrez has successfully scaled the business, despite having to turn to a local bank when the company's longtime national bank would not fund the scaling efforts.
"I got to a certain point in the company, around $8-10M in revenue and we were comfortable. When I decided to take some risk, the national bank told us to find another bank. I was shocked."
—Jamie Gutierrez #StanfordSOLE @LBANstrong @StanfordGSB

— Hispanic Executive (@HispanicExecMag) February 7, 2018
Campos's story tied to innovation and filling a need in a market, as Greenovate Construction was the first energy-efficient home builder in the Kansas City area. She spoke on how she tried to be someone else to be appeal to the broadest audience possible early on in her career. However, that has changed. "My unique background and perspective are my biggest assets," she said. People now turn to her because of the fact that she is a young, millennial Latina.
Finally, Chavez relayed his advice to succeeding in business and the importance of networking. "One conversation leads to another," he said. " Don't be too tenuous, and don't be afraid to call people." He told stories about guessing people's emails (steve@apple.com) to start conversations. It's that type of steely determination that lead to him to selling Krux Digital to Salesforce for $700 million.
"One of the things is how to harness this energy. The numbers are unassailable. Only 19% of Latinx professionals sign up on LinkedIn."
— @tommychavez #StanfordSOLE @LBANstrong @StanfordGSB

— Hispanic Executive (@HispanicExecMag) February 7, 2018
The day ended with more closing remarks from Arias, Madrid, and Jonathan Levin, the Dean of the Stanford Graduate School of Business. Arias might have left the audience with the most stirring and succinct distillation about what initiatives and events like this are for: "This is about Latinos becoming the new mainstream of America."