Eclectic experience helps Maria Sastre soar at Signature Flight Support
While many executives can point to their accomplishments in an industry, few have enjoyed success in several fields. Maria Sastre has. By the time she was brought to Signature Flight Support (SFS) four years ago, the Cuban-born leader was already a powerhouse. Not only had she amassed 25 years of international experience with top companies like Royal Caribbean and United Airlines—she had also received numerous awards in the travel and hospitality sectors. At Signature, Sastre has drawn upon her experience in Latin America, the Caribbean, Asia-Pacific, and Europe to revitalize and transform her company's customer experience, making Signature Flight Support a world leader in business and private aviation support services.
Born in Havana, Cuba, Sastre moved to Miami when she was four. She got her start in aviation, working in the commercial-airline business while finishing her master's program. Today, Sastre is in charge of the world's largest flight-support-service company for private jets, charter and fractional, military, and aviation operators. To ensure success, Sastre draws on her previous aviation industry experience. As an executive at Royal Caribbean Cruises Ltd., for example, Sastre focused on strategic growth across emerging markets and managed all aspects of the guest experience. As vice president of worldwide customer satisfaction for United Airlines, she led a fledgling customer satisfaction division to perfect the customer-service experience.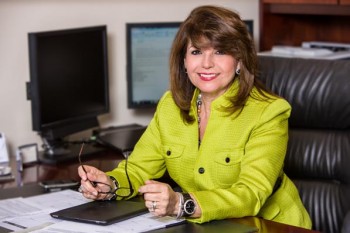 Those positions, combined with tenure as president and CEO of a nonprofit designed to help low-income youth escape poverty through education, have given Sastre the tools to succeed at Signature. "Private aviation is a blend of exceptional hospitality and exceptional technical capabilities," she explains. "I've added my lessons from a hospitality background and leading a nonprofit to my commercial airline experience to help us achieve a premium level of service."
Prior to Sastre's arrival, Signature was dedicated mostly on delivering its technical services. Wanting to differentiate in the marketplace, Sastre drew on her involvement with leading guest-experience teams at Royal Caribbean and United Airlines to improve the customer experience for Signature.
As president of a company with 115 locations around the world, Sastre must drive marketing, sales, and customer initiatives within the operational framework of safety, customer service, and delivery while communicating a well-developed strategy to Signature's parent and board. To do so, she has rolled out several enterprises, none bigger than a renewed emphasis on premier service. Over the past three years, the company has invested $3 million in its network to improve customer-facing technology including point-of-sale systems.
These efforts occurred after a serious research phase completed by Signature's previous president and designed to understand the needs and desires of a Signature customer. "I learned in other industries that you need to talk to clients and discover what they want instead of what you think they want," Sastre says.  She received the data on day one and worked not only to understand the research, but also interpret it by talking directly to customers.
Sastre discovered that Signature customers expected the company's facility to represent a premium experience from top to bottom. While many organizations sacrificed this aspect during the recession, Sastre refused to compromise on areas critical to the customer experience. "We turned around with how we allocate our capital and placed a big emphasis on areas most important to people who use our services," she says. Restrooms were transformed from industrial and utilitarian to modern and comfortable. Loyalty programs, which customers rated as highly important, saw fresh updates. Sastre's team even created Signature Status and Signature TailWins, its own private-label loyalty programs for pilots with rewards like preferred parking for aircraft.
These important new steps at Signature came as a direct result from its president's work in the cruiseline business. "It's something I will never forget," Sastre explains. "If you [disserve] a customer on their vacation, you never get them back. You only get one shot." To further enhance the customer experience and provide exceptional service, Sastre empowered her employees in Signature's 115 locations to settle issues on-site. "Customers don't want bureaucracy and approvals. Our management process allows our team members to take care of our customers in the field without escalating issues," she says.
The steps have paid off. Its customer service scores are flanked by an industry-leading flawless safety performance and increasing profits. "We take care of our customers and we take care of our employees," Sastre says. "That translates to improved financials even in a down market." Private aviation has taken a hit from the recession and external criticism. Still, Signature—under the leadership of Sastre—has outperformed the industry.
Good leadership, Sastre says, comes from observation. "I had no breaks as a female Hispanic-American in a corporate culture dominated by white males in the 1980s," she says, adding that she dedicated herself to watching the good and bad habits of her superiors. "Good leaders have a following and a natural influence. Bad leaders disenchant and disenfranchise," she says.
Check out all of Hispanic Executive's 2013 Top 10 Líderes here.