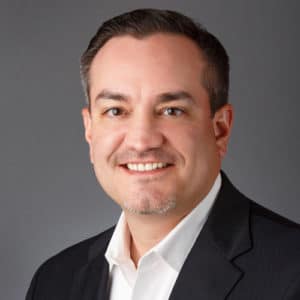 The behavior we observe in our parents has a lot to do with the adults we become—what we choose to do and how we choose to do it. Dennis Rodriguez's parents were both entrepreneurs and  small-business owners in Los Angeles who demonstrated a work ethic that became the backbone of Rodriguez's career.
As a kid, Rodriguez regularly won the perfect attendance award in grade school. "I remember being slightly embarrassed by that—I didn't think it was a cool award to win," he says. "But looking back, I'm thankful that my parents never let me stay home from school."
His mom ran a small photo processing company with her father; his dad owned a janitorial supply company that he had built from the ground up. The dedication they showed in running these businesses left its mark on Rodriguez.
"I saw both of them wake up and go to work Monday through Saturday, never complaining, always putting the customer first," he says. "That had a huge impact on my work ethic and my ability to get up in the morning and approach my work with gratitude."
He brings that work ethic every day to his role as chief city executive for the major municipal markets in California with the Siemens Corporation Cities Center of Competence (CoC). Rodriguez leads strategy in the Los Angeles, San Francisco, and San Diego regions.
Rodriguez's career path might have been different if not for a frequent customer at his dad's janitorial supply store in the San Fernando Valley.
Rodriguez worked in the store during the summer and frequently served a lawyer with the LA City Attorney's office. The customer noticed Rodriguez's intelligence as he managed the books and tinkered with the machines in the store. The lawyer brought up law school during one of their many conversations, and Rodriguez started looking into it.
A high LSAT score led to a bevy of offers from law schools around the country. He chose the University of Notre Dame Law School and never looked back. All that was left was to put a finer point on his career ambitions.
"When I graduated, I didn't have a deep passion for legal research," he admits. "But I was interested in how I could take this knowledge and apply it to civic engagement."
After graduation, he sent his résumé to every local elected official in the greater LA region. Of all the callbacks, the one that most interested him was from incoming LA City Council member Bernard Parks, the former Chief of Police. Parks offered Rodriguez an entry-level position on his City Council office staff for South Los Angeles. From there, Rodriguez gradually moved to a field deputy position, and on to economic development deputy, where he served as a chief staffer on land-use policy and other major projects. He honed his skills in the areas of planning and land use, transportation, economic development, and public finance.
"With this urban migration trend, we feel that technology and infrastructure are going to play a critical role helping cities grow in an efficient and sustainable way."
—Dennis Rodriguez
Rodriguez also spent his time in the Council office lobbying elected officials, advocating the office's positions to the public, and serving on local boards and neighborhood councils. He was the lead staff member on the Exposition Light Rail line project, a much-needed, $1 billion capital investment into South LA, and helmed the office's approach to the design and planning of the Crenshaw Light Rail line project. All told, his duties included involvement in more than $4 billion of development.
After eight years of service with the City of LA, Rodriguez felt like he had reached the ceiling, and decided to take all he had learned and move to the private sector.
"I felt like it was time to transition," he says. "You always have to challenge yourself to try new things and get out of your comfort zone. I used that as a push. I was nervous, but looking back, it was a great moment in my life."
In the four-and-a-half years that he has been with Siemens, Rodriguez has already been recognized as in the top ten for executive sales on a global basis for Siemens. The CoC drives economic growth and long-term prosperity in cities across the globe, and this work, Rodriguez says, becomes more important as more people are moving into cities.
"As urbanization shapes up on a global basis, it means that cities are increasing in importance as focus areas," he says. "With this urban migration trend, we feel that technology and infrastructure are going to play a critical role helping cities grow in an efficient and sustainable way."
Being part of a global business means that there is a thriving exchange of ideas among executives in different parts of the world. Rodriguez gets to compare notes with and pick the brains of colleagues in places like London, Mexico City, Hong Kong, and Sydney.
He says that even with the stark cultural differences there are many commonalities—such as how to ensure that air quality isn't worsened by growth, or how to make life safer for urban residents.
One key focus of the company is building technology, which includes everything from the electrical efficiency of a structure to its safety and comfort. They look at items like heating and cooling, lighting, fire, life, safety, and security, among many other factors. As more and more people are moving back into the downtown Los Angeles area, that building growth has become a major focus for Rodriguez.
"As the planet becomes more populated, more people are seeing the value in central city locations," he says. "Our mission is to improve the quality of life for the people who live there."
And while all of this may seem highly complicated, Rodriguez does it by taking the cue from his parents by being present and engaged, day after day.