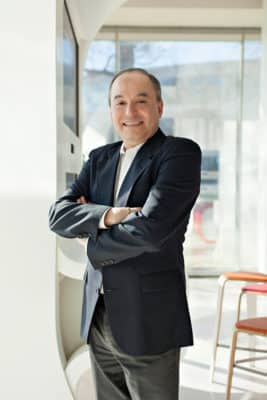 Juan Gonzalez may have a common name, but his journey to becoming a thought-leader in the patent-law world is unique.
Born in Ecuador, Gonzalez moved to Queens, New York, with his family when he was a baby. Having lived in New York his whole life, he speaks with a Queens accent and plays rock 'n' roll on his bass guitar in his spare time.
"Sometimes I think people hear my name and are surprised when they meet me," Gonzalez says.
The vice president and senior managing counsel of intellectual property is celebrating ten years at Mastercard this year. As a senior member of the company's Intellectual Property (IP) team, Gonzalez directly manages and coaches a diverse team of IP professionals.
"I really enjoy the variety of the work," he says. "One day I may be managing outside counsel in applying for patents, the next day I may be counseling business clients on IP issues, and the next I may be helping to develop and execute our overall IP strategy." 
Gonzalez is proud of his Latino heritage. "I'm a hybrid," Gonzalez remarks with a smile. "On the one hand, I speak Spanish, I enjoy native cuisines, and have returned to visit family in Ecuador. On the other hand, I can't dance Latin music to save my life and prefer to watch North American sports over fútbol. I think I have managed to keep a solid footing in both cultures."
Gonzalez was lucky to have a stable home growing up, but feels he still had to work twice as hard to get to where he is. "My mom instilled in us the value of an education, which I've taken to heart my whole life and have instilled in my own kids," Gonzalez says. "I really worked hard in school because I wanted to get out of the economic rut my parents were in—working long hours at multiple jobs for little pay. Needless to say, we didn't have many of the comforts I enjoy today."
Gonzalez earned an electrical engineering degree from Manhattan College in Riverdale, New York, thanks to an academic scholarship, and he worked as an engineer for over ten years. While still working full-time, Gonzalez attended the part-time evening MBA program at NYU's Stern School of Business.
"I think the numbers are slowly improving, but there's still a long way to go. Change will take time; I hope my long journey can serve as a model to those young students considering patent law."
—Juan Gonzalez
After earning his MBA, he still wasn't sure where to go from there, but he had heard about other engineers making the switch to patent law. "It's a natural transition to use your engineering background for patent law. I had worked so hard to learn all that geeky stuff, and I didn't want that to go to waste," he says with a laugh.
Because he was already in the habit of working during the day and going to school at night, Gonzalez decided to keep that momentum going and enrolled in the four-year night program at St. John's University School of Law in Queens. Gonzalez recalls that those years, though intellectually stimulating, were some of the most difficult for his family.
"I worked full time in engineering, ran to class four nights a week, and had to find time to keep up with the school work and spend time with my growing family," he says. "Sometimes I don't know how we did it."
Gonzalez was interested in patent law and excited about the career opportunities it would bring for him, but he couldn't help but notice something: "There were many Latinos at school and in the legal profession, but not so many interested in patent law," Gonzalez says.
Part of the reason for the lack of Latino representation, he says, is probably because of the barriers for Latinos in higher education—the higher the education, the more barriers there are.
Nevertheless, Gonzalez's academic performance at St. John's earned him an invitation to join the student-edited St. John's Law Review. He was later elected editor-in-chief, making him the first Latino to hold that position at the school.
"It was a tremendous honor," Gonzalez says. "There weren't many Latinos on the Law Review, let alone executive board members or editors in chief, and it became obvious how underrepresented we were."
While Gonzalez doesn't consider himself a trailblazer, per se, he does hope his story serves as an example to other Latinos of the things they can accomplish.
Gonzalez has remained in close contact with St. John's and has served as a mentor to Latino law students. "In the Latinos I've met and mentored, I can  see some of them don't see themselves there," Gonzalez says. "I can sense that they feel, maybe subconsciously, that because there's no one else in the room that looks like them or comes where they came from, they don't belong there. That has to change."
Gonzalez also established a scholarship at St. John's: The Juan C. Gonzalez '01 Family Scholarship. Every year, it awards a partial scholarship to a law student with a demonstrated financial need, and gives preference to Latino law students interested in intellectual property/patent law. "St. John's really opened doors for me and so I wanted to give something back and help others," Gonzalez remarks.
Gonzalez hopes his scholarship can attract more young Latino lawyers to the practice of patent law, but he knows that his scholarship will have little effect unless the pool of Latinos entering the engineering and science disciplines increases.
"I think the numbers are slowing improving, but there's still a long way to go," Gonzalez says. "Change will take time; and I hope my long journey can serve as a model to those young students considering patent law."