Scott Cardenas is a Coloradoan at heart. But when he was given the opportunity three years ago to spearhead a successful real estate and private equity firm's information technology program, he soon found himself on the other side of the Rocky Mountains.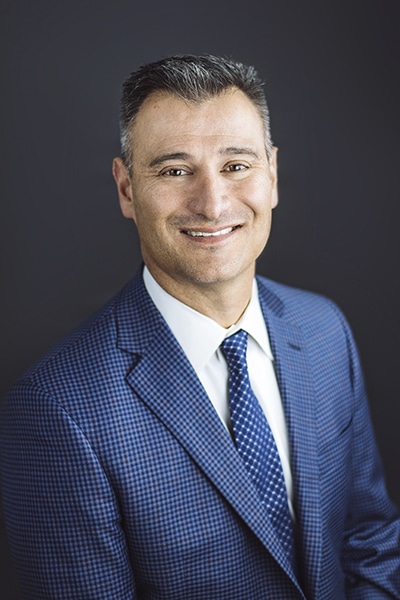 Cardenas, who's now a resident of Park City, Utah, is the chief information officer and chief technology officer at Bridge Investment Group. Since joining the firm in April 2018, Cardenas has been responsible for defining and executing a strategic plan as it relates to technology and the company's overall mission to redefine the real estate industry. This includes everything around applications and data, infrastructure, operations, security, and project management.
Before joining the $25 billion assets under management (AUM) company, Cardenas held a variety of tech positions, including IT director at TIC (The Industrial Company), CTO at Kiewit, senior director at EchoStar Corp., and CTO and CIO for the City and County of Denver.
While his résumé is certainly impressive, Cardenas admits that it took him some time to figure out exactly what he wanted to do with his life. "I initially went to school to be an accounting major, and then quickly realized that wasn't what I wanted to do," he recalls. "I decided to pursue my passion for technology, and although I didn't want to be an accountant, I still wanted to understand the different aspects of business."
To that end, Cardenas transferred to the Metropolitan State University of Denver and began pursuing a degree in computer information systems and management science. That program, he explains, allowed him to study aspects of both technology and business.
When Cardenas was twenty-one years old, he began working part-time as a network administrator for the Public Employees Retirement Association. Shortly after, they offered him a full-time position, officially marking the start of his professional journey.
A number of years and several career moves later, Cardenas says he realized he was too social to spend his time sitting behind a keyboard. "I was at a fork in the road in my career," he explains. "I enjoy meeting people, talking to them, and understanding both their jobs and the problems they're trying to solve. So, I realized what I really had a passion for was solving business problems, not necessarily solving technology problems. I wanted to understand why businesses needed these different technology systems and how it helps them differentiate themselves from the competition."
This hankering to use technology to solve business problems led Cardenas to go back to school to get a master's in international business from the University of Denver.
Since obtaining his MBA, Cardenas has had ample opportunity to apply the knowledge he learned in graduate school. But he wanted to continue refining his skill set, particularly skills related to leadership and relationship building—the exact skills that led him to the C-suite at Bridge.
"Yes, I am in technology," he says. "But when people ask, I say, 'I'm in the people business.' It doesn't matter which technology I'm an expert in or what my degrees are in: if I can't fundamentally build and cultivate relationships, and interact with folks to understand their problems and business needs, I wouldn't be able to successfully do my job."
In addition to developing what would eventually become twenty-plus-year relationships, being in the "people business" has helped Cardenas sharpen his leadership skills. "I had strong mentorship relationships—both formal and informal—where I was able to gain knowledge and grow my skills in ways I otherwise couldn't have," he notes. "Now, I try to bring that type of mentorship mentality into my own leadership style."
Although he recently celebrated his third anniversary with Bridge, Cardenas remains convinced that he can continue to challenge himself to live up to the full potential of his role. "I want Bridge to be known for its operational excellence—for our embrace and use of technology so that we can strategically differentiate ourselves from the competition," he explains.
In addition to his duties as CIO and CTO, Cardenas is excited to work alongside other company leaders to enhance the firm's diversity, equity, and inclusion initiatives. "Aside from revenue and business outcomes, we want to ensure Bridge is a great place to work," he says. "We want to attract the best and brightest professionals, and help guide them to a long, successful career with the company."
Outside of his professional responsibilities, Cardenas works regularly within his local community. Whether he's mentoring young adults and sharing career advice or helping to provide internet connectivity and devices to underserved communities, he hopes to make a difference in people's lives—no matter which side of the Rockies he's on.