When Roxanne Martinez was on maternity leave in 2005, career moves weren't a personal priority. So when a recruiter called to invite her to interview with Liberty Mutual, she wasn't interested.
But the recruiter, who also happened to be a friend, suggested she give it at least some consideration. "It's a really hard interview to get, and even if you don't pursue the job you'll have the conversation," they said. Her conversation with the team at Liberty Mutual won her over, and she came on as an HR manager.
Throughout her HR career, Martinez has realized her lifelong passion for teaching. She'd always thrived at school, and as a teenager, she concluded that she wanted to make a career in academia. The first in her family to attend four-year university, she studied political economy at Brandeis and began to envision herself as a history teacher. But she also came to realize that there were many ways to teach outside of the academic world. She proceeded to go to law school and intern as a law clerk in Denver.
When she joined Liberty Mutual, she was surprised at the organization's agility. There was a clear growth trajectory ahead, across multiple countries and many years. But more impressive to her was the company's commitment to principle.
"It never ceases to amaze me what our people do to make sure they do the right thing," she says. "It's in every decision that they make: how they treat employees and how they give consideration to customers. Dignity and respect are true themes in our culture."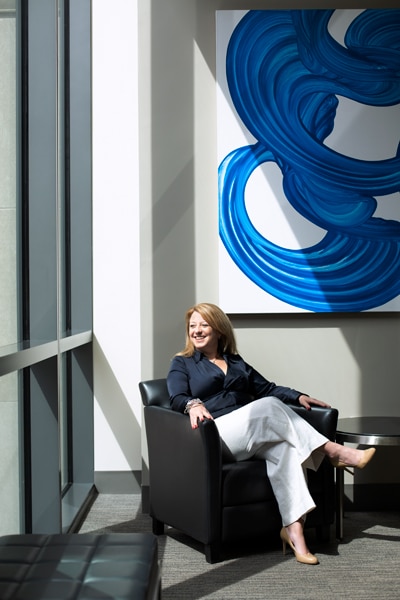 As senior vice president and talent officer at the company's Boston headquarters, Martinez's team pilots cultural and organizational projects that influence the entire operation. She and four direct reports coordinate across departments to aggregate problems, identify opportunities, and pilot solutions to keep Liberty Mutual healthy as well as competitive.
One of the team's ongoing tasks is to develop intentional workspaces that support collaboration. Close collaboration supports alignment, Martinez says, and alignment supports global competitiveness.
The position often casts her as a coach. Martinez works hard to protect her team's culture of healthy learning and collaboration, an environment where they have the freedom to learn and teach beyond the organizational chart.
"We have a good time while we do some very serious work in human resources," Martinez says, laughing. "We've created an environment where we feel comfortable, where we feel safe, where we can express the good, the bad, the ugly, and where we work through problems and not be afraid to say I don't know."
That demands a precise balance. Openness and transparency are valuable practices in and of themselves; they're also tools that support a healthier, more effective workplace. Team members know they can ask for space if an issue is preventing them from their best work. 
"It's an environment that is very open; we believe in being open and transparent at Liberty," Martinez explains. "We know when people are able to bring their best selves to work. We know when people have distractions, and we support each other. Coaching starts with context, being available, and being present."
Martinez is fond of saying that coaching is a two-way street. For her part, she's is making discoveries from a global and synergistic perspective. As perspectives on talent and culture continue to evolve, the team is taking ideas from colleagues around the world and sharing improvements in Boston. It's an ongoing process of accountability and incremental solutions, rooted in Liberty Mutual's identity and shared values.
"I've worked globally before, and it's important to stay open to the possibility that you don't have all the answers here," she explains. "My team and I really encourage our colleagues to share things with us that give us opportunities to think about how we can do something differently. So, for example, how do you drive higher levels of employee engagement? We learned from our Spanish colleagues on how to address that."
The team also sets the company's course on diversity and inclusion. Although Martinez is proud to call her company a leader in the space, she notes, too, that it's an ongoing practice. Any organization has the opportunity and the responsibility to advance. One such effort at Liberty Mutual is the Inclusion in Action program, which trains leaders to more fully consider the intents and impacts of their behavior.
"It's about making sure that that is infused into everything we do: how we develop leaders, how we develop ourselves, and how we engage everyone in conversations to create more innovative products and solutions,"Martinez explains. "I'm spending a lot of time on it, personally, to think about how I can be a better leader in terms of making sure that everybody feels that they belong on the team and at our company."