Bob Jimenez, senior vice president of corporate communications and administrative services at Cox Enterprises Inc., has turned his passion for people and innate cultural understanding into a thriving career. Over the past fifteen years, these skills have helped him build a fifty-person team dedicated to driving a positive corporate reputation and social and environmental impact for a $20 billion communications, automotive, and media company.
Since childhood, Jimenez has been guided by a natural curiosity to seek out different points of view. He says that he owes this to his parents, Puerto Rican immigrants who, he says, were keenly observant of the world around them and fostered an acute awareness of cultural nuances and expectations.
While working toward an MBA at Rollins College Crummer Graduate School of Business, he participated in a mentoring program at Young & Rubicam in Orlando, Florida. That experience helped him discover public relations as a career. "Public relations unveiled amazing ways to help shape messages and influence audiences," Jimenez says. "I found that very satisfying."
During his MBA program, Jimenez started a part-time telemarketing job with the Orlando Opera. A lifelong pianist and singer, his genuine support of the company's mission helped him become its most successful telemarketer. "Being authentic, passionate, and knowledgeable is incredibly helpful in any kind of pitch," he says. "To this day, if someone is lukewarm in their presentation, I find it hard to take them seriously."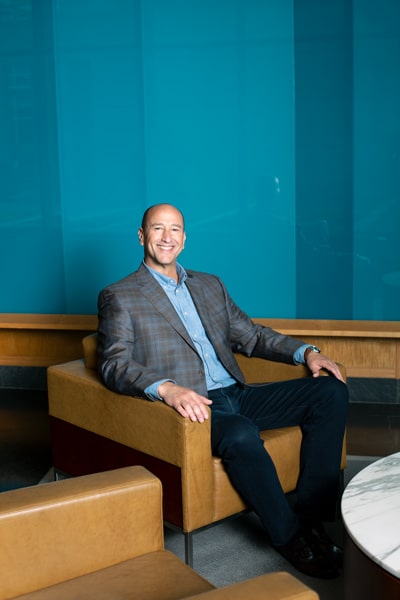 After earning his MBA and working briefly in sales at AT&T, Jimenez returned to Orlando Opera and leveraged his enthusiasm once again. He convinced the company to use him instead of its current PR firm. He made a bold prediction that he would garner more exposure and publicity for the same price.
They took him up on the proposal, but arts funding was being cut in the early 1990s, so the relationship was short-lived. However, a local newspaper highlighted the volunteer work Jimenez continued to do with other local nonprofits. This led to a position at Florida Hospital, where he developed strategies for reaching the Latino community. These included designing Spanish-language campaigns and sponsoring a radio talk show featuring Latino physicians. He was also a pioneer in the health tourism sector, positioning the hospital as a resource for everything from routine physicals to more complex procedures for international visitors.
Before joining Cox, Jimenez also worked at Walt Disney World, where he served as manager of public affairs. He learned valuable lessons in issues management and crisis communications by responding to thousands of media calls during the 9/11 disaster and managing a reputation platform for "100 Years of Magic," which celebrated Walt Disney's one-hundredth birthday.
Jimenez secured his job at Cox after fourteen separate interviews with a half-dozen division presidents and the entire executive team. As the process went on, he began to recognize consistent themes: the importance of employees and their professional development and the company's commitment to service in local communities.
"Initially, I thought everyone had studied the same talking points ahead of time," Jimenez jokes. "I realized those points are all actually part of the company's ethos and success. Everyone truly believed in them because they had experienced them in their own careers."
Since 2003, Jimenez has built a multifaceted communications practice at Cox that has evolved into a strategic advisory arm of the C-suite and a key player in community affairs.
He began by developing a business case for combining his existing team of three with another group that supported communications for human resources. The newly integrated group of ten then tackled the task of identifying gaps in the company's PR/public affairs platform. This led to a more proactive and coordinated approach to communications in all the communities where Cox does business.
Jimenez also helped formalize the Cox Conserves program. Previously, corporate giving and environmental sustainability initiatives—Jim Kennedy, the chairman of the board, had introduced—had been implemented without official recognition or promotion.
"Cox Conserves initiatives were wildly successful, but they were launched at a time when recycling, waste removal, and conserving electricity weren't sexy," Jimenez points out. "We've been able to promote and grow Jim Kennedy's vision and are always looking to do things in more environmentally friendly ways."
Cox's communications practice has purview across the Cox family of businesses, including household names like Autotrader and Kelley Blue Book as well as dozens of top-tier media outlets, like the Atlanta-Journal Constitution, WFTV 9 in Orlando, and Houston's 93Q FM, one of the nation's top-ranked country radio stations.
Earlier this year, Jimenez's team rolled out an enterprise-wide campaign that introduced the company's dynamic new CEO—Alex Taylor, the great-grandson of the company's founder. This included a new messaging platform to empower employees to build a better future for the next generation.  "In the communications space, we have sharpened our focus on strategic thinking and effectiveness, raised the bar creatively, and developed remarkable career paths for industry professionals," he says.
Jimenez continues to honor his passions through professionally mentoring others and staying involved with the arts by serving on the board of the Alliance Theatre in Atlanta.
"After my father died, I heard lots of stories about how he helped others when they were struggling—encouraging them to stay in school and even giving them money to pay for their books," he says. "He demonstrated the importance of not only showing gratitude for what you have but also sharing what you have with others."