A passion for math was instilled in Rosie De La Cruz at a young age. Her father, knowingly or not, fed the burgeoning financier a steady diet of videos showcasing the talents of one Scott Flansburg, known as "The Human Calculator." The Guinness World Record holder for speed of mental calculation and annual host and ambassador for World Maths Day is able to compute astonishingly large calculations at speeds faster than one can type in the numbers on a calculator.
Though De La Cruz didn't go into the speed calculation field, she has held several key financial roles at CBS Interactive, home to the network's online entertainment, sports, and news properties as well as varying brands, including CNET, GameSpot, TVGuide.com, and Chowhound.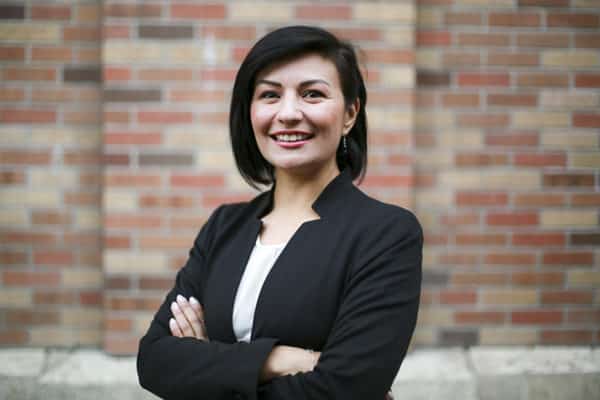 Currently serving as vice president of revenue and accounting, De La Cruz says taking on a variety of roles is part of the reason she has spent nearly fifteen years in the CBS enterprise, first at CBS Radio and later at CBS Interactive. "I've been given some great challenging opportunities here," De La Cruz says. "CBS has allowed me to grow and advance in different roles, some of which were hybrids like accounting/finance and operations/sales support."
As her roles have grown, De La Cruz says her focus on leadership development continues to expand. In 2018, De La Cruz was selected as a key talent to participate in an exclusive in-house leadership-development course called Elevate. Participants partnered with an HR coach; participated in a series of courses focused on motivating teams and business strategy; and worked on developing individual leadership visions.
"What I appreciated the most was attending the speaker series from the executive team, it inspired me to think of my own leadership style," De La Cruz says. "They shared their journeys, their different perspectives on leadership, and their different leadership styles." She explains that the entire experience aligns to her own underlying philosophy of the importance of building a solid foundation of skills in order to be successful in any future opportunities.
De La Cruz' own approach to leadership has evolved in response to the development program. "My style is a mixture of coaching and strategic leadership," she says. "I think strategically about aligning my team members' individual strengths with others' weaknesses in order to cultivate a better overall team." The vice president says she strategizes with her team to not only meet goals, but to exceed them.
The coaching component is more evident in the atmosphere De La Cruz looks to foster among her team. "I work hard to create an inclusive environment," she says. "I'm viewed as approachable and my door is always open."
Surprising herself, De La Cruz ranked very high in emotional intelligence during her leadership training, and she believes this helps her be effective in guiding and educating without micromanaging.
Over the course of her career, there has been a constant on the teams De La Cruz has managed. "Whether it's on the financial or operations side, my teams always seem to have a high level of dedication," she says. "They make sure to meet tight deadlines and deliver quality results."
One of the most challenging aspects of leadership for De La Cruz has been widening her scope, as the roles of a leader are much different than a team member accountable for defined tasks.
"Success has really evolved into developing a group of critical thinkers. I want to build teams that exude collaboration and cohesion."
"Success has really evolved into developing a group of critical thinkers," De La Cruz says. "I want to build teams that exude collaboration and cohesion." That means building teams that continuously work towards finding ways to think better, faster, and more accurately.
After an extensive but successful ERP implementation, De La Cruz says her team's goal is now to identify efficiency and process improvements, as well as additional automation that might be leveraged internally or with prospective vendor partnerships that may make sense for CBS Interactive initiatives. "We are part of a growing division, so we have to be at scale with the growth here," De La Cruz says. "That just means thinking smarter about how we do things."
"Thinking smarter" is a consistent theme for De La Cruz, and her determination to do so seems innate. "I was very motivated at a young age to make my parents proud," she says. As the first in her family to go to college and earn a post-graduate degree, De La Cruz' motivation has inspired her cousins, nieces, and nephews to believe that anything can be done with the proper foundation in place. "For me, that was education," she says. "I think my biggest accomplishment, though, has been becoming a role model for my family, demonstrating to them that anything is possible if you work hard and set your mind to it."