The ubiquity of cellular phones speaks to their near-total popularity: data from the Pew Research Center shows that 95 percent of all Americans own a cell phone of some form—basic phones, feature phones, and smartphones, etc. As such, wireless carrier networks are a regular part of Americans' lives.
For wireless providers, this boom triggered the need to pool resources, as illustrated by such mergers as T-Mobile and MetroPCS (now known as Metro by T-Mobile) in 2013. Attorney Chris Luna, Metro by T-Mobile's vice president of legal and its chief counsel, has a well-informed perspective on this market climate. He's been with the company since 2005, and saw it through the merger, a major branding change, a doubling of its customers, and a near-trebling of points of distribution—including all the associated regulatory and other legal issues.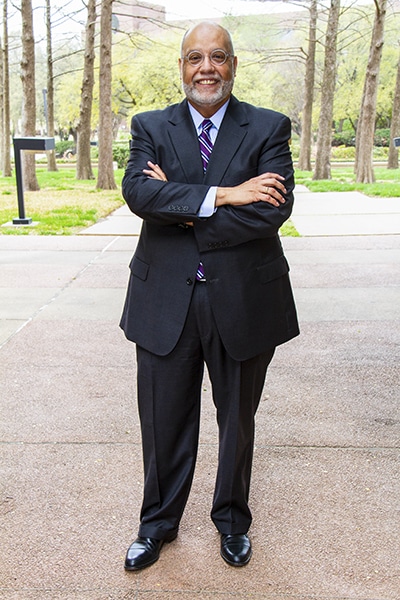 "In 2001, about 35 percent of the population had smartphones," says Luna. "Today that's up to 77 percent." He goes on to explain that secondary devices using cellular service—tablets and, in many cases, second phones—combined with higher customer expectations for streaming services, mean that Metro has a lot more data to handle and transmit today than just a few years ago.
"Texting and phone calls actually use the least of the bandwidth," he says. "But people are watching movies on their phones—that takes up a lot more of the spectrum. All of this meant we had to build capacity."
That includes all the equipment necessary to do so, but it also required obtaining additional frequencies from the Federal Communications Commission (FCC). Luna describes how those auctions, held regularly, are an important part of being a cellular service provider, and both the legal and government affairs departments are involved. They need to help the company's leadership determine strategies for investment (including, of course, what the payoff will be) and obey FCC and Federal Trade Commission rules—such as how to avoid collusion and to remain compliant.
As telecommunications advance from 3G to 4G and, now, to 5G (i.e., generations of wireless technologies), data moves faster—but all parts of the system have to be able to move with it. Lawyers in the company support, for example, engineers setting up cell towers that make that connectivity possible. The difference is: With more users, more devices, and demands for speed, many more small cell towers—which look like boxes on light poles—will become the norm. The legal process in making that happen is considerable and daunting.
The company has also formed some strategic alliances that give it important market advantages. Those include Amazon Prime, which provides access to video and music plus free faster shipping, and Google One, which provides 100 GB of cloud storage and mobile backup as well as mobile hotspot capabilities. Both relationships require ongoing attention from the legal department.
"[The rebrand workflow] was like drinking water from a fire hose. It was like starting a new company."
Metro was and remains a prepaid phone offering. However, the T-Mobile merger blurred the lines between traditional prepaid and postpaid services by expanding Metro's distribution from seventeen to forty-six states. That means twenty-nine new state regulatory issues to iron out, and an exponential amount of store leases.
"[The workflow] was like drinking water from a fire hose," Luna says. Sweepstakes-based promotions, which are heavily regulated and vary by state, are nonetheless conducted, adding to their responsibilities.
A few years after the merger, the company realized the benefit of the larger T-Mobile network was unclear to consumers, so bringing the names together into a single identity made sense.
This was no small undertaking. From logo-identity development and trademark work to promoting the new brand, the legal team had to join forces with marketing and operations teams to make it happen.
"It was like starting a new company," Luna says. "Everything that was consumer facing was changed. It took a year, starting with focus groups, trademark searches, and testing the messaging on Google One and Amazon Prime." He adds that working closely with internal and external business partners was both necessary and fun.
Fortunately, working across a spectrum of players and their needs is something that Luna was uniquely trained for. In a bit of a career sidestep that lasted six years (three two-year terms), he was elected to the Dallas City Council.
"The managerial responsibilities I learned there were foundational to my development," he says. (At that time, the city employed 12,000 people and worked on a $1.2 billion annual budget.) "We considered everything from how federal regulations affect municipal government to what kind of monkey chow we'd be buying for the zoo."
The pay in that position was a far cry from what lawyers make, so he returned to private-practice law for a brief period before joining the phone provider—with a broadened perspective.
Despite a huge merger and expansive growth in a technologically advancing industry, it's still the people who make up the company that determine its success.
The company serves the breadth of the US population, and as such endeavors to employ a diverse workforce. Luna serves as the co-chair of the legal department's Diversity Task Force, which affects about 350 people overall (120 lawyers plus analysts, specialists, paralegals, and support staff in multiple locations). The task force looks outward, surveying and promoting diversity in its outside legal counsel, and with hiring minority-and women-owned firms. It also has an internal hiring and retention focus.
All of which is reassuring: Despite a huge merger and expansive growth in a technologically advancing industry, it's still the people who make up the company that determine its success.
With such a widely distributed product, serving a near-universal need with a diverse vendor list and employee base—this is an attorney and company that sends clear signals.
Community Impact: The Dallas Hispanic Law Foundation
Chris Luna strongly advocates for increasing the pipeline of attorneys of Hispanic heritage. He is a past president and board member of the Dallas Hispanic Law Foundation, which provides scholarships to law school, grants to cover bar-review courses, and stipends for a judicial internship program. The foundation has distributed over $400,000 since 2006.
Having rotated off the board, Luna is now the organization's fundraising chair, which includes a summer event for law firms and companies that contribute to the cause. "We are building an endowment to make this self-supporting eventually," he says.
Greenberg Traurig is proud to work with business leaders like Chris Luna who make an impact in the telecommunications industry and the legal community.
We applaud Chris for his commitment to giving back to his community and serving as an advocate for diversity in the legal profession.