The first time she went to the BARK office, Rosaleen Pizarro couldn't find the door. She was on her way to a pitch with her team, and they passed the nondescript entrance several times before identifying it. Once they made it inside, a surprise awaited them.
"No one's around, and then all of a sudden, we see this little dog, no leash, coming out of a door," Pizarro says. "And this dog comes over and says hi to us."
That warm welcome was a sign of good things to come. A few months later, Pizarro joined the BARK team as vice president of accounting. Since then, she has applied her accounting expertise to guide the company through its initial public offering (IPO) in 2021 and its continued upward growth trajectory as a leading dog-oriented subscription service. From navigating complex operations to developing her team, Pizarro is proving that she has what it takes to succeed, all while making a case for greater Afro-Latina representation in corporate finance.
After getting her start at Big Four accounting firm PricewaterhouseCoopers, Pizarro transitioned into an internal audit role at USI Insurance Services, an insurance brokerage firm. Over the next several years, she moved up within the business and delved into operational accounting and general ledger matters under the mentorship of USI's chief financial officers.
Pizarro later gained exposure to the corporate tax function as director of accounting at intermodal container lessor TAL International, then accepted an assistant controller role at Rakuten Marketing, a US subsidiary of Japanese ecommerce company Rakuten. "I wanted to be at a place where I could lead a team in a deeper way," she explains. "My role at Rakuten offered exactly that. A team was in place, but I really got to mentor and grow them. I took on a lot more as a leader there because it wasn't just about the everyday work; it was about figuring out how to help the team."
Pizarro's next challenge was taking a company public. She left Rakuten for another assistant controller role in the technology sector, this time at Yext, which was gearing up for its IPO. Shortly thereafter, she turned her attention to project-based consulting at accounting advisory firm CFGI, where she remained until her client relationship with BARK yielded a job offer.
"Who can say no to dogs?" Pizarro says jokingly of her decision to come on board at BARK. "The founders understood what the accounting and finance teams needed to look like for them to achieve their goals, and they understood the importance of what was needed. It's so great to be at an organization where you can get down with the mission, the vision, and the culture."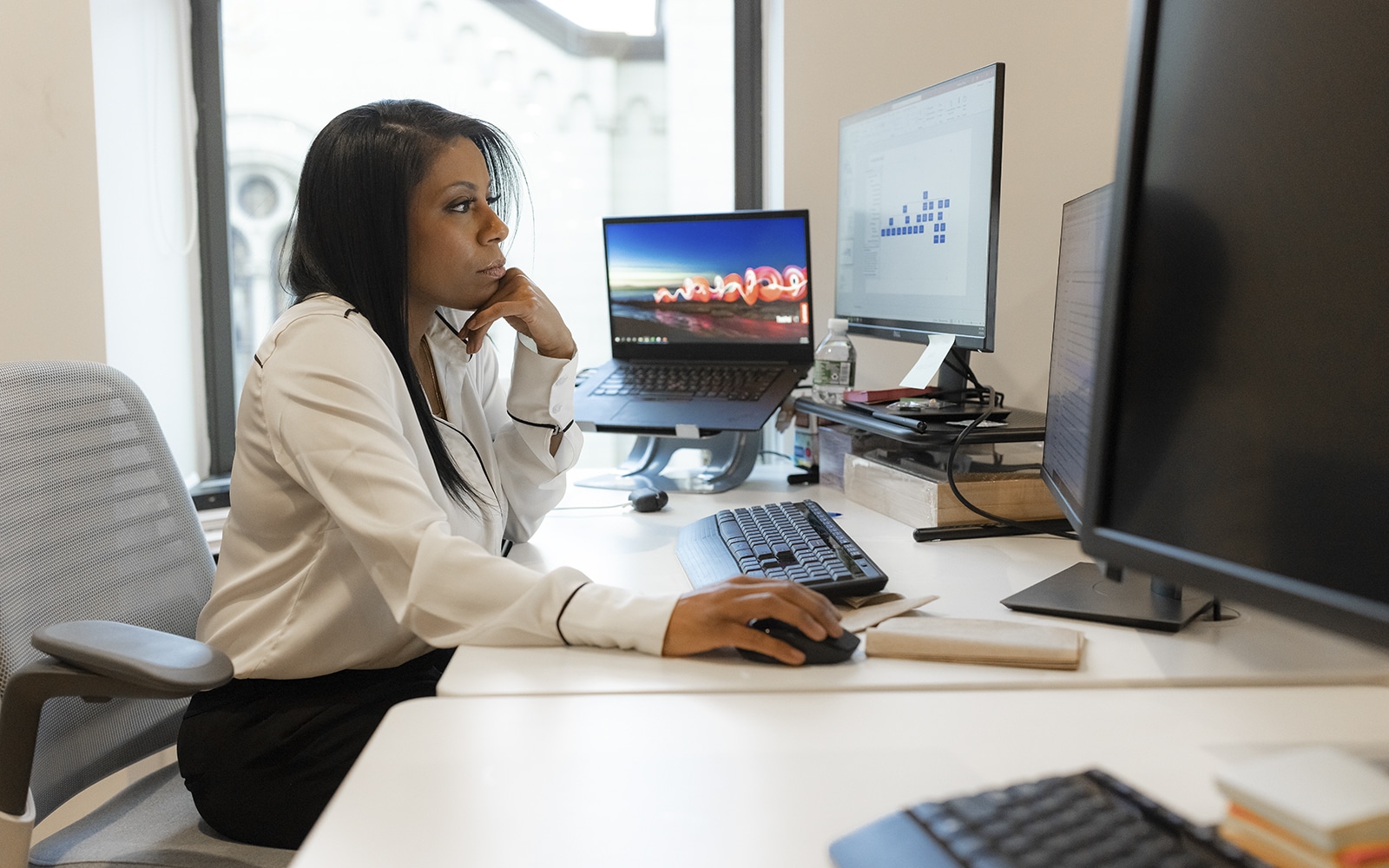 When Pizarro joined the company in August 2019, BARK had a fairly minimal accounting team. She has taken pride in growing this team as the company itself has scaled. "I was excited about building a team––mentoring them, teaching them, and ensuring that every time I brought someone in, there was a career path for them to follow," she elaborates. "When BARK decided to go public, the team was ready."
As a leader, Pizarro strives to foster a sense of cohesion across her team and to ensure each member feels appreciated for and challenged by their work. "If a leader is perfect or has all of the answers, I would question the type of leader they are," she says. "For me, leadership means leading by example, and leading by example means that I have to show how I'm serving the team. I'm there to support them and give them the resources they need."
Pizarro has continued to support both her team and BARK as a whole in the wake of post-IPO expansion. These days, her role entails balancing tactical and project-based work alongside required SEC, Sarbanes-Oxley, and other annual and quarterly filings. "One of the things we're really focused on is inventory," she notes. "We have all of these dog toys and dog treats, and it takes a lot of time and effort to handle the physical counts. My team is collaborating with our operational team to ensure that we're properly accounting for everything."
Pizarro also highlights BARK's diversity and inclusion initiatives, including executive sponsorship of employee resource groups, as a critical aspect of the company's agenda. The initiatives reflect a broader cultural shift that she believes dovetails with the transformation of the CFO role she has witnessed during her time in corporate finance. "The CFO used to be the person in charge of all accounting and finance, but they now have the ability to be much more involved in the company's plan and growth," she says. The resulting proliferation of the chief accounting officer (CAO) role has opened new doors for people like her. "It's allowed everyone to aspire to different paths," she agrees. "You can now aspire to be either a CFO or a CAO."
Pizarro sees Latinas as major drivers of the future of accounting and finance, and she plans to leverage her position at BARK to usher in the next wave of diverse talent. "I want to continue to pave the way for Afro-Latinas and show them that it can happen. It takes a lot of dedication and some really tough skin, but you can get there," she says.
Pizarro speaks not just from personal experience: her network is full of Afro-Latina and other minority leaders. "In my circle, it's not the exception. It's the norm," she explains. "But the world doesn't see it like that yet, so we'll continue to do what we do, continue to empower one another, and continue to help other people see it as a possibility for themselves."
---
True Partners Consulting: "It has been my pleasure to work with someone who is technical, fair, and trustworthy—like Rosaleen. She has championed the tax department, developed a wonderful team, and manages many outside consultants, all with professionalism and compassion. She is very deserving of this recognition—congratulations, Rosaleen!" —Kristina Stibrich, Managing Director