In some ways, Rosa Estrella has lived the Dominican American dream. She was born in La República. She moved to New York as a child and grew up in the Heights (yes, those Heights), Santiago, and the Bronx. And she's worked her way up to the role of deputy general counsel and legal commercial lead for international markets at Astellas Pharma.
However, when she left for the University of Rochester, she shied away from fully sharing her roots. "I was probably one of the first Latinos many of my college friends knew," Estrella says. "Even though I didn't realize it, I don't think I was really my true authentic self then, as far as my background."
Of course, New York is not exactly La Romana. But in retrospect, Estrella believes that downplaying her latinidad to fit in with her new peers in school prevented her from taking pride in who she is. Still, when she began her career in corporate America, Estrella sometimes took the same tack. Why? Because she feared that claiming her identity would stunt her career growth or pigeonhole her into certain career tracks.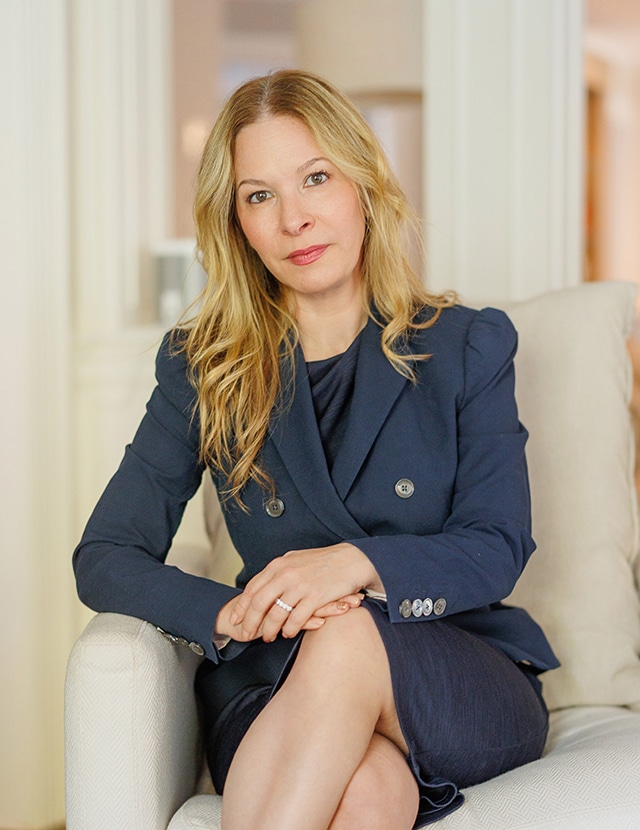 Over the years, Estrella rose through the ranks of legal departments at major pharmaceutical companies. She served as a senior legal counsel for Organon International supporting its business development team and Latin America operations. Thereafter she took a job with Eisai, where she was promoted to assistant general counsel expanding her breadth of expertise to include global manufacturing, antibribery, antitrust, and corporate governance matters.
Estrella wanted to challenge herself in a leadership role, so in 2016, she joined Astellas Pharma after being offered an opportunity to lead its Latin America legal team. Her next goal was to expand her geographical scope—which she spoke into existence—shortly adding the US. In her current role, she now runs the company's legal teams in the International Commercial Division, covering over 132 countries across Latin America, the Middle East, Turkey, Russia, and Asia Pacific.
Despite spending years supporting Latin American clients, Estrella was still unconsciously filtering herself. That changed significantly since joining Astellas and being part of the Hispanic National Bar Association (HNBA) PODER25—a talent pipeline initiative to increase the number of Hispanic attorneys occupying senior positions within corporate legal departments.
"Being my authentic self has definitely been boosted by being part of PODER25 and Astellas," Estrella comments, noting that the program and her company have supported her growth. "Realizing that my Hispanic heritage, my Latino-ness, is a superpower and feeling confident using that superpower in my work environment allows me to bring my best self to work and make more valuable contributions."
Estrella now lends her expertise to PODER25 Nexters, not only advising them on how to move ahead in their careers but also providing tools and resources to help them do so. She also leads the Astellas Hispanic Employee Impact Group, focusing on career advancement, lifting Latino youths, and finding opportunities to enhance the Hispanic patient experience.
Meanwhile, Estrella is accomplishing more than ever at Astellas. She helped develop and launch Astellas' first Legal Ambassador program, a fifteen-month rotational development program for its junior and mid-level lawyers, including a leadership curriculum developed in collaboration with Duke University designed to promote a strategic and risk-balanced mindset within the legal team.
"It's a really comprehensive program," Estrella says. "[I'm] really proud of it because it's putting our money where our mouth is and really investing in developing our team. I can't wait to see the feedback and hope we continue to enhance it year after year."
In addition, Estrella's region includes Russia; she works closely with a team of experts, to the extent permissible under applicable sanctions, to ensure the company abides by sanctions imposed by various countries while it delivers lifesaving medicines to patients in the region.
"It's a huge responsibility for the legal department and the organization, and it's something that we take very seriously," Rosa says. "It involves human lives in every way. Similar to many other organizations around the world, that has been a very important matter for us this year."
While Estrella's responsibilities are considerable, she strives to be hands-off in her leadership—trusting her teams and mentees (as well as herself) to find the right solution for the problem at hand. After all, it was only after she learned to trust herself that she became who she is today: a successful professional who embraces all parts of her identity.
"It took some time to mature into it [Latinidad] professionally and feel comfortable in my own skin, own it, and love it," Estrella says. "I am better to everyone for being truly who I am, bringing my full Latina self. I don't worry myself so much about 'Is this going to kick me back professionally?' which is something that in the past used to play in the back of my mind a lot more."
Jones Day: "Rosa is an excellent lawyer and we are proud of our work together. She has sound judgment, adapts quickly to new challenges, and leads by example. We congratulate Rosa on this well-deserved recognition and look forward to our continued partnership with her and her colleagues at Astellas. Way to go, Rosa!"—Jeremy Cole, Partner