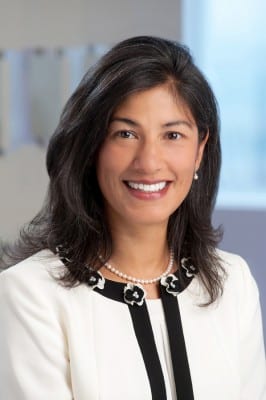 Dalila Argaez Wendlandt's career started in the fast lane; her first case as a law firm associate was before the US Supreme court. In Eastern Enterprises v. Apfel, the Supreme Court held that the Coal Industry Retiree Health Benefit Act (a.k.a. the Coal Act) was unconstitutional as it applied to Eastern Enterprises, a company that had exited the coal industry years before the Act was passed.
"It was a fabulous experience," Wendlandt recalls. "I was able to draft the briefs, participate in a moot court prior to the Court appearance, and craft arguments with the jurisprudence of each justice in mind. Observing the justices also helped me learn how to ask tough questions and write a good advocacy piece."
Wendlandt considered the Supreme Court case a continuation of her judicial education. After earning her JD from Stanford Law School, she spent a year clerking for the Honorable John M. Walker, Jr. in the US Court of Appeals for the Second Circuit. "Clerking allowed me to see what lawyers really did, what judges thought of particular arguments, and how different types of lawyering played out in the courtroom. And Judge Walker continues to be a valuable mentor," she says.
In 1997, Wendlandt joined Ropes & Gray in Boston. "Ropes had a great reputation for training associates in a lot of interesting cases. I thought I would fit in well with the people at the firm, and I needed to be in New England because my husband had found his dream job there," she recalls. The firm also allowed her to work on a flexible, part-time schedule for nearly 12 years while her three children—now fourteen, thirteen, and nine—were young.
Still, law was never Wendlandt's first choice. When she was younger, she wanted to be an engineer, having even obtained her master's degree in mechanical engineering from MIT. But after working on nuclear reactors at General Electric, automotive designs at Ford, and robots in graduate school, she felt something was missing.
"I thought back to what I enjoyed in high school, and one of the things I liked best was being on the debate team, so I applied to law school," she says. "The first time I got to argue a case and think about the right legal outcomes, I knew I'd found the right job for me."
Her engineering background and legal training positioned her to manage complex battles involving intellectual property and new technologies, which she fights on behalf of her clients. Due in part to her unique abilities, last year Wendlandt was named one of Boston Business Journal and Mass High Tech's "20 Women to Watch, 2014."
Many of the cases Wendlandt handles have groundbreaking impacts in the evolving area of intellectual property law. "We recently challenged a company's patent on a method for screening for markers in maternal blood serum to determine if a fetus is at risk for Down syndrome. We argued that the markers are a naturally occurring phenomenon in a woman's body, so screening for them using known techniques can't be patented. The appellate court agreed with us."
In another case involving processes used to manufacture memory chips, Wendlandt interviewed engineers to gain a sufficient understanding of the process so she could explain it to others. "Lawyers don't need to have a degree in the fields they represent," she says, "but they do have to believe they can understand any technology that comes their way and to recognize that there are no stupid questions. In my first life sciences case, I didn't know what an 'assay' was. My engineering degree may put some clients at ease, but it's a mistake to think you need a technical degree to handle a tech-oriented case. In fact, not having the degree is often a benefit, because you can better understand the position of the jury and the judge."
"That's not to say we don't bone up as much as possible once we take a case, though," she adds. "We have technical advisors at Ropes & Gray, most of whom have PhDs, to whom we can turn whenever there are areas of knowledge outside our wheelhouse." Ropes & Gray employs thirty-one technical advisors, who already have science, engineering, or technology degrees and are attending law school on the firm's dime.
"Lawyers don't need to have a degree in the fields they represent, but they do have to believe they can understand any technology that comes their way and to recognize that there are no stupid questions."
When Wendlandt joined Ropes & Gray, eighteen years ago, the firm did not have an intellectual property practice in place. Today, the firm has several hundred attorneys focusing solely on IP.
"Corporate and litigation were the two big groups in '97. Now we have many more specialties. It takes that kind of diversification to weather economic cycles—for example, litigation might be active when corporate work is slow, and vice versa," she says, adding that the firm has also grown from four to eleven offices, including five overseas, since she joined.
Coming up, Wendlandt, who has for years volunteered once a week as a reading mentor to students in Boston elementary schools, hopes to spend more time giving back to her community, mentoring upcoming attorneys, and encouraging Hispanic women to enter law. Both of Wendlandt's parents are from Colombia, and she always felt like an anomaly as she pursued her law degree.
"I don't see enough Latinas in deposition rooms or courtrooms," she says. "I want to work with high school students, law students, and junior attorneys in organizations like the Hispanic National Bar Association." She knows just how valuable it is to have a mentor, especially for someone who feels different in any industry. "I want to pay it forward—and increase the number of Latina lawyers."