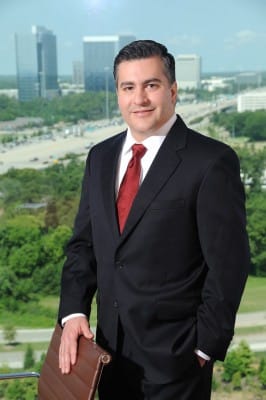 Providing free wireless access for three hundred thousand Houston residents in twenty-five underserved neighborhoods is just one of the recent ways the Center for Houston's Future is improving conditions in the area. The center has also helped spur a 20 percent increase in  the Houston college graduate rate in the past two years and has pioneered a secure network of electronic health records to facilitate higher quality health care at a more affordable cost.
"The Center for Houston's Future was organized to help people in this community as well as the larger region," says Hector Pineda, one of the Center's Civic Leadership Forum graduates. Pineda, who is associate general counsel, unconventionals for upstream Americas at Shell Oil, seeks out opportunities to be involved with organizations like the Center for Houston's Future to help ensure a brighter future for the next generation of Hispanic Americans.
In June of this year, Pineda took on a bigger role that brought his commitment to improving conditions in Houston to a whole new, international level. As a director of the Texas Lyceum, a nonpartisan leadership group focused on public policy issues facing the state, he was able to go—and take his wife and two children—to a three-day Lyceum-sponsored workshop in Panama. "We went to establish connections with some of the people doing business there," he says.
Texas ports provide jobs for 1.4 million Texans and contribute $2.4 billion in state and local taxes. The Panama Canal is doubling its current capacity, offering a wealth of potential opportunity for job creation and the economy.
Pineda feels the trip has already led to increased interest from both Texas and Panama. Previously, just two Texas ports had a memorandum of understanding (MOU) with the Canal; now, two more are pursuing MOUs. And Austin Community College District has started preliminary discussions with the City of Knowledge about possibly establishing a campus there.
June 2015 was also when Pineda participated in the Hispanic National Bar Association's Legal Education Action Program (LEAP). The program, which rotates to different cities each summer and was held in Houston in 2015, houses high school students on a university campus for one week. The students attend lectures by attorneys and other community leaders and participate in a mock trial. Shell Legal invited the participants to its offices to introduce them to the legal profession. "I told them that I, too, had come from an underprivileged background," Pineda says. "My Cuban-born grandfather left school after the third grade when his father died. He later became a shipyard worker. He told me he wanted me to do better, and that the key to that was getting an education. He looked at every one of my report cards."
"Fewer than 10 percent of enrolled law students today are Hispanic. If that continues, lots of students won't benefit from the opportunities a law degree grants you, and there could be a further widening of service gaps for the Hispanic community," he adds.
In addition to studying, Pineda encourages young Hispanics to develop mentorships with prominent professionals. "We have some very impressive role models. There are Hispanics on the US Supreme Court, among the current roster of presidential candidates, as well as many mayors, judges,  attorneys, journalists, professors, and business executives across the country, just to name a few."
Another project exciting him these days is his involvement with Healthcare for the Homeless – Houston (HHH). Active as a director since 2009 and currently board secretary, Pineda explains, "We're extremely small given the importance of the work we do, and for years, we've been on the razor's edge of financial stability." The lease on the building that houses the group's main administrative offices and clinics expired recently and HHH had to find a new space. "After a lot of work and a lot of prayers, we were able to find an appropriate building."
However, the building's $2.6 million cost was dwarfed by the $4.2 million needed for renovations. HHH launched a $9 million capital campaign (to cover the building's purchase, renovations, initial operations, fees, financing, etc.) and secured $2.6 million in state funding. They have already raised 65 percent of the campaign's goal and anticipate moving in by December 1, 2015.
"This has been one of the biggest and most rewarding projects of my life," Pineda says. "The people who work at HHH are real-life heroes, delivering a wide range of services to the neediest people in our community. I am honored to get to spend time with them and be a small part of this work."
"Fewer than 10 percent of enrolled law students today are Hispanic. If that continues, lots of students won't benefit from the opportunities a law degree grants you, and there could be a further widening of service gaps for the Hispanic community."
Considering Pineda also has a demanding  legal career, his community commitments might sound exhausting. "Shell strongly supports community outreach, and we have flexible hours, which helps, but I also spend quite a bit of personal time on these groups," he explains.
"But, you know, a lot of this work, which I started out doing because it was the right thing to do, ends up being good for Shell, too," he continues. "For instance, the work in Panama could benefit petroleum companies throughout Houston. And recently, several of us helped organize Shell's participation in an energy summit sponsored by the Houston Hispanic Chamber of Commerce, so members of the local business community could learn about the energy industry, how important it is to our economy, and how they could get involved in our supplier chain."
Pineda is also dedicated to empowering the next generation within his company. He has served as one of two management sponsors for Shell's on-campus law school recruiting and summer clerk program, and actively engages young and aspiring attorneys whenever possible. "I feel a responsibility to help them," he says. "I typically advise them to focus on developing not only their particular skill set, but on establishing a good work ethic, too. I also stress the importance of learning their craft, knowing business drivers, and key stakeholders, because that will pay off for the rest of their career.
"We [in senior positions] need to advocate for those coming up behind us," Pineda continues. "We need to recommend them for positions, give their managers feedback on their work, and help open doors for them. Even if no one did it for you, a leader should try to do it for someone else."