Ronald Castro, raised in Costa Rica and trained as an engineer, always expected to finish his education and return home to manage a manufacturing plant. But after he finished his master's degree and joined IBM, he discovered that larger, more integrated challenges awaited him at every level of the corporate ladder. Instead of returning home, he embraced the opportunity to work across IBM's global, end-to-end business operation that spanned oceans and time zones.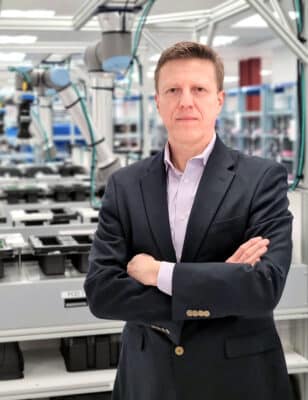 "There was always more opportunity to drive value, grow, and improve the business," says Castro. "It helped open my thinking to be broader than Costa Rica, broader than plant manager, and along the way I learned not to shy away from exploring and learning different areas of the business."
Since 2018, he has served as vice president of supply chain at IBM, where he oversees a dozen direct reports managing a global workforce in the thousands, responsible for all aspects of delivery for IBM's state of the art product portfolio. Currently based in Raleigh-Durham, NC, his IBM roles have taken him around the world to Paris, Sao Paolo, Melbourne, and Shanghai, as well as IBM operations in New York, Vermont, California, Minnesota, and North Carolina in the United States. His objective is to inspire and lead the digital and cognitive journey to an end-to-end Artificial Intelligence-enabled supply chain.
Over the last few years, the team has integrated data from a variety of systems into one platform that any user can access; today, with embedded Artificial Intelligence (AI), non-expert users can submit queries via natural language interface, then use constant-learning-enabled advisory functions to explore options, and ultimately make informed data-driven decisions.
"The goal is to gather data insights to drive supply chain velocity," adds Castro. "Make the best decisions with speed, and leverage an agile approach where we can go big, but also course correct as we gain insight and situations change."
Speed, agility, and resiliency are the crucial pillars of Castro's approach. When the COVID-19 pandemic began, IBM deployed AI tools to monitor social distancing, temperature checks, and observe movement patterns on the manufacturing floor. The AI-driven analysis led to operational improvements which minimized disruption and, more importantly, kept workers safe. Soon, IBM's supply chain team was able to leverage agility and manufacturing expertise in the face of uncertainty to rapidly build masks and later, tablet computers to support New York City schools.
Today, says Castro, supply chain resilience is "more than critical." The pandemic, chip shortages, logistics issues, natural disasters, and geopolitical conflicts all compound and intersect with each other to create an extremely challenging environment for supply chain management. It's crucial to implement new technologies to maintain speed while retaining the flexibility to adapt on the fly. IBM's global scale enables Castro and his team to "innovate anywhere, to apply everywhere."
Now that supply chain leaders can integrate so many new technologies–AI, 5G, blockchain, Internet of Things (IoT), Hybrid Cloud and more–they have an opportunity to generate value and exert major influence on the business. "In that context, we need to continue to develop the soft skills: observing, listening, understanding, communicating, collaborating, and negotiating to drive a growth-mindset which enables the ability to relate to people from different backgrounds." Castro says. "Not just different cultures and communities, but also different areas of the business."
"It is really exponential, the value supply chain leaders can gather through digital technologies" he adds. "Then we continue to drive diversity and make the most inclusive environment possible, because that helps to drive innovation."
Over more than two decades with IBM, Castro has seen the company take major steps forward for diversity and inclusion. For the past five years, he's served on the IBM Hispanic Executive Council, one of several business resource groups helping to drive initiatives in the company and beyond. "Embracing differences," the VP emphasizes, "is more than just a benefit to the bottom line–it's the right thing to do."
"I have seen a big, big focus in the last few years to make sure we're creating the best environment and the right incentives to recruit, retain, and grow diverse leadership," he explains. That includes not just ethnic and racial representation, but also neurodiversity, veterans, LGBTQ+ and more.
Ultimately, Castro's growth mindset, openness, and flexibility are major assets to his company and team. He credits his success to his enthusiasm for new approaches; and to up-and-coming supply chain leaders, he declares he never regrets taking risks and moving quickly.
"When I look back at my career, I never say: 'I wish I had done this slower, I wish I had been less bold,'" says Castro. "Always be bold."