Ricardo Resio has long been passionate about serving people, a family value instilled in him since he was a child. Initially motivated to teach, Resio now serves as corporate director of human resources at Morley but says his mission has always been the same: to leave people and places better than he found them.
"Every decision is based on putting people first," he says. "If we do things right for the people, it will 100 percent lead to better results for the business and everyone in it."
The HR professional has garnered a reputation for enabling business by driving employee satisfaction and living out his commitment to his own community through extensive nonprofit involvement. In college, he was part of a group that started Sigma Lambda Beta, a Hispanic fraternity still in existence today at Central Michigan University (CMU). Additionally, he has volunteered at CMU as well as with the Valley Society for Human Resource Management, United Way, and the Michigan Department of Civil Rights. He has also served as a speaker, a coach, and a Bible school teacher.
The son of a union worker, Resio now serves in a major leadership role in HR. "I would graduate college with a management degree, but the union fed me and my family for my first twenty-three years," he explains. "I thought my degree and family upbringing could provide a bridge to show how labor and management could work together. They play for the same team, they put on the same jersey, but, at times, they are at odds with each other. It was an intriguing space for me to start my career."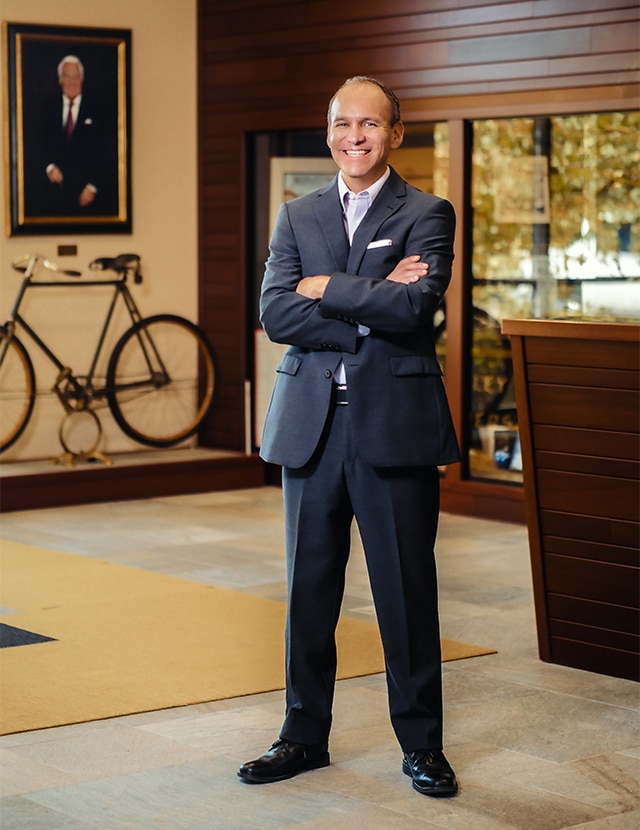 At Michigan Sugar, Resio engaged in labor relations, learning the union's side of contract negotiation and arbitration while also working from the management perspective. It was also where Resio learned early lessons about how supposedly black and white matters are never as clear as they seem.
"There's the spirit of the contract, but then there are always the different ways it can be interpreted," he says. "Any time you get a room filled with people, no one's ever going to see things exactly the same way that you do, and I always found that human dynamic fascinating."
Resio went on to work at Rehmann, where he was able to build out an HR team from the ground up and eventually receive certification as a senior professional in HR by the Human Resource Certification Institute. He then moved into manufacturing at Merrill Technologies, where he attained a project management planning certification. Now, at Morley—a Michigan-based family business that provides professional services to some of the world's top companies—Resio continues to build out his skill set as the corporate director of HR.
Resio says that coming to Morley provided a unique change of pace. "Usually I'm the one pushing and providing articles and books for management," he says, laughing. "When I got here, they gave me a whole library to read."
Culture isn't just talked about at Morley—it's lived. The company has been around for 158 years, and Resio says the chance to drive change while also celebrating such a strong culture is an opportunity he's taken on with excitement.
According to Resio, the strength of Morley's culture rests on a word that some businesses shy away from: family. "People may not like to say it because it sounds disingenuous, but at Morley, we want our people to experience our family-comes-first values and that we're taking care of each other and enriching each other's lives," he emphasizes.
That means understanding that all Morley family members each bring their own perspective and challenges to their role. Morley leadership can get the best from their people by trusting their associates, Resio says, and by demonstrating that the business is there for them in bad times as well as good. "Embracing people's uniqueness leads to a more understanding business as well as one able to meet the needs of a diverse client base."
Resio has the same goal for Morley that he's had for every company he's worked for. "I want Morley to be on Fortune's 100 Best Companies to Work For," the HR director says matter-of-factly. The business is currently looking to publish an updated mission, vision, and values that it calls "The Morley Gold Standard." It's a strong statement of principles designed to support its diverse workforce and further unite its 2,700 associates.
In partnership with both operations and marketing, Resio's HR team is also working to map out the associate experience, including the hiring process. "We're examining what might be barriers to entry and how to remove them," Resio explains, "to find great people faster and hold onto great people longer. We want to make sure we're providing a welcoming and engaging environment from the candidate experience onward into the associate journey."
Resio says he's indebted to Morley's founder, the late Louis Joseph Furlo, Sr., and the advice he provided the HR leader upon assuming his role. "He told me that he wanted HR to be the kindest department to his people," Resio remembers. "What struck me most was that he called them his people, a family. I strive every day to continue that fantastic example given to me."
Kindness has been in greater and greater demand as the COVID-19 pandemic continues. Resio says Morley's investment in its human capital management system, its increasing commitment to diversity and inclusivity, and the transition to a hybrid workforce are additional signs that the company is dedicated to empowering people to be their best selves at work. It's the right thing to do, Resio says, and the right thing to do leads to the best outcomes for everyone.