"I don't think I was hired for ELM because I had this magnificent international experience. I think I was hired because I was a person that understood our target intimately," says Dina Marie Hernandez, chief human resources officer at ELM Home & Building Solutions. "And when I took this role, I really saw that it would be coming home for me."
Hernandez's familiarity with ELM's target hiring market is grounded in her experience growing up in public housing in Brooklyn, New York. Early on, she cultivated a disciplined work ethic through her work at her father's electronic and car audio store. She started out taking inventory, but by the time she headed off to college, she was assisting her father with operations and sales.
After graduating with a degree in legal research from Saint Francis College, Hernandez went on to STC Associates, a marketing and advertising boutique. Hernandez began as a receptionist but quickly demonstrated a talent for business management—a talent that didn't go unnoticed by a woman named Sophie Ann Terrisse, who went on to become one of the most important mentors of Hernandez's career.
"She told me to get out of the receptionist desk and come back to the executive office and think about all these pieces we needed to run a successful company," Hernandez recalls. "That was really the start of our journey, and it showed me how empowering it is when someone trusts you. I learned about what it really takes to build a business from the ground up, and what it takes to expand that business internationally."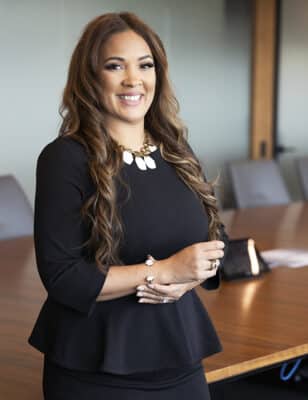 In 2008, Hernandez was headhunted by Alvarez & Marsal, where she spent seven years working her way up from international human resource manager to global director of human resources.
"We went straight into hyper-growth mode," Hernandez says of her early days at Alvarez & Marsal. "I had this amazing background working with my dad, working with Sophie, and expanding her business internationally, and I took it all together and I plugged in what I had learned. We reorganized the HR department to support that hyper-growth over the first five years, and went from a 750 to 3,500 person workforce in over 19 countries. It was a tremendous experience."
Hernandez then brought her expertise to Berkshire Hathaway in a business unit called EXSIF Worldwide: in that role, she explains, she helped the business go from "crisis mode" to adapting to the new environment and developing innovative responses to fluctuations within the industry. From there, Hernandez moved to ELM Home & Building Solutions, which prides itself on providing high-performing, customized solutions to contractors, consumers, fabricators, and distributors.
When Hernandez joined ELM as CHRO, she approached the role strategically: first and foremost, she wanted to get to know the company and understand the ins and outs of the business. Only then would she make any changes.
"I made it my business to understand the heart and the soul of the company and how it operated through multiple perspectives," Hernandez elaborates. "No one should be allowed to make any recommendations until they've spent a very intimate time with the company, and you can only do that by getting your boots on the ground." For Hernandez, gaining a "boots on the ground" understanding of ELM meant donning the uniform of the workers in the outdoor home remodeling business segment and going onsite with them to see their day-to-day process.
"All the employees at ELM rise and set with the sun," Hernandez says. "They start before the sun's up in manufacturing, and they are out in the field doing sales and home improvement. Our production employees wake up at some unforgiving hour and go to bed at ten o'clock at night because they're coming from a customer's house, which is sometimes two hours away from our branch location, and then get up and do it again the next day."
In addition to connecting and building relationships with current employees, Hernandez has worked to build ELM's talent base. All of those talent acquisition efforts are guided by one mantra: "We want to give everyone a chance, including people who are traditionally overlooked."
As Hernandez explains, she and her team are going after a segment of the workforce market that most companies stay away from—individuals who need a second chance. Candidates for a position at ELM could be someone fresh on the road to recovery, someone who has a disability that makes it challenging for them to work, or anyone else who is ready to join or rejoin the workforce after struggling with some sort of impediment to working.
Hernandez was already familiar with some of the challenges facing such individuals, thanks to her childhood experiences in Brooklyn and her experiences working at her father's store. She and her team make it their business to ensure that ELM has support systems in place that ensure these candidates' success.
The CHRO and her team are also working to break down common barriers to entry in the workforce. In large part, Hernandez says, this means working to truly incorporate diversity and inclusion into their HR work. For that reason, ELM does not require candidates to submit résumés.
"If you want to drive D&I, you can't stop at training—you have to change the way you operate and put it into action. If you want to give people a chance, why collect a résumé that gets in the way?" Hernandez remarks. "We are looking for people that don't even know where to look for us, and that means we have to cater to their needs to hire them."
The results speak for themselves—in eighteen months, ELM has grown from six hundred employees to nearly four thousand.
---
Gallagher values our partnership with Dina Hernandez and the ELM family of companies. We are grateful for the opportunity to support ELM's business growth and deep-rooted commitment to their people, customers, employees and communities – creating an environment where people can achieve their potential in both their careers and their lives.
---