Whenever Raquel Tamez is mentoring a Latina or speaking publicly to Latinas, she always tells her "feisty Latina" story.
"An executive not too long ago called me a 'feisty Latina,'" she says. "It took me aback because of the context: how it was said, when it was said. It was meant to be derogatory. I'm hardly ever speechless, but I didn't know how to respond. I was in a state of shock."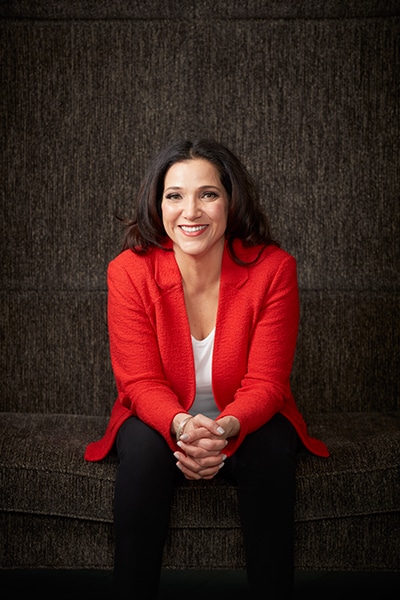 The comment stuck with her, and she often thought about it. But it wasn't until she spoke about it with a mentor that she was fully able to process the experience. "My mentor said, 'You know, you need to reconcile this for yourself. I'm concerned that you're going to carry this with you in an unhealthy way,'" she recalls. He then invited her to think about whether she was going to lean into being a feisty Latina. Would she turn something belittling into something empowering? Would she stand proud as exactly what that executive called her, a feisty Latina?
"I've given it a lot of thought, and I have decided: Yes, I'm going to be that feisty Latina," she says with gusto. "I am going to fight and advocate for what's right. It brings me back to why I decided to go to law school in the first place: justice, equality, and fairness—and just doing the right thing.
"I tell Latinas whenever I get the chance," she continues, "that they need to figure out for themselves how they define 'feisty Latina.' What does that mean for them?"
Despite the derogatory comment, Tamez came out of the career transition she was experiencing at the time with an outcome that, in her more than twenty years in various legal roles, she never saw coming. The Society of Hispanic Professional Engineers (SHPE—pronounced "ship") was looking for a CEO, and a national executive search firm contacted Tamez about the opportunity. "I initially thought, 'I don't have a shot at this,'" she remembers. Nevertheless, she began looking into SHPE, and she felt an immediate connection to its vision and mission. She was compelled by the opportunity to pay forward what she had experienced in her own life. She explains, "I grew up in the 'hood. I got out of the hood through education, and here's an organization that's supporting students and young professionals in STEM. And had I not had well-intentioned mentors and assistance along the way, I don't know where I'd be. If I can help facilitate the same for others, I'm going to do it."
The decision wasn't an easy one. Tamez would be leaving her field of expertise, which she'd spent years developing. She'd be giving up the practice of law and putting her legal license on hold. "Am I ready to do this?" she'd ask herself. The answer was a resounding yes. "I'm going to take this calculated risk and see what I can do for this organization and for my community," she remembers thinking.
Tamez landed the position, and made the leap from law to STEM as the CEO of a professional society. "I think initially people asked, 'How is that lawyer leading an organization of engineers?'" she remarks. "At the end of the day, it's about transformational leadership, passion for the mission, and having a vision and strategy for the organization."
And the time was right. Becoming the CEO of SHPE in June 2017, Tamez entered her new role just as the #MeToo movement launched and American society began to take note of racial, ethnic, and gender-based disparities in STEM industries. In almost-poetic fashion, just as it's becoming recognized that diverse women are underrepresented and discriminated against, here comes the feisty Latina labor and employment litigator to lead a STEM society.
"The time is now, and I have this sense of urgency because I'm leading the best-kept secret in STEM."
"You look around and see all these socioeconomic factors: immigration, education, the labor force, the workforce, the demand for STEM, the relentless acceleration of technology, the critical-mass numbers of Hispanics—all of these coming together," Tamez says. "The time is now, and I have this sense of urgency because I'm leading the best-kept secret in STEM."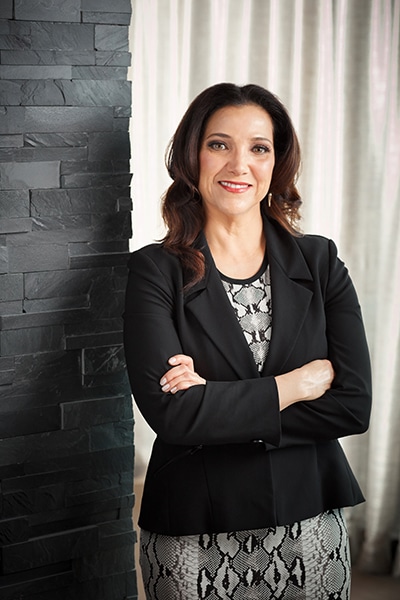 Her vision for SHPE? "In one word: catalyst," she says. "SHPE as a catalyst wherein SHPE steps up, takes action, builds consensus, leads the change, and influences the outcomes."
But being that catalyst has been more difficult that Tamez could have imagined. She knew it wouldn't be easy, but she's been surprised by the challenges she's facing.
First, there's the competition. "How does SHPE get the recognition it deserves?" Tamez asks. "I thought litigation was competitive, but these professional societies in STEM are very competitive. No doubt, in many instances we collaborate and partner. But in many more instances we are competing for the same small buckets of money."
And, according to Tamez, the playing field isn't level. Funding often comes from an organization's D&I budget, and Tamez has spoken publicly about the disparity SHPE experiences here. "There are the 'haves' and the 'have nots' when it comes to diversity and inclusion," she says. "When budgets are small or are being slashed, for some reason Hispanics are getting the short end of the stick. I see it every day. 'We're going to fund this organization in the millions of dollars, but we're not sure we have the budget for your organization.'
"Look to who is making the decisions about where the D&I monies are being invested," she continues. "We actually have to diversify diversity. We need to make diversity more inclusive."
Perhaps just as troubling—if not more so, because it's on a more personal level—are the biases Tamez occasionally experiences in interactions with certain folks in the STEM space. Since her decades of work in the male-dominated legal field, she actually has experienced an uptick in chauvinistic microaggressions in her new role.  "Maybe it's the CEO title and position, but I feel that men—chiefly, Latinos, unfortunately—are trying to put me in my place, in sometimes subtle and sometimes not-so-subtle ways," she says. She recounts comments such as, "Raquel, you're not being sensitive enough," and "Raquel, you're trying to flex your muscles."
"When would they ever say that to a male CEO?" she asks. "They wouldn't."
"Being CEO is very lonely. You are part of the board of directors, but not really. You are part of the staff, but not really. To whom does a CEO go to commiserate?"
While experiencing these biases, she is simultaneously leading her team and advising "SHPEtinas" (Latina members of SHPE) to overcome the same challenges, which leaves little time for her to process situations appropriately.  "How do I captain when I'm grappling with something?" she says. "Being CEO is very lonely. You are part of the board of directors, but not really. You are part of the staff, but not really. To whom does a CEO go to commiserate?"
Tamez knows that the best way to find strength through the adversity she is facing is to unite with others in similar situations. She dreams of creating a sisterhood with other Latina leaders—so much that she already has a name for it.
She plans to call it FLEX: Feisty Latina Executives. A name with multifaceted meaning. A way of turning belittling microaggressions—"You're a feisty Latina," and "Raquel, you're just trying to flex your muscles"—into an empowering catalyst for change.
Stay tuned for a FLEX event coming your way in the near future. Tamez is on a mission, and she's issuing a call to action for Latina executives to join her.