Fighting against the prejudices and disadvantages that come from being a Latina can prove to have value in a male-dominated, older-skewing, stodgy legal field. "As a woman of color, particularly a Latina, you always are a bit of the exception and have to prove that you belong in the room," says Marjorie De La Cruz, senior vice president and general counsel Latin America for PepsiCo. "You train yourself to overdeliver, to show you are unique and can offer something different from everyone else."
De La Cruz joined PepsiCo as senior legal director and international counsel in 2004 after a long string of successful legal positions. Her background—both professional and personal—positioned her perfectly for the role. The daughter of immigrants, De La Cruz knew intimately the importance of cultural sensitivity and the ability to make connections across borders. Prior to joining the legal profession, she worked in advertising. After completing her law degree, De La Cruz was able to pair that experience with mergers and acquisitions training for legal roles in the advertising industry.
It was at that time that De La Cruz first became acquainted with PepsiCo; one of her primary clients at the time was the biggest advertising agency of record for the brand. "I learned that they were looking for a Spanish-speaking lawyer that knew consumer products and advertising," she says. PepsiCo was looking to support its beverages business in Latin America, and De La Cruz saw the job as a way to merge all of her experience into one opportunity. "It was the ability to translate and apply all of my learning in the United States to a region where I have strong, personal roots that is also growing and evolving," she says.
After thirteen years in leadership positions within PepsiCo, De La Cruz became general counsel of Latin America in 2017. In this role, she leads all legal, regulatory, and public policy matters in the region and leads a team of more than 100 legal professionals. Though she'd been able to make an impact previously, she was one of the only women in a leadership role.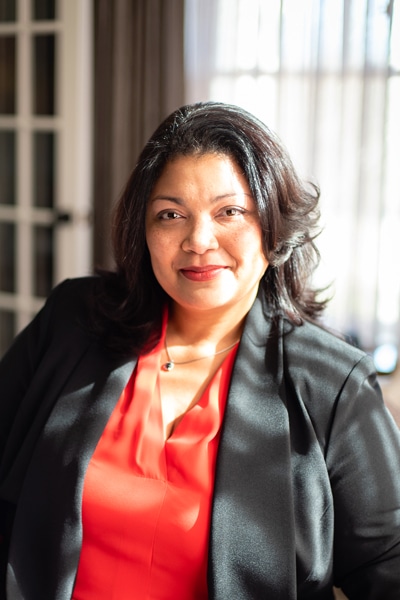 "Being the exception became much more about being a woman that had decision-making authority," she says. "But I knew I'll always have an advantage and an opportunity to break a barrier, to educate, and to hone my leadership skills."
Chief among De La Cruz's priority list in her new role were: ensuring decisions on risks were made with as much information as possible, keeping the business moving forward through any crises, and ensuring the legal department integrated with the rest of the business so that its judgment remained embedded in all day-to-day operations. "I took it upon myself to make sure that my people are business partners and enablers that help the business make good judgment calls," she says. "Those are the decisions that can lead to sustained growth."
As general counsel for the Latin American region, De La Cruz's team negotiates deals, ensures compliance, and handles labor relations. In addition, the region's occasional, but not infrequent, political uncertainty and volatility require an added level of close attention. "The role requires constant contact with my direct reports touching on the news of the day, how we are going to tackle it, and who needs to be involved to make the appropriate decisions," she says. "My role is to act as a bridge between our corporate general counsel and what we do on the ground in Latin America."
The region has many countries—each with its own specific culture, customs, and needs—and PepsiCo must have a proper legal strategy for each. Take, for example, PepsiCo's recent portfolio expansion, which offers consumers low-calorie foods and beverages. While it might seem like a single cohesive idea, each country's tastes and needs differ. "As the general counsel for the region, I can advise, for example, on how the company should approach what we say about our products and how we can support our business to innovate in a way that's appropriate for that particular country," De La Cruz says.
The same is true for operations, working with plants, distributors, and large workforces in each country, as well as day-to-day issues, such as natural disasters. "For example, we have probably less labor uncertainty than many other countries, but we have the same types of issues in terms of security," De La Cruz says. "I've had to learn to be very well versed in connecting with the political environment throughout the region. We regularly have to get our crisis management teams activated to make sure that our people are safe. We have to have plans in place to deal with whatever surprise may arise."
That ability to look out over the entire region fits De La Cruz's perspective of leadership as well. She compares the legal function to a lighthouse—and she needs to ensure it's pointed in the right direction to keep everyone from crashing into the shore. "My job is to set the bar and determine the direction for what is acceptable and what is going to help the business get to where it wants to be while doing it the right way," she says. To further fit the metaphor, De La Cruz ensures she remains visible and accessible, a beacon and safe space for anyone in need of guidance.
"I feel a responsibility that if I can accomplish more, I should try to do it—not only for myself, but because it opens possibilities and opportunities for so many others, especially women of color and Latinas."
As she empowers and elevates the Latino community, she also stresses the importance of building diverse representation in outside law firms and building bridges to other communities—to make sure the entire organization feels comfortable discussing the importance of diversity and representation. "You can make major change when you can bring other people along to feel an investment in diversity," she says.
"Many years of working with Marjorie have greatly enriched us," say Marcelo Bombau and Adrián Furman, partners at the Argentine firm Bomchil. "She always drives the right mixture of sound legal advice—values, gatekeeping, and thorough understanding of the applicable rules—with the perfect 'cultural' tone."
Through it all, De La Cruz insists on saving time and energy for family. "My greatest achievement to date has been being able to pursue my career while still being very present for my twin boys," she says. Women in high-level careers such as hers face an incredible challenge attempting to balance work and life, and De La Cruz notes that it takes a massive amount of work to strike the balance. "You have to accept that, every day, that allocation of time is going to change—you're going to have to adapt for whatever the needs are at that moment in time," she says. "Every day it's a conversation between me and my family, making sure to prioritize and share time well and getting enough help when needed—because you can't do it alone."
Each morning, De La Cruz journals, finding quiet and calm to focus. Frequently, in this time, she returns to a legacy statement: goals for her life both personally and professionally. "Everyone should think about living life the way they want to be remembered," she says. "My legacy statement is my personal lighthouse."
There is one theme that connects De La Cruz's personal and professional lives: an opportunity to help, inspire, and empower others. "I feel a responsibility that if I can accomplish more, I should try to do it—not only for myself, but because it opens possibilities and opportunities for so many others, especially women of color and Latinas," she says.
A Voice for Justice
De La Cruz is particularly proud of her ability to fuse her compassionate push for diversity with her leadership voice on behalf of the Tahirih Justice Center, a national charitable organization that provides direct services, public advocacy, training and education, and legal services to immigrant women and girls fleeing gender-based violence and persecution. "Ninety percent of the time, our clients are successful in re-establishing their lives in the United States, whereas if they show up at a detention center and the like without representation, they're more likely to be sent back," she says. "I'm proud to use my knowledge of the law and help establish a new life for people who are completely underserved and underrepresented. I do a lot of fundraising and visible work to bring attention to this amazing center that helps many women of color—and many Latinas in particular—seeking that second chance. I'm a lawyer, I'm a Latina, and a woman of color, so Tahirih's mission is crucial to me."