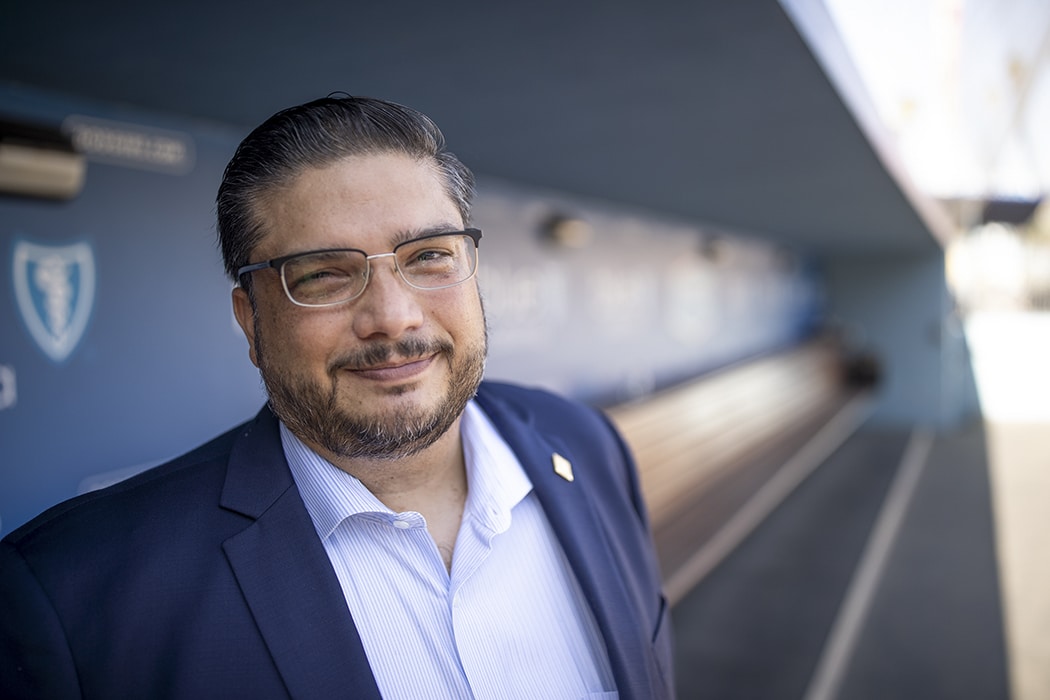 "I've had the privilege in meeting many successful people, a lot of CIOs and CTOs who are very fond of their companies. However, I don't know many people who have their dream job. I have my dream job."
Ralph Esquibel has been a lifelong Dodger fan. He grew up just thirteen miles from the stadium, but because of his family's humble circumstances, the young baseball fan only walked through the gates once every few years, when his dad was able to secure free tickets from work. Those days were always highlights for Esquibel, who, from his seat in the Loge section of the stadium, could actually see the players he followed on the radio and TV.
Even as a Little League player, Esquibel dreamed of playing on a team named after the Dodgers. Of course, that wasn't as easy as it sounds. "My damned luck," Esquibel says, laughing. "Every year, I wound up on the Twins or the Red Sox. I just wanted to be a Dodger."
The Hobbyist Goes Pro
Esquibel now serves as vice president of information technology for the Los Angeles Dodgers, and when he says it's his dream job, you believe him. But it wasn't his pitching prowess or slugging percentage (especially not his hitting, the VP admits) that brought him to the 2020 World Series champions. It was his neighbor's Commodore 64.
"We used to code games on his Commodore 64 in Basic," Esquibel remembers. "The code was always somewhere between three hundred and a thousand lines, and we didn't have the means to save it. So every night when we turned off the computer, we knew we would have to recode the whole thing." What's more, without the aid of a compiler, Esquibel had to carefully input each command in correctly. Otherwise, he would have to spend the night scanning through each line of code for errors in his syntax.
Tedious as the process must have been, it had Esquibel learning basic programming commands before he was ten years old. Later, as a teen, he attained a part-time job and was able to afford a computer of his own. He worked on his Packard Bell incessantly, finding every way possible to upgrade his system on a virtually nonexistent budget. It never seemed like a future, though, just a hobby.
After high school, Esquibel did what his grandfather and father had done before him: he joined the military. Like his father, he enlisted in the Marines. While in the Marine Corps Reserves, he began taking classes, utilizing his GI Bill at the local university, but wasn't entirely sure what he should focus on for his major. "I wasn't exposed to many professionals," Esquibel explains, "so I really didn't think I had many options other than maybe being a schoolteacher. I never saw my hobby as a possible career."
That impression lasted only up until Esquibel began making as much money as his parents just by doing part-time technical work for small companies prior to graduating. He had stumbled into the major leagues without even realizing it.
Living the Dream in 2020 
After a formative experience at Toyota, Esquibel managed infrastructure for American Honda and Pioneer Electronics. Then he was contacted by an old friend.
"He said he knew I loved technology and the Dodgers and asked if I knew that they were looking for a technology leader," Esquibel recalls. "I was just a kid from Los Angeles with a passion for technology and baseball. I figured I had a slim chance to achieve my dream, but with determination, here I am."
With a World Series win under the Dodgers' belts, one might assume that Esquibel would now be taking time to savor the team's victory. But the VP's time at Toyota has deeply influenced his pursuit of continuous improvement—or "kaizen," as it's known at the Japanese automotive company. "I'm always focused on kaizen, how to improve and innovate while still reducing cost," Esquibel says.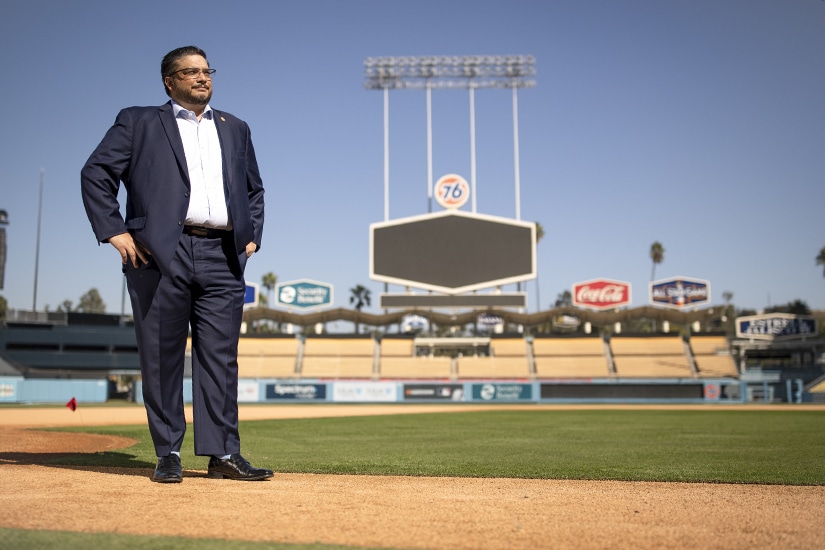 The VP speaks emphatically about the need to adapt to the COVID-19 pandemic and find new ways to engage fans once they're able to return to the stadium. "I'm very passionate about leveraging emerging technology and utilizing it to enhance the fan experience," he says. "When a fan enters the stadium, you are able to tailor an entire experience just for them, from their food preferences to their consumer habits. This is absolutely where the future of sports is going, and I'm proud that we're on the front lines of this evolution."
The Dodgers are also early pioneers of data analytics, which can ensure that a sometimes slow game, like baseball, remains engaging. As the VP explains, these analytics bring fans into the experience, allowing them to see a real-time probability calculation for every pitch as well as the potential outcome. "It's a whole different aspect of the game to focus on," he says.
"We want to create a unique, best-in-class experience for fans at the ballpark, one that they can't get at home."
Other prominent members of the tech industry have recognized Esquibel for his efforts to integrate such technologies into the baseball experience. As David Tuhy, general manager of Data Center SSDs and a VP in the Optane Group at Intel, remarks, "Ralph has established himself as a leader in the high-tech community, adopting cutting-edge technologies like Intel Optane SSDs and Cisco Hyperflex to dramatically improve the Dodgers' operational capabilities, and as a result significantly improve the fan experience."
As the Dodgers, and sports in their entirety, continue to soldier through one of the most disruptive years for the industry on record, Esquibel seems as excited as ever. The questions he and his team have to answer may be more challenging, but the VP's commitment to his team—as a fan and as a leader—remains undiminished.
A Team and a Community
Along with serving as the Dodgers' vice president of information technology, Ralph Esquibel is the executive sponsor of the Dodgers business resource group, Somos LA. "We provide a voice for Latinos at the Dodgers to be able to share our culture within our organization, provide Latinx employees with tools to strengthen their careers, and give back to our community," Esquibel says.  
According to the VP, Somos LA is also adamant about the importance of reaching out to the broader Latino Dodger fan community. "We're able to engage on a one-to-one basis in our community by creating mentorships with local high schools and helping make young Latinos aware that your future isn't just what's in your environment today," he says.
Cisco and Intel are proud to partner with Ralph and the Los Angeles Dodgers as they embrace the future of baseball. On and off the field, and across the business landscape, the ability to power data analytics and enhanced digital experiences is crucial to winning. Through our combined partnership, the Dodgers' small but dedicated IT staff is leveraging our industry-leading technology to successfully accelerate game analytics, improve the experiences and safety of their fans in the stadium, and gain the agility to adapt quickly to changing needs. For more information regarding Cisco HyperFlex with Intel Optane SSDs, visit this page.