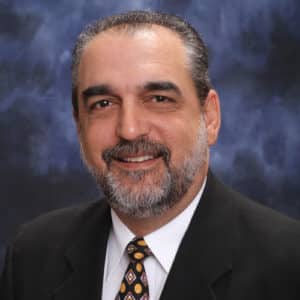 In 2007, when a human resources representative from the Miami Marlins called him for a job interview, David Enriquez thought he was being pranked. He had applied for an IT director role through a blind newspaper ad, with no veritable expectation that he would break through because he lacked insider connections. Based purely on his credentials—broad IT experience in real estate, the cable TV industry, and travel powerhouses Air Jamaica and Royal Caribbean—his résumé rose to the top.
Ten years later, Cuban-born Enriquez is senior director of the Florida-based Major League Baseball franchise and its impressive home at Marlins Park. He leads a high-performing information-technology team, cherry-picked for their mix of skill and personality. Over the years, he's noted common factors for their success: a passion for tech, a razor-sharp work ethic, and a sense of humor.
"We often have team discussions about how to tackle big initiatives," Enriquez says. "This is not 'David speaks and everybody listens.' We've been lucky that we've been able to make decisions as a team. Each member of my team was hired because they have something valuable to contribute. We give them a voice, which I think is important."
Incidentally, they're all Latino. Given Miami's heavily Hispanic workforce, Enriquez doesn't consider their cultural lineage a differentiator. Even though they all speak Spanish, he says, the common language is technology.
"Our passion for IT is what binds us together—not the fact that we're Latino. That rarely comes up. Except maybe at 10 a.m. and 3 p.m., when we all have a Cuban coffee," Enriquez says.
That passion is a vital baseline, uniting his tight-knit team of eight.
"I ask my employees before they get hired: Are you a baseball fan or an IT fan? If you're a baseball fan, great—but that comes second to IT," he adds.
Ask Enriquez what he personally loves about his job, and you can almost hear his pulse rise: "What don't I love? The technology, the ever-changing landscape, the challenges of making things work, helping people to achieve their goals. Not to mention there are so many different things we can do today that we couldn't do thirty  years ago. If it was a static opportunity, I probably wouldn't be here."
He and his team field a lot of curve balls at the stadium—even working on the back end of operations. "We're the underlying support arm with everything that has to do with a power plug," Enriquez says.
Tactically, Enriquez's crew handles all cabling infrastructure, security applications, facilities applications, game day support, scoreboard infrastructure, and retail point of sale—not to mention the leading currency of this age: connectivity that keeps all devices online.
They lead IT support for employees, in person and via call center, spanning anything related to PCs, tablets, and handhelds. Beyond the Marlins organization, they support Marlins Park overall, a venue attracting big-ticket events varying from Beyoncé and Guns & Roses concerts, to rival soccer matches.
"Our passion for IT is what binds us together—not the fact that we're Latino. That rarely comes up. Except maybe at 10 a.m. and 3 p.m., when we'll all have a Cuban coffee."
David ENriquez
It takes wherewithal, to say the least. "There are eighty-one regular season home games per year. When the team is on the road, we typically work a 9-to-5 every week, but during home games and other major events, we stay here until 11 or 12 at night to support," Enriquez says. During those games, the crew often finds themselves heads-down working to resolve IT issues—not glued to the action on the playing field.
It's not a typical IT routine, so a good dose of good humor goes a long way.
"We have a good camaraderie and I like to keep it loose," he says, adding that their inside jokes help make it through the demands of being a high-profile service unit.
"In my director's role, I look for folks who want to truly belong to an organization—who want to be here for the long term. That's one of the most powerful things we can have—a staff that wants to learn and grow with the team."
The trick, he says, is to keep everyone interested and motivated during long tenures.
"In the 1980s and 1990s, and somewhat in the early 2000s, IT professionals looked for better opportunities constantly," he says. "Today, it's different; there's more of a search for roots and longevity."
One of the team's biggest feats to date was the design of Marlins Park, the 37,000-seat ballpark and multiuse facility. Enriquez's department played a key role in infrastructure—supporting the build-out of data centers, cabling plants, point-of-sale systems for the various kiosks and eateries, just to name a few projects—all while maintaining business as usual.
The work Enriquez's team does is sometimes unseen, but it equals success. Their focus is to create an experience so effortless that no one realizes how it's being powered.
"The consumer experience of IT is one of our greatest drivers," he says. "Every time a new gadget comes out, we have to support it, because the fans or corporate users are going to want it. That's the most challenging thing—keeping up with the consumer."