In early 2017, Hispanic Executive magazine, in partnership with Northwestern Mutual launched the #NextGenLíderes national tour in San Diego. The #NextGenLíderes events were created to bring together young, talented, Latino professionals.
Over dinner at Herb and Wood, a charming restaurant in the San Diego's Little Italy neighborhood, we met three millennial up-and-comers that stood out as rising stars to watch. Read ahead to learn their experiences, their love for the city, and how they've actualized the successes they've achieved thus far.
MAN ON A MISSION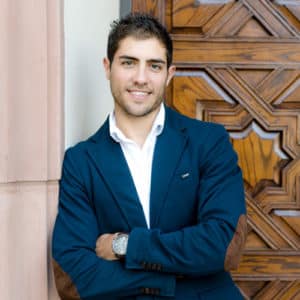 Twenty-eight-year-old Spaniard David Jimenez Burgos was born an engineer. Now he's figuring out how to run a business.
When he was a very small child, he kept a notebook where he would draw inventions. "I always wanted to be an inventor," he says. "The idea of creating things that could change and improve the world is what sparked my interest in technology."
He knew early on what he wanted to study and got an electrical and computer science engineering degree in Madrid. Since then, Jimenez Burgos has worked in IT in Spain, Germany, and the United Kingdom. Once identifying that he had true passion and talent for engineering, Jimenez Burgos decided that he wanted to be in California where the tech hotspot is—and he doesn't mean Northern California. For Jimenez Burgos, San Diego is the burgeoning engineering, tech, and start-up hotspot of his dreams. "I love the entrepreneurial environment in the San Diego area and the amount different activities and opportunities that the city offers for people who want to start their own business," he says.
His goal, in fact, is to start his own business. That's why he prepared for the GMAT last year and is currently studying to get a dual degree—an MBA and an a Master of Science in Finance from the University of San Diego.
Upon arriving in San Diego, his first job was to create mobile apps for companies—the last one he created was for Qualcomm—but he is now focused on gaining the necessary skills to launch his own venture. One of his ideas in an app called HappySpoon. It's a restaurant finder app that not only finds a restaurant nearby using GPS, but also suggests the perfect meal according to the user's preferences. "I am passionate about being an entrepreneur—that's what I want to do with my life," he says.
On May 4 2017, Jimenez Burgos pitched Happy Spoon at the University of San Diego's sixth annual Venture Vetting (V2) Pitch Competition. Happy Spoon earned the most seed funding of the night at $22,000. At the event, Jimenez Burgos said the app is ready to go to market and he'll be able to use this V2 funding to aid with marketing Happy Spoons across numerous platforms.
Besides creating the next big dining app and running his own company with a mission of making people's lives better, Jimenez Burgos's other personal goal is to complete a triathalon. "I love outdoor activities and the idea of running, biking, and swimming for three hours really fascinates and motivates  me," he says. "There is no better place to do it than San Diego with its beautiful scenery and perfect weather!" 
NEVER LOOK BACK
After her first year of college, Inés Rodriguez dropped out. "Without vision, it's impossible to find direction," she says. She remembers feeling a need to find passion for something, and at the time, college didn't feel like the right path.
Rodriguez was born in Michigan, but grew up in Isla Margarita, Venezuela. As an adolescent, she remembers attending various political protests concerning the Venezuelan government's attacks on freedom of speech and experiencing tear gas and violence first hand. She left Venezuela to attend university in the United States, but had no idea what she wanted to study and struggled leaving family and friends behind.
After dropping out, she had a critical decision to make. Rodriguez managed to get an internship with Heineken on the island of St. Maarten in the Caribbean. "The interesting thing about this tiny island is that it's divided into two; the Dutch side and the French," Rodriguez says. "I was working with completely different target audiences on such a small island, coming up with campaigns in the hopes of reaching each culture."
That's when she found a passion for marketing. After four months of working for the Heineken Regatta, she had a moment where what she was doing felt right and spoke to her talents. "I still remember on my way home, I turned up the song 'Bittersweet Symphony' by the Verve and smiled because I knew what I was supposed to do."
"I decided to go back to [Siena Heights University in Michigan] to study marketing, even with the trepidation of feeling I had failed the first time around." She witnessed a peer of hers win "student of the year," and decided that was the kind of student she was ready to be. "I asked a school advisor what I would need to do to win it, and she told me my chances were extremely slim after having taken time off," she remembers. She decided she would approach her studies with more determination than ever. She studied abroad at IPAG Business School in Nice, France, and excelled. Rodriguez graduated in May 2014 as business student of the year.
After graduation, Rodriguez landed a marketing role in a production agency in Detroit, but she traveled frequently to Miami and Los Angeles to work on marketing campaigns for Marriott and Budweiser. One such campaign stationed her in San Diego for two weeks, giving her time to get to know the city. "I remember sitting on Sunset Cliffs and having another moment of realization where everything suddenly made sense," she says. She decided she did not belong in Michigan, but rather in California. She packed up and moved to San Diego.   
Now, Rodriguez's field has evolved to digital marketing. She is the marketing strategist for the Metaverse app by GoMeta. Digital marketing, she says, has evolved to the point of saturation. "We have become 'human ad blockers,' meaning we can see an ad and simply ignore it," she says. Creating Facebook and Google Ads has become so easy that small businesses are now able to advertise cheaply.
"I worked at an ad agency where I learned techniques to increase user retention such as using Native Ads," she says. "What really sparked my interest in digital was not really the ad itself, but the analytics and data that are now available to marketers."
Now, she explains, you can target a precise audience in extremely specific ways. She is especially interested to watch how virtual reality (VR) and augmented reality (AR) will change the world of advertising. "We already see Snapchat filters using AR that are placing their logos and ads on filters. So clever!" she adds.
She says that working for a startup is the best, most exciting experience in her career so far. Metaverse, she explains, is similar to Pokemon Go but instead of catching Pokemons, users catch real life items such as a free latte from Starbucks or a free, two-hour kayak tour around La Jolla Cove. "I approached to approximately 2,000 businesses all over San Diego and got 25,000 gifts that businesses were willing to give for free in hopes to increase foot-traffic." Metaverse sounds like a crossroads of digital and real worlds, using technology to help brick and mortar businesses operate and grow on a very relevant platform.
Being the marketing strategist at Metaverse means that an idea moves so fast that it can be shared in a morning meeting and implemented by noon on any given day. Rodriguez loves the pace and says she's currently focused on targeting AR strategies to college students and millennials like her.
Seeing her ideas in action, feeling inspired by talented and energetic coworkers, and feeling the positive, San Diego vibes, Rodriguez is looking forward to everything the future holds.
If she had never left the comfort of friends and family in Venezuela, she would have not grown to the confident and successful young professional she is today. Rodriguez insists that she was never a good student until she envisioned herself as one. She moved to California because she was absolutely determined to live the type of life she had envisioned. "There is no such thing as 'luck' or 'destiny,'" she says. "You create the things you want and it's up to you to set goals and not look back."
The Quarter Life
On her twenty-fifth birthday, Inés Rodriguez wrote the following, which she makes sure to re-read whenever she feels the need for a little motivation:
It's all about making your third-grade self proud. To explore the unexplored. To live life to the fullest. To not limit yourself or let yourself be limited. To never settle for less than you deserve. To constantly remind yourself you have a purpose in life. Even if you have no idea what that purpose is. It's all about what you do, not what you say you will do. Fear is the enemy. Take calculated risks. Don't judge. Create a personal 'Board of Directors' of influential mentors. Experiences are greater than things. Money doesn't buy happiness. Get the side of fries (preferably Animal Style at In-N-Out). Look at working out like a second job. LOVE your career—you will be most of your life working so get/create a job that doesn't feel like 'work.' Most importantly, stay true to yourself and put up a fight for what sets your soul on fire.
Rodriguez has set a goal to write a book, tentatively titled Risk It to Get the Biscuit by the time she is thirty.
TALENT FOR DAYS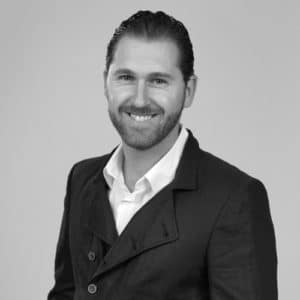 On the older end of the millennial generation (according to Pew Research Center, a millennial's birth year spans 1981 – 1997), Alvaro Martinez Esteve is married, has two kids, and an invaluable skill set that drives a successful career. 
"My passion and understanding of both marketing and tech has been my secret weapon and what really has set me apart as a professional over the last ten years," says Martinez Esteve.
Having a passion and expertise in both marketing techniques and cutting-edge technology to drive disruption and innovation, keeps Martinez Esteve excited about his work and keeps his career on the up-and-up.
"It was during my senior year in college while working on a start-up with college friends that I realized I could be an asset to any company," he says.
Martinez Esteve was born in Murcia, Spain, and moved to San Diego in 2003 to study at Alliant International University, where he was granted a soccer scholarship. It was there that he discovered a passion for marketing. He began by changing his focus from computer science to working toward a bachelor of science degree in information systems and technologies with a minor in marketing. After some soul searching and identifying that his ultimate goal was to be an entrepreneur, he shifted to focus entirely on marketing.
After graduating from college, he moved back to Spain and enrolled in a full-time marketing management master's program in Madrid at Instituto de Empresa. He graduated in 2009 and moved back to San Diego in 2010, where he has since stayed. "Over the last seven years, I have had the pleasure of working with incredibly talented people at the AIM Agency, Digital Operative, Geary LSF, and now at 6D Global Technologies," Martinez Esteve says. 
As the media strategy director for 6D Global, Martinez Esteve collaborates cross-departmentally within the agency to strategically optimize campaigns to achieve the best results for the agency's clients.
"If I were to define exactly what I do, and truth is I believe what I do defines who I am," Martinez Esteve says, "I would say that I'm a creative problem-solver with strong dot-connecting abilities and a passion for marketing and technology."
His strategies for the company are completely driven by client successes, disruption, creativity, and innovation, he says.
What really gets Martinez Esteve excited is his ability to identify cross-channel opportunities and create data-driven and consumer-centric strategies that ultimately become omni-channel solutions. These abilities are the strengths that will continue to drive his success in the future.
When Martinez Esteve isn't conjuring up his next entrepreneurial idea or keeping up with industry news, he's a proud father of two young daughters, a husband, and an avid soccer player and fan. He's also one of San Diego's biggest fans.
"What's not to love about the finest city?" he asks. "It has amazing weather, cultural diversity, multiple outdoor activities—from incredible beaches to hiking to snowboarding at Big Bear. From a working perspective, I'd say that what I love the most is the amount of talented professionals that live in this city and that I have the pleasure of working with."