Steve Jobs, Arianna Huffington, and Twitter founder Jack Dorsey are counted among America's most recognizable innovators. These game changers are known for their personalities, inventions, or both, but at the core of every innovator is a philosophy that he or she lives by. For DuPont lawyer Thomas Warnock, his philosophy on innovation is simply this: "To be better, to do better, and to add value."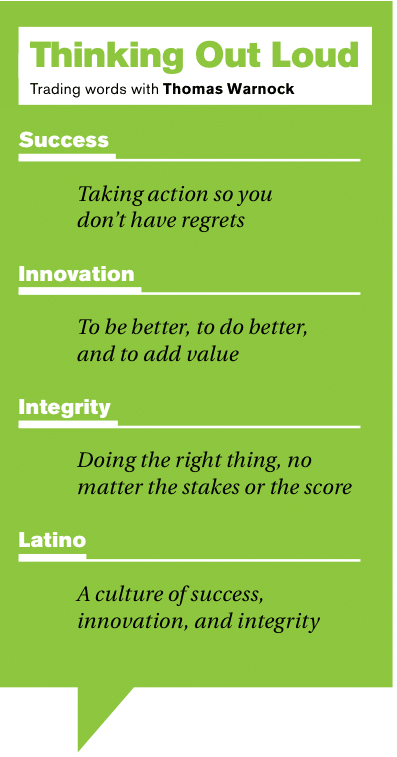 While Warnock's definition is straightforward, the work to accomplish is never that. After graduating from Temple University's law school in 2001, Warnock began his legal career as an associate at White and Williams LLP. While in the City of Brotherly Love, he embraced his fellow Latino lawyers serving as the president of the Hispanic Bar Association of Pennsylvania. After moving to Wilmington, Delaware, Warnock became deputy regional president of the Hispanic National Bar Association and a founding member of the Delaware Hispanic Bar Association.
In 2006 Warnock joined DuPont as a senior counsel to manage tort (personal injury cases) and commercial cases. In addition to his legal workload, Warnock has served as a chair for several committees including the Company's Minority Counsel Network (MCN). As a part of this initiative, Warnock and the DuPont MCN gather legal counselors of color to discuss legal and management issues and to offer professional-development opportunities, along with creating initiatives to build a pipeline of new lawyers. During his tenure as chair, Warnock sought to improve the network's outreach to its members and to meet their needs. To do so, he established a leadership council to ensure their discussions on diversity lead to a course of action. "I'm always looking at what I'm doing or how I'm doing it to bring more value quicker to help my clients and my community," he says.
These opportunities have allowed Warnock to hone his leadership skills and to receive praise from others. In 2010, Warnock was awarded the Young Hispanic Corporate Achievers from the Hispanic Association on Corporate Responsibility. "For leaders, you need passion and commitment. If you are leading without passion and commitment then not many people are going to follow," he says. "A leader must always find ways to improve and help those around him improve. Complacency has no place in leadership."
Innovation is not just a grand idea or invention; it can be as simple as examining and reexamining an issue and finding a win-win solution. However, Warnock admits that there's an inherent risk attached to change, but it takes a team of people on all side of the tables—chemists and lawyers alike. "As a company, DuPont is helping to solve many of the world's problems," he says. "We have the best scientists and leaders in the world, but there's an understanding that we can't do it alone. At DuPont, we believe that through inclusive innovation we are better able to deliver these solutions."
DuPont is one of the top US chemical companies, known for its Fortune 500 status and brands like Teflon, Kevlar, and Tyvek. The Wilmington, Delaware-based company is one with an international reach with operations in nearly 90 countries and a commitment to finding sustainable solutions for industries such as agriculture and energy. In Warnock's opinion, DuPont serves as a model of origination. "I have the privilege of working at a company that is world renowned for its innovation. DuPont has been innovating and creating the miracles of sciences for over 200 years," he says. "[From] when it started in the early 1800s as a black-powder company to what it is today."
Warnock's drive stems from his parents where he was taught not only to achieve a goal but to build upon it for himself and others around him. His view on innovation also stems from his upbringing, seeing parallels with his own family. His mother and her family emigrated from Cuba 1966, and spent the year in Mexico first, later traveling to the Midwest. "My family had no choice but to innovate every day just to get by and to re-establish themselves," he says. Later, the young Warnock, along with his mother and father, moved from Chicago to Venezuela, lived in the Dominican Republic, and ultimately settled in Miami. Although he was born in the States, he values his mother's courage and the risks she took starting over in new countries.
When looking at his family's immigrant experience and their willingness to embrace change, failure was not an option because they had so much on the line, Warnock says. He remembers the words of his mother: Siempre para adelante, para atrás ni para coger impulso. Or in English: Always forward, backwards not even to get momentum. No matter the language, the underlying message has resonated with Warnock, propelling him to new heights in his career.