For diversity professional Rosanna Durruthy, her career (and current position as chief diversity officer with health insurer Cigna) is a classic example of genes working in tandem with environmental forces. Of Cuban and Puerto Rican heritage, Durruthy, from an early age, experienced different cultures not only at home, but at her father's medical practice in the South Bronx. Young Rosanna spent many Saturdays in his office with people who weren't just her father's patients—they were also part of a community. "When someone came in to see my father," says Durruthy, "you didn't just know the individual, but you often knew who their spouse was, who their parents were, who their children were. I grew up experiencing the importance of caring about your customer."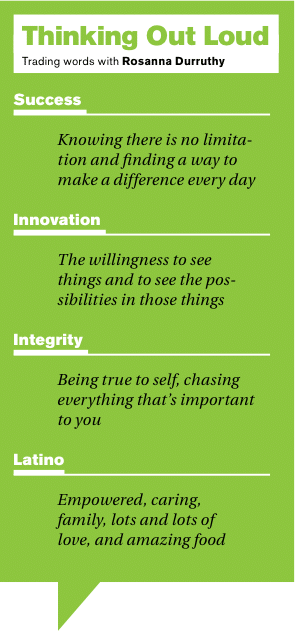 Durruthy entered the professional world starting off in small companies and nonprofits before beginning her career in diversity in 1985 when Citibank hired her. The bank had been plagued by angry customers gluing ATMs shut to protest the lack of Spanish-speaking customer-service agents, a "classic diversity dilemma," says Durruthy. In response, she began a program to hire more bilingual employees to serve Spanish-speaking customers.Durruthy's well-defined sense of caring for others was no doubt shaped by her own experiences with hardship and having to rely on the generosity of others. While her intelligence and curiosity (she participated in family discussions over New York Times articles every Sunday from the age of five) gained her entrance to Harvard University at 16, she had to take a leave of absence from school when her parents' marriage fell apart. "I became a casualty of the divorce," Durruthy recalls. Left with little money, she and her mother were put up by friends and family. "You hear a lot about people going from homeless to Harvard. I went from Harvard to homeless," she said. "It taught me about being independent and resourceful."
After Citibank, Durruthy helped increase diversity at Merill Lynch, Blockbuster Entertainment, and Seagram (which later became Vivendi Universal). She was working a short stint as a freelance consultant when she joined Cigna as the organization's first chief diversity officer in September 2010.
For Durruthy, diversity represents the unique imprint each person has on the world and the opportunity for "creating valuable things out of our differences." Her experiences, both professional and academic, have instilled in her a commitment to ongoing learning throughout her life. She's on the board of directors for the National Society of Hispanic MBAs (NSHMBA) helping Latinos gain access to the business world "to grow not only as leaders in our society, but also in business."
An example of Durruthy's strategy is the creation of Colleague Resource Groups (CRGs) across Cigna. Employees from the Latino CRG (there are seven CRGs: Women, African-American, Asian, LGBT, Millennial, and virtual communities) attended last year's NSHMBA Latino Healthcare Summit, sponsored by Cigna. The summit focused on how Latinos relate to health. The employees who participated shared what they had learned with their colleagues. The next step of this leadership process is for those involved to help make a difference by tutoring young people in their communities.
Other initiatives include a scholarship program and further development of the corporation's relationship with the NSHMBA. "For the Latino community, Cigna helps by partnering with them in understanding not only how culture contributes to our health and well-being," she says," but how much of a part of it is about what brings us joy and what fulfills us."
CIGNA's new brand, launched in September, is symbolic of the company's commitment to goals that align with Durruthy's own personal aspirations. She intends to transform how customers relate to health care, and to get them to understand how to better leverage their partnership with Cigna. "A lot of that comes early in life," she said. "We need to be working with young people to help them to understand what they can to do to ward off obesity, diabetes, and hypertension," she explains. "I want us to be a company of 30,000 employees whose customers know that we're not only looking out for them, but we're going to find ways to connect with them and bring valuable information to them to have healthier lives."