Hispanic Executive was proud to launch the 2015 Uniting Powerful Leaders Dinner Series for the second year in partnership with its corporate partner, Northwestern Mutual. The invite-only VIP event was held in San Antonio at Bliss Restaurant,926 S Presa St. The intimate dinner kicked off the 2015 series with the ongoing mission of bringing together distinguished leaders who have been profiled in the pages of Hispanic Executive, as well as other notable regional Latino executives in a union that celebrates the power of the Hispanic business community and our collective successes.
Joining HE for this event were Regina Montoya, Board of Directors, DFW International Airport; Arcilia Acosta, CEO, Carcon Industries; Adolfo "Al" Aguilar, President/CEO, Creative Civilization; George Hernandez, President/CEO, University Health System; Dr. Esteban Lopez, President San Antonio Region, Blue Cross Blue Shield; Michael Vela, Director of Communications, San Antonio Hispanic Chamber of Commerce;  José María González, Chief of Staff, San Antonio Hispanic Chamber of Commerce; Luis Alvarez, CEO, Lancer Corporation; Larry Mendez, Executive Managing Director, Transwestern; Laura Gump, Vice President, General Manager, H-E-B Grocery Co.; Heriberto Rodriguez, Hispanic Marketing Manager, H-E-B Grocery Co.; Zaida Saliba, Vice President, BBVA Compass; Gilbert Vasquez, Partner, Strasburger; Fernando Suarez, Managing Director, Wealth Management Advisor, Northwestern Mutual; Roberto Espinoza and Anne-Marie Grube, Financial Advisors with Northwestern Mutual and Dan Muehlbach, Field Marketing Consultant also with Northwestern Mutual.
"Professional networks play a key role in every executive's future endeavors," says Pedro A. Guerrero, President of Hispanic Executive. "We hope by creating a springboard for meaningful conversations to take place amongst successful like-minded executives, we can play a part in shaping these important connections."
The next Uniting Powerful Leaders dinner will be held in Chicago on May 20th.
See the print re-cap of in our May/June issue!
SERIES SPONSORED BY: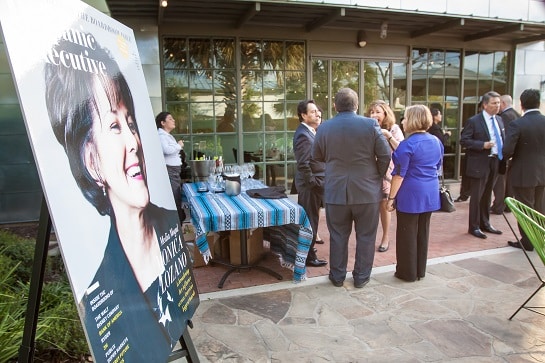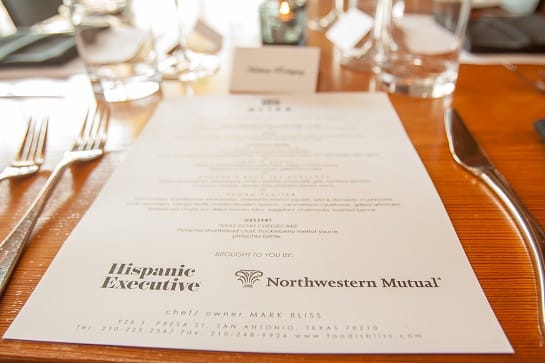 PHOTOS BY: Lalo Garcia

For more photos of this event, visit our Facebook page here!